Frontline workers need more transparency about the supply of protective gowns, masks and face shields and what is being done to preserve the highly-sought after equipment, experts say.
It comes as staff at St Vincent's Hospital's intensive care unit were instructed to wear two smaller visors as supplies of face shields ran out, a hospital staff member told The Sydney Morning Herald.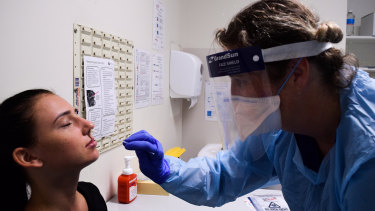 One doctor and two nurses were in self-isolation after repositioning the airway tube of a critically ill COVID-19 patient on Friday. St Vincent's hospital said the issue was with how their face shields were positioned.
In a statement on Monday, a hospital spokesman said there was no issue with a shortage of the correct personal protective equipment.
"St Vincent's has adequate stock of the appropriate PPE for this procedure," he said. "There is no issue with faulty PPE supply."
Tasmanian nurses want chief medical officer Brendan Murphy to apologise for airing a "damaging" rumour that a COVID-19 outbreak in the state's north-west may have been caused by healthcare workers who attended an "illegal dinner party".
Australian Nursing and Midwifery Federation Tasmanian secretary Emily Shepherd said Professor Murphy's comment to a New Zealand parliamentary committee on Tuesday morning – which he has now withdrawn – had sparked a torrent of online abuse of her members.
"They feel that he should apologise for commenting on some fairly malicious rumours that they feel have caused significant distress," Ms Shepherd told the Sydney Morning Herald and The Age.
"It's taken our members' morale to an all-time low," she said.
Some plumbers have experienced a boom in emergency call-outs as people clog their drains with toilet paper substitutes.
In late February and early March, toilet paper shelves in supermarkets were stripped bare by shoppers, and some households turned to using baby wipes, paper towels, and even bedsheets as a stand-in.
Don Arscott, who has run Melbourne 24 Hour Plumbing for two decades, said he performed more than double the usual number of drain blockage jobs in the period when toilet paper was scarcely available.
"I had one family cutting up bedsheets to wipe their bums," Mr Arscott said.
"A lot of these wipes that people use just don't go down properly – people shouldn't use them."
This week, a mammoth 42-tonne fatberg was found in a Melbourne drain.
The collection of wet wipes, rags, paper towels and other foreign material, mixed with fats, oils and grease, was found in a sewer in Wallan.
Yarra Valley Water managing director Pat McCafferty said there had been a 30 per cent increase in foreign materials flushed down Victorian toilets due to the toilet paper shortage.
Joolz Sutherland, who operates Pure Plumbing, said there had been a 20 per cent increase in jobs to address problems like blocked gutters and leaky taps.
He attributed the rise to people having more time to perform maintenance on nagging issues.
The pandemic hasn't all been good news for the plumbing industry.
With many commercial and residential building projects coming to a halt, plumbers have been largely limited to household work.
The head of Hornsby Ku-ring-gai Women's Shelter Louise McCann is calling on the community to be on the lookout for signs of domestic violence, as the facility prepares for a 30 per cent increase in demand for support services.
Ms McCann said the shelter is seeing a rapid increase in demand due to the COVID-19 crisis. She also said they are struggling to fundraise as a result of social distancing measures.
"It comes at a time when women in need of support are even more vulnerable during this critical period of safe social distancing and isolation," she said.
"Women are confronting situations in which they along with their children are isolated at home with violent perpetrators upon whom they are financially dependent."
The Shelter housed 58 women last year but was forced to turn away 105 due to a lack of resources, with fears many more will be turned away as a result of the health crisis.
Ms McCann hopes that if the community is "extra vigilant" in looking for signs, women can be helped before the situation becomes dire.
"Women facing domestic violence are often very isolated, alone and frightened for their safety and that of their children," Ms McCann said.
"This makes reaching out to women to provide mental health support even more important."
Washington: A crew member from the aircraft carrier USS Theodore Roosevelt who contracted COVID-19 has died and four others are in hospital, in a poignant punctuation to the plea from the ship's captain two weeks ago for help from the Navy because "sailors don't need to die".
The death of the sailor came as Navy officials continued to struggle to combat the infection that has crippled the nuclear-powered ship, now docked in Guam. The name of the sailor is being withheld until family members are notified, Navy officials said.
"The entire department is deeply saddened by the loss of our first active-duty member to COVID-19," Defence Secretary Mark Esper said in a statement. Admiral Michael Gilday, the chief of naval operations, called the death "a great loss for the ship and for our Navy".
Indonesian authorities are making efforts to prevent an economic recession due to the coronavirus outbreak, but their worst-case scenario is for contraction in two consecutive quarters beginning this April-June, the country's finance minister said.
Sri Mulyani Indrawati said on Tuesday her worst-case scenario, assuming a prolonged outbreak, is for gross domestic product to shrink by as much as 2% in the second quarter, followed by another contraction in the third quarter.
"Two times of contraction and we will enter a recession. We strive for this not to happen," she told an online news conference.
Indrawati previously said her baseline scenario is for 2020 GDP growth of 2.3 per cent.
Treasury has forecast unemployment to reach 10% but Treasurer Josh Frydenberg says it would have been a lot worse without the JobKeeper package. It comes as Labor again pushes for the wage subsidy scheme to be extended to casuals.
Rescue helicopter workers in Queensland have joined the growing list of those having to adjust because of COVID-19, with new measures rolled out to protect crews and patients.
The protective screens which sit in some south-east Queensland based RACQ LifeFlight helicopters have now been further reinforced to isolate pilots from the medical team and patients.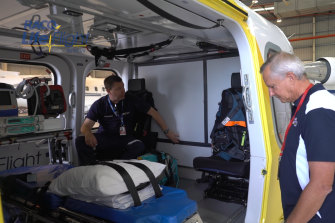 With such services having already transported suspected and confirmed cases of the virus, chief medical officer Dr Allan MacKillop says the major challenge in dealing with infectious patients is recirculated airflow and cramped environments.
"We don't have the luxury of having large areas around the patient to make hot zones or less infected zones, every zone inside the helicopter is what we call a hot zone," he says.
The organisation has been working closely with international counterparts, sharing their solutions to problems which have arisen so far.
"We believe that our preparations are as good as they can be and we believe we will be able to manage any surge in requirement in transporting critically ill patients with COVID-19," Dr, MacKillop said.
NSW Police have issued 55 penalty infringement notices and charged six people under the Public Health Act since Monday afternoon.
Most of the fines were issued to people who had already received a warning from police, including a 72-year-old man and a 46-year-old woman from Sydney, who were stopped in Lake Macquarie and told police they were fishing.
Police told the pair that fishing was not a valid reason to travel to a regional area and advised them to move on.
About 15 minutes later, police spoke to the pair in a different location and issued them both $1000 fines.
Police also charged a 27-year old man who had travelled from Casino to Nimbin. He allegedly told police he had made the trip because he was bored, despite being aware of the ministerial direction not to travel.
He also allegedly said he did not believe in coronavirus. The man was issued a $1000 fine.
NSW Police Commissioner Mick Fuller said there was a high level of compliance across the state, particularly along the coastal areas which would usually be brimming with tourists.
Dementia Australia chief executive Maree McCabe says the organisation has received a flurry of calls due to COVID-19 restrictions, most from families concerned for their loved ones' wellbeing.
"They're hungry for information to things that they can do," Ms McCabe said. "It's really distressing to families not to be able to visit their loved ones, that is such a challenge, and they're worried about them."
Most aged care facilities across NSW have restrictions on visitations, with some going beyond government advice with a blanket ban for all visitors.
Ms McCabe said a lack of human contact could further deteriorate the condition for some, but that the situation was equally difficult for dementia patients living with loved ones.
"One of the many challenges, particularly for people living with dementia, is they really need routine…they don't tolerate breaks in routine particularly well," she said. "They might become quite agitated and anxious and not be able to express that and that will depend on the stage of their dementia."