The NRMA is urging motorists to tick over the engines amid a surge of call-outs for battery failures.
From March 8 to April 4, there were over 26000 battery-related call-outs made to the insurance company, making up over a third of all roadside assistance requests.
NRMA spokesperson Peter Khoury said the surge meant almost 4000 alone were made in the first four days of the month.
"While the NRMA has seen some falls in the total numbers of breakdown calls since the Coronavirus lockdown commenced the number of callouts for flat batteries remains relatively high," Mr Khoury said.
The NRMA has also urged motorists to fill their fuel tanks while not using their cars to avoid water condensation inside the tank.
"Most people are driving less or in some cases not at all so this is resulting in batteries not charging properly," Mr Khoury said.
"It is important that people keep their engines ticking over, especially if you haven't driven your car for a while."
Tasmanian nurses want chief medical officer Brendan Murphy to apologise for airing a "damaging" rumour that a COVID-19 outbreak in the state's north-west may have been caused by healthcare workers who attended an "illegal dinner party".
Australian Nursing and Midwifery Federation Tasmanian secretary Emily Shepherd said Professor Murphy's comment to a New Zealand parliamentary committee on Tuesday morning – which he has now withdrawn – had sparked a torrent of online abuse of her members.
"They feel that he should apologise for commenting on some fairly malicious rumours that they feel have caused significant distress," Ms Shepherd told the Sydney Morning Herald and The Age.
"It's taken our members' morale to an all-time low," she said.
Professor Brendan Murphy said in a statement on Tuesday afternoon that while the dinner party hypothesis "had previously been mentioned to me following initial investigations, I am now informed that the contact tracing has not confirmed that such a dinner party occurred".
Some plumbers have experienced a boom in emergency call-outs as people clog their drains with toilet paper substitutes.
In late February and early March, toilet paper shelves in supermarkets were stripped bare by shoppers, and some households turned to using baby wipes, paper towels, and even bed sheets as a stand-in.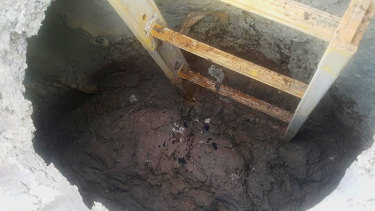 Don Arscott, who has run Melbourne 24 Hour Plumbing for two decades, said he performed more than double the usual number of drain blockage jobs in the period when toilet paper was scarcely available.
"I had one family cutting up bed sheets to wipe their bums," Mr Arscott said.
"A lot of these wipes that people use just don't go down properly – people shouldn't use them."
This week, a mammoth 42-tonne fatberg was found in a Melbourne drain. The collection of wet wipes, rags, paper towels and other foreign material, mixed with fats, oils and grease, was found in a sewer in Wallan.
Yarra Valley Water managing director Pat McCafferty said there had been a 30 per cent increase in foreign materials flushed down Victorian toilets due to the toilet paper shortage.
Joolz Sutherland, who operates Pure Plumbing, said there had been a 20 per cent increase in jobs to address problems like blocked gutters and leaky taps.
He attributed the rise to people having more time to perform maintenance on nagging issues.The pandemic hasn't all been good news for the plumbing industry.
With many commercial and residential building projects coming a halt, plumbers have been largely limited to household work.
A man accused of twice failing to comply with a self-isolation directive issued under the Emergency Management Act has pleaded guilty in court.
Last week a Perth Magistrate had stern words for Jonathan David, 35, who snuck out of hotel quarantine on multiple occasions to visit his girlfriend in Armadale, as prosecutors indicated they would seek immediate jail time.
Mr David flew into Perth from Victoria on March 26 and was transported to the Travelodge to complete his mandatory 14-day quarantine period.
However, Mr David was seen by hotel staff on five occasions over four days outside of his room before police were contacted.
When police officers attended his room at 7.30am on a Saturday, prosecutors said Mr David wasn't there and that he eventually returned 45 minutes later with the explanation he had left for a "personal problem", but would not elaborate further.
Australians could soon have their mobile phones tracked to see if they have come into contact with coronavirus.
Health authorities are mulling over how closely Australians could be monitored once travel restrictions and social distancing rules are relaxed.
Singapore is using the TraceTogether application to help track the spread of the disease.
Australia has been given the code to develop its own surveillance software.
"We're very keen to use it and use it perhaps even more extensively than Singapore," Chief Medical Officer Brendan Murphy told a New Zealand parliamentary hearing on Tuesday.
He acknowledged there were privacy concerns.
"Obviously there's a conversation to have with the community about the acceptability of it, but we think that idea, the TraceTogether app, is a really excellent one," he said.
"We're actively looking at that as part of a measure that might be used to perhaps consider some relaxation of measures."
Deputy Chief Medical Officer Paul Kelly says tracking technology is being discussed by governments as part of the next steps.
"We're very much interested in relation to what we can do to find close contacts of cases as quickly as possible," he told reporters in Canberra.
TraceTogether uses Bluetooth to detect other users in close proximity, with encounters stored on a person's phone.
They then have to share the records with authorities when asked to be part of a tracing investigation.
AAP
In the short term, there's little doubt airfares would rise if Virgin (and its budget rival to Jetstar, Tigerair) stopped flying, writes Craig Platt.
Australians have enjoyed cheap air travel for more than a decade. Until the coronavirus outbreak, even accounting for inflation, air travel had never been cheaper.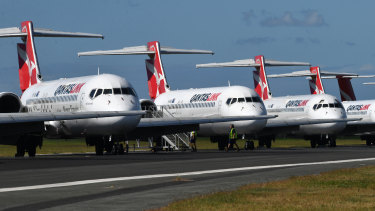 According to figures from the Bureau of Infrastructure, Transport and Regional Economics, airfares have gone down, on average, 37 per cent since Virgin entered the market.
Read more of this story here.
Rolling back Victoria's tough bail laws and releasing some prisoners are among measures lawyers say will keep coronavirus out of prisons, where it could spread rapidly.
Experts fear an outbreak in jails would be catastrophic for prison populations given the large numbers of vulnerable inmates and could lead to a scenario where a hot spot would endanger the wider community.
There are no reported cases in Australian jails but lawyers say inmates are frightened about COVID-19 because they cannot practise self-isolation and are exposed to varying levels of hygiene.
Dorothy, whose son is in prison awaiting trial, said: "My son said to me, 'Mum, if it gets in we would have no chance of not getting it.'"
Hundreds of law and health experts have signed open letters urging the states and territories to reduce numbers inside jails by releasing Indigenous and elderly prisoners, people with health problems, women, children in youth detention, those with less than six months to serve and others on remand. The letter says people should only be released "where it is safe to do so".
NSW Police have issued 55 penalty infringement notices and charged six people under the public health act since Monday afternoon.
Most of the fines were issued to people who had already received a warning from police, including a 72-year-old man and a 46-year-old woman from Sydney who were stopped in Lake Macquarie and told police they were fishing.
Police told the pair that fishing was not a valid reason to travel to a regional area and advised the pair to move on. About 15 minutes later, police spoke to the pair in a different location and issued them both $1000 fines.
Police also charged a 27-year old man who had travelled from Casino to Nimbin. He allegedly told police he had made the trip because he was bored, despite being aware of the ministerial direction not to travel.
He also allegedly said he did not believe in coronavirus. The man was issued a $1000 fine.
NSW Police Commissioner Mick Fuller said there was a high level of compliance across the state, particularly along the coastal areas which would usually be brimming with tourists.
Comments made by Chief Medical Officer Brendan Murphy that an "illegal" dinner party of medical workers was linked to a Tasmanian coronavirus cluster weren't "meant to take anything away" from the hard work of those in the healthcare sector, says Deputy Chief Medical Officer Paul Kelly.
Professor Murphy told a New Zealand Parliament committee this morning that an illegal dinner party was to blame for the coronavirus outbreak that has caused two hospital shutdowns.
He later retracted his comments, saying he was "confident [the dinner party] has not occurred" and that "Tasmanian officials are continuing their investigations".
The comments have angered some healthcare workers, however Professor Kelly said they greatly appreciated the work being done by those on the frontline.
"Of course we just absolutely appreciate the work all healthcare workers in Tasmania … and around Australia are doing and certainly the comments made by Professor Murphy weren't meant to take anything away from that incredible appreciation we have for all the work they are doing," he said.
He said as part of their investigations, detectives do investigate rumours about coronavirus. If they are found to be false they discount them, "as Professor Murphy has done as well", said Professor Kelly.
There is a total of 6375 cases of coronavirus confirmed in Australia as of Tuesday, says Deputy Chief Medical Officer Paul Kelly.
He said it was a "small rise from yesterday" and thanked the Australian public for working together by following the main messages of social distancing and good hygiene practices.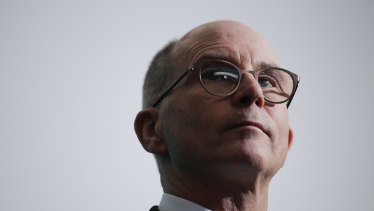 "We have made great strides. Part of that is related to the Easter weekend and less testing than would normally be the case," he said.
"But there was testing yesterday and only found a small number of cases, so good signs."
However, he said authorities must take a "cautious approach in relation to the next steps" and it will take a couple of weeks to know what those steps will be.