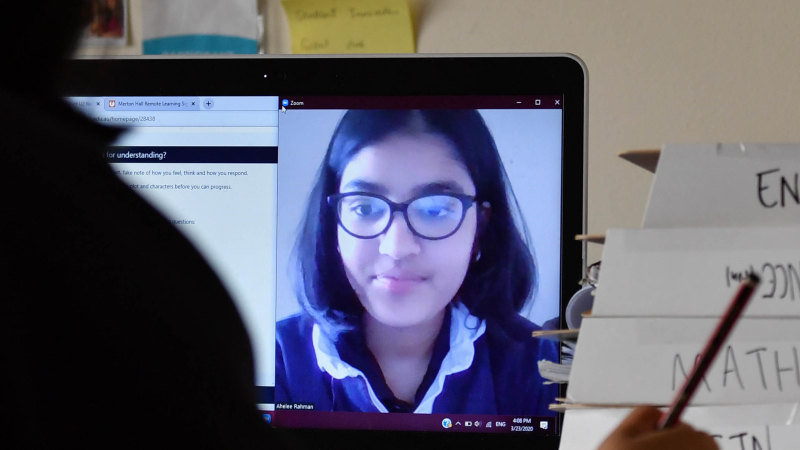 Victorian Primary School Principals Associationpresident Anne-Maree Kliman said principals had been working frantically over the four-day Easter period to prepare their schools for a term of remote learning, and expected the vast majority of students would stay home.
"Schools are fairly confident that they know their numbers, and that they are lowish at this stage. However they also have to be prepared for the unexpected," Ms Kliman said.
"Staff are prepared and schools have worked out which staff are coming in but it's going to be the unexpected that will present challenges, such as the families that haven't corresponded with the school but rock up in the morning."
The Victorian Department of Education and Training has issued all government schools with a form for parents who require on-site care to sign.
"The Victorian government has stated that all students who can learn from home must learn from home," the form states.
Loading
But it does not require parents to list a reason for their request.
"Schools will need to exercise discretion in circumstances where students attend the school in the absence of forms being completed, or where a parent submits the form late," the department said in its guide to schools on managing attendance.
Schools were also chasing information from families on Tuesday about whether they would need a device such as a dongle or SIM card for their child.
The Andrews government has said it will provide 4000 SIM cards and 1000 internet dongles for students who lack an internet connection at home.
Loading
Some schools have made their own arrangements with parents whose children do not have access to a computer at home, and will lend them laptops for the term.
Sue Bell, president of the Victorian Association of Secondary School Principals, said school staff had called families on Tuesday in a "mammoth drive" to gain data on the level of need for devices in their communities.
Ms Bell said schools were as prepared as they could be for remote learning, but were still waiting for answers on planned changes to VCE assessments.
"We just need to know what's happening with VCE so we can calm the year 12 students; it's really important that those answers come fairly soon so that teachers aren't preparing work that isn't needed if the course is modified," Ms Bell said.
Sign up to our Coronavirus Update newsletter
Assessment tasks are likely to take significantly longer under remote learning, especially practical work that will require students to go to school in limited numbers.
"If you can only have 10 students in a lab at a time doing the assessment, it will take three times as long to do the school assessed course work," Ms Bell said.
Adam Carey is Education Editor. He joined The Age in 2007 and has previously covered state politics, transport, general news, the arts and food.