"I would not recommend using a ship for quarantine unless all the people in the ship are coronavirus patients," said Professor Qingyan Chen, an expert in building ventilation from Purdue University in the United States.
He said cruise ships typically use an air-conditioning system that mixes outdoor air with recirculated indoor air.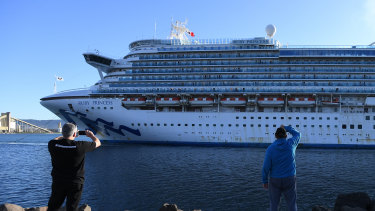 The droplets that carry coronavirus can last in the air for hours, and are too small to be filtered out by air-conditioning units, Professor Chen said.
"Thus many small airborne droplets will be sent back to different interior spaces in the ship," he said. "For a short period, a few hours, it may not be too bad … however if one is quarantined for two weeks, it is likely to cause cross-contamination in the entire ship."
In a statement on its website, Princess Cruises said its air-conditioning filtration systems were "comparable" to those used in hotels and casinos. Its recent advice from the US Centre for Disease Control was that there is "no current evidence to suggest that the virus spreads through air-handling systems".
Princess Cruises President Jan Swartz said the company planned to work with the NSW government inquiry, as well as the police investigation.
"This will be a difficult period for all involved but we have a shared responsibility, along with all of society, to learn from these events," Ms Swartz said.
However she said what happened on board the Ruby Princess "reflected what was happening in the world", and people were making the "best decisions they could at the time".
Loading
"Even at the time the ship left Sydney, international flights were coming to Australia, the borders were still open and major sporting events were still being played to packed stadiums."
Ms Berejiklian said the new inquiry would not impinge on the NSW Police investigation, which could take another five months to produce results.
"I didn't want to wait to get to the end of that process and risk the fact that because of the material the police had uncovered some of it may not have been able to be publicly released," Ms Berejiklian said.
She said the inquiry's commissioner, Brett Walker SC, "will have complete powers to do whatever he likes".
Despite police last month indicating the scandal-plagued ship would be out of NSW Waters by Wednesday, NSW Police Commissioner Mick Fuller indicated it would now remain docked until at least the weekend.
Tom Rabe is Transport Reporter with The Sydney Morning Herald.
Carrie Fellner is an investigative reporter for The Sydney Morning Herald.