Let's recap the main developments today.
Queensland has now detected 1001 confirmed cases of COVID-19 – 554 are "active" and 442 have recovered. Five Queenslanders have died including a Sunshine Coast woman who passed away while in Sydney.
The national death toll remains at 63, with almost 6500 people infected so far.
The prime minister, premiers and chief ministers joined the national cabinet meeting today.
When it comes to whether children should go to school or stay home, concerned and confused parents should "follow the instructions that are being provided by their state premiers and state education ministers", according to the Prime Minister.
It also emerged that some of the restrictions imposed to limit the spread of the virus may be lifted in as soon as four weeks.
Mr Morrison says three requirements must be met before the rules are changed: more testing, better contact tracing and quicker reactions to outbreaks.
Our live coverage has concluded for today. We will return tomorrow but in the interim, the latest news and analysis is available on the main site.
An off-duty north Queensland police officer is among the nearly 1000 people issued fines for breaching COVID-19 public health orders.
In a statement, police said the constable had received the $1334 fine for failing to comply with directions issued by Chief Health Officer Dr Jeannette Young.
"Police will allege the officer failed to comply with the social-distancing rules and travelling for non-essential business on Friday, April 10, whilst off-duty," the statement said.
"The QPS continues to enforce the directions of the Chief Health Officer as we work to reduce the spread of COVID-19.
"We urge everyone to follow the public health directions, employ social distancing practices and avoid unnecessary travel so we can limit the spread of coronavirus."
A total of 964 infringements have now been issued across the state for those undertaking what was deemed to be non-essential travel, breaching social distancing requirements or carrying out banned business activities.
The Australian Defence Force has confirmed a "small group" of Townsville-based soldiers have also been hit with the fines.
Each fine is now subject to a review process and almost 30 have been withdrawn as a result, Queensland Police Commissioner Katarina Carroll said on Wednesday.
A passenger on a packed Qantas flight from Sydney to Brisbane on Monday was infectious with COVID-19.
Queensland Health warned other passengers of the diagnosis by text and then a phone call before directing them to self-quarantine in an email today.
The flight, QF520, arrived at Brisbane domestic terminal early on Monday afternoon. "A person on this flight was infectious with COVID-19," the Queensland Health email stated.
"You may be at risk of becoming unwell from exposure until midnight 27th April, 2020."
AAP
IVF treatments won't be available until there is enough personal protection equipment available, the Chief Medical Officer says.
Chief Medical Officer Professor Brendan Murphy was asked today when IVF would be available again after it was deemed an elective procedure.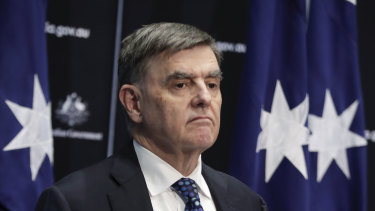 "Yes, I think IVF is something that would be considered an elective procedure and something that was paused during the elective surgery cessation and it is something that the state and territory health departments were considered along with the other elective activities," he said.
"It is very important if we restart elective activity that we only do it through the confines of our available PPE supplies, it would have to ensure we have enough protective equipment."
Professor Murphy also expanded on how national modelling on recovery numbers were being decided.
"That modelling is being done at the moment.
"At the moment recovery, we have stopped doing clearance testing after people have recovered,
so a recovery [is] people are allowed out two weeks after diagnosis if they have been completely symptom-free for 72 hours.
"We are making an assumption in our modelling that people who are released from isolation are now recovered.
"In some states we are doing a test to make sure that you're not still carrying the virus.
"So we are working towards a nationally consistent algorithm to determine recovery at the moment."
As people try to bridge the social gap created by COVID-19 restrictions, people are turning to technology as a solution.
Many in the entertainment industry, hit hard and early by bans on large crowds and closures of pubs and clubs, are now tapping into that.
On the back of social media-based festivals such as Isol-Aid, Brisbane businesses are using video conferencing to bring live music to homes around the country.
Dubbed CrowdPleaser, it bills itself as "like Tinder for musicians" and allows groups to hire a performer to join them on the video call platform of their choice.
While Music Beat Australia, which usually delivers music lessons and therapy programs in person, has taken its own offerings into the video conferencing world.
Founder and managing director Dr Vicky Abad says people need music now more than ever.
"Keeping the music alive is a great way for families to maintain routines, provide some normalcy for their children and keep everyone's stress levels down," she says.
Discount department store Kmart has converted three of its 240 stores across the country into makeshift distribution centres as online demand continues to soar at the popular retailer.
Kmart, which is owned by retailing conglomerate Wesfarmers, has kept doors open in recent weeks as it has considered itself an essential service.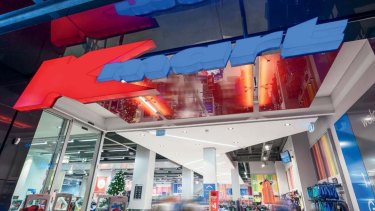 But like many other retailers, it has also experienced a surge in online sales, prompting the company to make changes to keep up with demand.
Its Brandon Park store in Victoria, Top Ryde store in New South Wales and Caboolture store in Queensland will be temporarily converted into 'dark stores': closed to the public but still operating to fulfil online orders for home delivery.
"Our store teams will continue working instore, as part of this fulfilment team; ensuring that our Kmart customers and communities have easy access to the products they need, at the time they need them most," a spokesperson said.
"We recognise that this is a unique time and we are here to support our customers, teams and communities, while we all adjust to this new way of life together."
Last week, Kmart faced ridicule and criticism on social media after its online store introduced 'virtual queues' which limited the number of visitors to the company's online store in an attempt to reduce traffic.
Everyone should be performing good hygiene at the moment, but experts are urging people suddenly working from home due to coronavirus to exercise good "cyber-hygiene" as well.
Dr Leonie Simpson, a cyber security specialist with QUT's School of Computer Science, says for many people, it is the first time they have worked from home, and developing good online habits early is important.
The Cyber Hygiene Checklist
Check before you click
Keep a hardcopy list of important phone numbers, including the IT helpdesk
Be security/privacy aware with video conferencing, including what your background reveals
Never give out personal information such as passwords, banking details etc
Never open a link or file from an unknown source
More than 3000 Queenslanders lost work in March as the state's jobless rate increased slightly to 5.7 per cent, but the full impact of the government-ordered shutdowns is yet to be revealed.
The total number of unemployed people looking for full-time work grew by 10,600 people last month, the latest data from the Australian Bureau of Statistics showed.
More than 2.5 million Queenslanders had a job during March, but those numbers have probably plummeted since the world plunged into economic strife because of the spread of the coronavirus.
Treasurer Jackie Trad said the data was collected during the first two weeks of March before a pandemic was declared and large parts of the economy were put into "hibernation" to contain the spread of the virus.
"We know that these figures do not represent the catastrophe that happened in the economy because we had to lock things down to stop the spread of the coronavirus," she said.
In today's episode of Please Explain, national editor Tory Maguire is joined by Europe correspondent Bevan Shields, who shares his harrowing experience with COVID-19 in London.
The Queensland Council for Civil Liberties has added its voice to those with privacy concerns around the COVID-19 tracking app flagged for release by the federal government.
The move follows the lead of countries such as China, Britain and Singapore – which the Australian scheme would be closely based on – and would log the movement of those who download the mobile app to alert them if they had been close to someone with a confirmed case.
Prime Minister Scott Morrison has rejected forced downloads of the app, which uses Bluetooth to position users in relation to each other, though at least 40 per cent of the population would need to download it for it to be effective.
Though the Singapore scheme does not collect GPS data or a person's location, it does keep data about "close proximity contacts", a person's mobile phone number and another "random anonymised" identification number, which QCCL says should be rejected.
Council president Michael Cope said they were aware of other apps, either finalised or under development, which ensure an app user could not be identified.
He also added that more people would be likely to download such an app if they could be satisfied their privacy would be protected.
"We need to deal with the contagion in a way which respects the basic rights of Australians,
one of which is the right to privacy," Mr Cope said.
"The government should start the process on the best foot by selecting an app which is most protective of the privacy of Australians."