Washington: Hundreds of people have taken to the streets in multiple US states to protests stay-a-home orders meant to curb the spread of the coronavirus.
Many protesters were angry about the economic ramifications the restrictions are causing. Economists surveyed by Bloomberg estimate the US Labour Department will report Thursday, Friday AEST, that 5.5 million Americans filed initial applications for unemployment insurance last week.
The protests are occurring as President Donald Trump and governors debate when states should loosen the restrictions put in place to ensure people practise social distancing.
Trump, speaking at the White House task force press conference, said recommendations about opening the economy amid the coronavirus pandemic would be released on Thursday after a conference call with all 50 governors.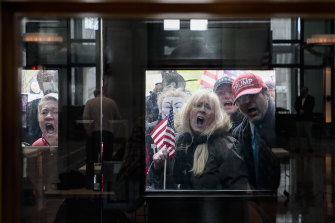 In Michigan, demonstrators drove thousands of vehicles — many draped with protest signs — to the state Capitol on Wednesday, loudly protesting Democratic Governor Gretchen Whitmer's lockdown measures.
As snow fell, some got out of their vehicles in the city of Lansing and raised signs, one of which read, "Gov Whitmer we are not prisoners".
World Rugby will loan Rugby Australia up to an estimated $16 million to get through the coronavirus shutdown, but only after the organisation has thrashed out an emergency pay deal with the players union.
Details of the loan program are expected to be announced in Dublin later on Thursday night, but sources told the Herald the global governing body had secured a credit facility worth somewhere in the vicinity of $160 million.
All tier one and tier two unions will be able to apply for a capped portion of the money, somewhere in the region of $16 million. It will be granted almost immediately as a low interest, long-term loan.
The catch will be that unions must have their internal cost-saving measures finalised, including administrative costs and player pay cuts.
That will put extra pressure on RA and the Rugby Union Players' Association to finalise their pay deal, which is well into its third week of formal negotiations.
"A person on this flight was infectious with COVID-19," the Queensland Health email stated.
"You may be at risk of becoming unwell from exposure until midnight 27th April, 2020."
Queensland Health did not answer questions and instead referred AAP to its "contact tracing alerts" web page.
It is unknown if the passenger knew they were infectious when they boarded the flight, or when they were diagnosed with COVID-19.
The quarantining of passengers on the Qantas flight comes as Queensland records an additional five coronavirus cases overnight, bringing the state's total of confirmed cases to 1001.
Chief Health Officer Jeannette Young called the limited numbers "excellent news".
But she said the state would unfortunately see cases grow in the future as the pandemic continued.
There are just 21 Queenslanders in hospital with the virus, 11 of them are in intensive care.
Japan's large manufacturers will likely keep many of their workers on payrolls even though the coronavirus pandemic has dented automotive, electronics, metal and basic industries, the chief of the Japan Council of Metalworkers' Unions said.
Auto exports are at a standstill and the drop in demand for parts has rippled through suppliers of steel, electronics and other components, Chairman Akira Takakura said in an interview this week.
The impact on Japan's manufacturers will be much worse than the global financial crisis more than a decade ago, he added. Thanks to a shortage of labour and the gradual recovery of Japan's economy before the outbreak, many companies had transitioned outsourced staff into directly employed full- and part-time employees, making it harder to dismiss them under labour laws, he said.
"If products aren't selling, then business activity won't hold up," Takakura said, adding that employment and income "are the base of everything."
The metalworkers' union has 2.1 million members from five different industry unions, including workers from automakers such as Toyota Motor Corp. and Nissan Motor Co., as well as electronics makers such as Panasonic Corp. and NEC Corp. Nissan and Honda Motor Co. are already furloughing workers.
Faced with a steep drop in activity, many automakers have furloughed workers in Japan, instead of letting them go. Under Japanese law, workers who are on mandated leave are supposed to be paid at least 60 per cent of their wages, and in many cases, larger companies are paying well above that level, Takakura said.
The Japanese government has put together a fiscal package to support companies that keep workers on the payroll, with wage subsidies of 75 per cent for larger companies and 90 per cent for smaller businesses, through the end of June. Nippon Steel Corp. is planning to furlough 30,000 workers.
Temporary furloughs in Japan used to be criticised because they were seen as detrimental to profitability, but now the US is embracing such measures, underscoring that they are necessary for conditions such as a pandemic-fueled economic lockdown, Takakura said.
Akio Toyoda, Toyota's chief executive officer and head of the Japan Automobile Manufacturers' Association, said on April 10 that "keeping the economy going, while protecting employment is the way to prevent a total collapse in business activity."
Bloomberg
Victoria Treasurer Tim Pallas has announced the state will borrow another $25 billion to cover the health costs and economic damage from the COVID-19 pandemic.
Mr Pallas admitted the state faced much higher health costs in the next two years while the government would also need to keep spending to support sections of the economy hit hard by social distancing and shut downs.
The government expects it will need $10 billion for the 2019-2020 financial year and another $14.5 billion for 2020-2021 and Mr Pallas said he expected the state would need to draw down on those borrowings.
"We are facing a considerable event here, I'm not going to sit around trying to nickel and dime this, it will be traumatic on peoples lives and livelihoods," Mr Pallas said.
"The world is encountering this challenge and we are well-placed."
Mr Pallas added the government wouldn't "lose it nerve" on its major infrastructure projects and would be honouring commitments to bushfire hit communities in Victoria.
He said it would add to the $25 billion loan the state had already announced for major infrastructure projects.
IVF treatments won't be available until there is enough personal protection equipment available, the Chief Medical Officer has said.
Chief Medical Officer Professor Brendan Murphy was asked on Thursday about when IVF would be available again after it was deemed an elective procedure.
"Yes, I think IVF is something that would be considered an elective procedure and something that was paused during the elective surgery cessation and it is something that the state and territory health departments were considered along with the other elective activities," he said.
"It is very important if we restart elective activity that we only do it through the confines of our available PPE supplies, it would have to ensure we have enough protective equipment."
Professor Murphy also expanded on how national modelling on recovery numbers were being decided.
"That modelling is being done at the moment.
"At the moment recovery, we have stopped doing clearance testing after people have recovered,
so a recovery [is] people are allowed out two weeks after diagnosis if they have been completely symptom-free for 72 hours.
"We are making an assumption in our modelling that people who are released from isolation are now recovered.
"In some states we are doing a test to make sure that you're not still carrying the virus.
"So we are working towards a nationally consistent algorithm to determine recovery at the moment."
Only two people were diagnosed with coronavirus in Victoria on Wednesday, taking the state total to 1301.
No more deaths have been recorded, with the toll standing at 14.
Queensland soldiers face an internal army disciplinary investigation after being hit with $1334 fines for breaching novel coronavirus restrictions during the Easter long weekend.
While police and the Defence Department have not released specific details, ABC News reports eight ADF members held an illegal house party in Mount Low in the north Queensland city of Townsville.
Defence confirmed in a statement that "a small number of Townsville-based Australian Army soldiers" were found to be "not compliant" with the COVID-19 isolation restrictions."
Chief of Army has issued a directive to all personnel that they are to comply with all state and federal government directions on social distancing and COVID-19 transmission reduction," the ADF statement says."Defence personnel involved will be subject to disciplinary investigation under the Defence Force Discipline Act, which may include administrative or disciplinary action.
"Defence takes any reports of personnel not complying with COVID-19 guidelines seriously. Defence will continue to fully co-operate with the Queensland Police Service regarding this matter."
Los Angeles Rams centre Brian Allen has tested positive for COVID-19, making him the first known active NFL player to test positive for the disease.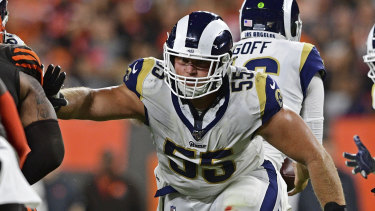 The 24-year-old, who is entering his third season in the NFL, told Fox Sports he tested positive three weeks ago and then again early last week but was now symptom-free and expected to receive the "all-clear" this week.
The report said Allen lost his sense of taste and his sense of smell, to such an extent that he could not even smell ammonia smelling salts, before experiencing flu-like symptoms.
The Rams confirmed Allen had tested positive but did not provide additional details when contacted by Reuters.
Allen was selected 111th overall by the Rams in the 2018 NFL draft. He played in 13 games as a rookie and made nine starts in 2019 before suffering a season-ending knee injury.
New Orleans Saints head coach Sean Payton said four weeks ago he had tested positive for the new coronavirus, making him the first known case within the NFL.
Reuters