Loading
Victoria's Chief Health Officer Brett Sutton said the continued low numbers of detected cases was making him optimistic that even tougher stage four restrictions can be avoided but only if Victorians continued to observe the social distancing rules.
The state government said it was relatively satisfied with the first two days of "remote learning" in Victoria's schools with Education Minister James Merlino saying that just 3 per cent of students showed up at their schools on Wednesday and Thursday, evidence that parents were heeding the social distancing message.
Dr Sutton told a Melbourne City Council business summit the current restrictions would be reviewed when the state of emergency expires next month.
But Dr Sutton said he and his colleagues would need to be satisfied that the pandemic was truly under control, and that enough testing was being done, before they recommended a return to class for school students or the relaxation of other measures.
"Assuming that is the case and assuming that we have continued drive down in numbers, then I think that May 11 timeline would be appropriate for review and certainly some consideration of the lifting of existing restrictions," Dr Sutton said.
But he said any decision about easing restrictions would be made by the national cabinet and the Victorian government's crisis cabinet.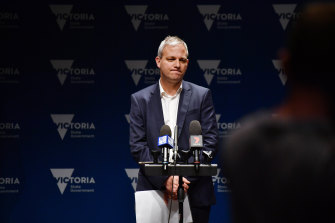 "It's not a very satisfactory answer to say that things will definitely be lifted at that point in time but I think that will be a natural point to review and I think if numbers have remained low at that time we can absolutely expect there will be some lifting of some restrictions," Dr Sutton said.
But there was no comfort for sports fans, with Dr Sutton saying the first round of relaxations would be unlikely to allow large gatherings of people.
Health Minister Jenny Mikakos also expressed optimism at the "stable" numbers of COVID-19 infections in the state but warned Victorians not to expect any changes to the restrictions on movement and business activity in the coming weeks.
"I don't expect that we'll have any change in the next four weeks," she minister said.
Noel Towell is State Political Editor for The Age
Benjamin is a state political reporter