Nicholson must serve a four-year community correction order and complete 500 hours of unpaid work after admitting responsibility for the deaths of four women returning home from a line-dancing event.
Ms Middleton, 75, and friends Dianne Barr, 64, Claudia Jackson, 71, and Margaret Ely, 74, died when their car was T-boned by Nicholson's vehicle in Navarre, near Stawell, about 6pm on May 5, 2018.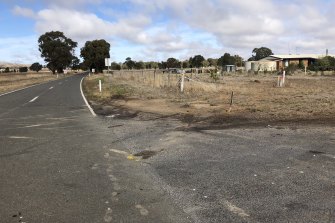 Police believe the four-wheel-drive hit the Kia between 89km/h and 94km/h after failing to stop at an intersection. She told police she thought she pressed her brake pedal as she entered an 80km/h zone but airbag data showed that in the 3.9 seconds before the crash, neither her brake or accelerator were pressed.
Nicholson, 66, was last year acquitted of four counts of culpable driving but a jury couldn't reach a verdict on the alternate charges of dangerous driving causing death.
County Court judge Michael Bourke ruled in February he wouldn't jail Nicholson if she pleaded guilty to the lesser charges and on Thursday the grandmother of seven formally entered a guilty plea.
Judge Bourke said Nicholson's serious offence had "catastrophic and tragic consequences", but he was persuaded not to impose jail because her moral culpability was low and she was of "exemplary" good character who had shown "extraordinary" remorse and developed psychological problems afterwards.
Such was Nicholson's remorse she carried with her cards commemorating the lives of the four women, and became distressed when planting roses at the intersection on the anniversary of their deaths.
"The level of your remorse presents as well beyond what I usually encounter," Judge Bourke said.
Nicholson had been suicidal since the crash, was "self-punishing" and had been diagnosed with post-traumatic stress disorder and depression, the judge said.
Victim impact statements from the dead women's families were "compelling and moving expressions of grief, profound sadness and distress" over the loss of "four women who lived fine lives". Judge Bourke said the pain and anger for some would not pass.
Mrs Jackson's husband Garry said he lost the love of his life, "my everything".
Ms Middleton's daughter Annette Finnegan said the pain of knowing she would never hug or tell her mother she loved her again would torture her forever.
A further statement came on Thursday from a woman who witnessed the crash from her house, who likened what she saw to the horrors experienced by soldiers.
"My home became a warzone and my memories of that night have impacted me every day since," the woman said. She recalled night terrors, discovering pieces of wreckage for weeks afterwards and reminders so constant she and her husband moved to another town.
Nicholson co-operated with police, the court heard, but had been unable to explain exactly what went wrong.
Judge Bourke said the driving failure and lack of explanation posed concerns for community safety, so cancelled Nicholson's licence for eight years.
Loading
He said had the former primary school teacher pleaded not guilty at retrial and been convicted, he would have jailed her for eight months.
Concerns in jail caused by coronavirus reinforced his decision not to impose a prison term.
The disruptions to the justice system meant Judge Bourke sentenced Nicholson by video link from Melbourne, as she sat in a court room in Ballarat with her husband, daughter and lawyer, while the victims' families watched livestreamed proceedings.
With AAP
If you or anyone you know needs support call Lifeline 131 114, or beyondblue 1300 224 636.
Adam Cooper joined The Age in 2011 after a decade with AAP. Email or tweet Adam with your news tips.