Those flexible plates also mean you can apply less force to keep everything together, which is good because force is another thing that can cause damage.
But since we don't all have professional hair stylists at home, I've been testing the Corrale to see if I can get the same kind of results consistently on my own. I've also been comparing it with the $119 Formwell X Kendall Jenner hair straightener we have at home, since $699 is extremely expensive for a hair straightener.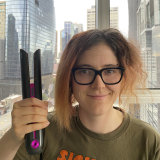 The first thing I noticed was how much more robust and solid the Corrale was compared to the thin plastic feel of the Formwell. The second was how quickly the Dyson heated up; less than 30 seconds versus close to a minute.
According to the hair-type chart and recommendations from Dyson I should be using 185 degrees, but that didn't give me the straight result I was after so I had to go up to 210. It felt comfortable and straightened the right side of my hair in around 10 minutes. Having not a cord made it a lot easier to wrangle, and Dyson says a full charge is good for 30 minutes of straightening.
When it came time to do the left side with the Formwell, 210 degrees was way too hot and caused my hair to smoke. Going back down to 190 left me with a bunch of flyaways, and looked dull and sad after 10 minutes.
Touching the top of the two devices at 210 degrees was also a very different experience. I was able to keep my finger on the Dyson for a few seconds before it felt uncomfortable — so I could hold it in a way that gave me more control while curling my wife's hair — and it didn't burn my ear.
Loading
If I touched the top of the Formwell it instantly felt like I was burning my finger, and my left ear still smarts hours later.
The style the Formwell gave me was perfectly fine, but given how plastic it feels I'd be surprised if the straightener lasted more than two years. Meanwhile the Dyson was solid and has been tested to last for more than two 30-minute styling sessions every day for five years.
Whether that's worth $700 is up to you, but this is certainly, without a doubt, one of the best hair appliances I've ever used.
Alice is a freelance journalist, producer and presenter.
Most Viewed in Technology
Loading