Quarantine measures introduced by the league to enable training and AFL games to restart with government approval will become "the bible" for players and officials to follow in 2020, according to AFL CEO Gill McLachlan.
The AFL is working on establishing an extensive set of protocols that will guide players and officials when they ramp up preparation for games to resume in stadiums without crowds.
McLachlan told Fox Footy on Saturday he had examined an initial document relating to quarantine measures that already ran to 15 pages as the AFL's medical team, led by Dr Peter Harcourt, liaised with government, chief medical officers and international sports in order to take a proposal to the government.
Coronavirus restrictions have thrown the sharing of international crews and aircraft that proved vital during the summer bushfire crisis into doubt and disrupted some hazard reduction activities.
Australasian Fire and Emergency Service Authorities Council chief executive Stuart Ellis said travel restrictions and social distancing requirements to curb the spread of the virus had complicated plans to send fire crews to the US.
Australia, New Zealand, the US and Canada exchange hundreds of firefighters and operational workers as well as an international fleet of 150 public and privately owned water-bombing and spotter planes in their alternate summer seasons.
"Australia drew on 1000 overseas firefighters last summer … that number hasn't been as high previously," Mr Ellis said, adding the "prospect of Australia deploying the same resources to the US which we did in 2017 and 2018, I think that is pretty questionable right now".
Police have charged four people under the public health act and issued 19 coronavirus-related penalty infringement notices for offences within the past 24 hours.
In once instance, police attended Dawson Mall in Mount Druitt and spoke to five people drinking alcohol. Four of them were issued warnings while a 28-year-old man was issued a $1000 fine after previously being warned by police.
Officers returned to the mall almost three hours later and found a 29-year-old man drinking alcohol. He was issued a $1000 fine after previously being warned.
NSW Police Assistant Commissioner Karen Webb said police were working around the clock to identify people who breaking the public health order and directions.
"People are continuing to flout the rules, unfortunately," she said. "Police give warnings were appropriate but what we have found is that people who have already been warned a number of times are now being detected and they will be and will continue to be fined until they get the message."
"We are also seeing, because there are fewer people on the roads, that there some very high speeds being detected.
"That is not acceptable."
Protesters at state capitols across the US have expressed their deep frustration with the stay-at-home orders that are meant to stem the spread of the coronavirus, pushing a message that is rapidly coalescing among the nation's conservatives: reopen the country.
A group of more than 100 protesters converged on Huntington Beach on Friday in a demonstration against California's coronavirus stay-at-home rules.
The protesters – some with Trump banners and American flags – mostly were not wearing masks or practicing social distancing of standing at least 6 feet apart.
Paula Doyle, 62, arrived with a hand-held American flag and a "Live Free or Die" sign and was "sick" of social distancing and Governor Gavin Newsom's stay-at-home order, which she said was "killing business."
Benny White, a 33-year-old Compton resident dressed in a faux white hazmat suit complete with goggles and a Trump 2020 hat, bounced around from corner to corner, often drawing a sizable crowd.
The suit had hand-written Sharpie messages that included the name of an extreme right-wing website and "China Lied People Died."
"It's not dangerous out here. It's not," White said. "I've seen plenty of people out here. The beaches are open. It's a nice beautiful day. What are we doing? Stop being a germophobe."
McClatchy, Washington Post
The Herald's photographers have captured Sydneysiders exercising and enjoying the sunny weather on Saturday.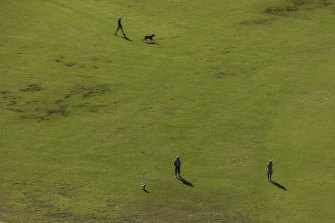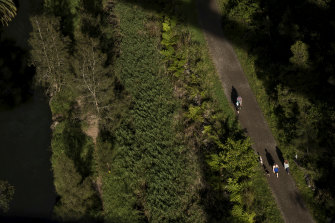 The COVID-19 pandemic has already exacted a heavy toll on Telstra boss Andy Penn as a father, son and chief executive.
One of his daughters is out of a job, his sister-in-law is recovering in the US and now his elderly mother, based in the UK, has caught the virus.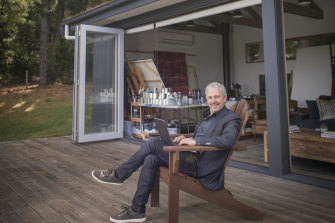 "The unique thing about this crisis is we're all living it at the same time as having to manage within it," Penn says. "My daughter lost her job, I've got very sick elderly parents in the UK and I can't visit – my mother's got COVID-19."
The pandemic is a unique type of challenge for Penn, who is no stranger to challenges and isn't the sort to back down from them. Having taken the reins at Telstra in 2015, Penn's tenure to date has been anything but smooth. From widespread network outages in 2016 to mass job cuts and last summer's national bushfire crisis, Penn has managed to see off every test.
The plagued Artania cruise ship has started its journey home from Western Australia.
The ship had been docked in Fremantle with crew on board for more than three weeks, having secured an additional 14-day quarantine period.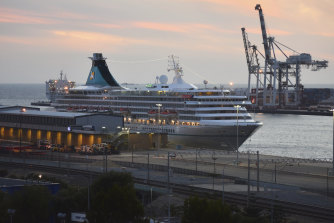 A total of 79 crew and passengers from the Artania tested positive to coronavirus in WA.
A 42-year-old crewman from the Philippines died in a Perth hospital on Thursday, taking the state's toll to seven.
A resident from the Anglicare Newmarch House aged care facility in western Sydney has died, pushing the state's total death toll to 27 people.
In a statement, Anglicare Sydney said: "We are very saddened to inform that a 93-year-old male resident of Newmarch House, who was positive for COVID-19 and already suffering multiple serious health issues, has passed away this morning."
"The resident's cause of death will be formally confirmed in the coming days. The resident's relatives have been informed."
NSW Health said there was one more confirmed case of COVID-19 at the facility since Friday, bringing the total to 30 cases -10 staff and 20 residents.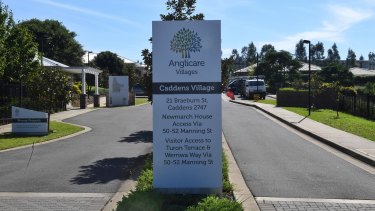 Visitor restrictions remain in place and contact tracing continues.
"The source of the initial infection is under investigation. All residents and staff have been tested, with results pending. Confirmed cases currently have mild, or no symptoms," NSW Health said in a statement.
Deputy Chief Medical Officer Professor Paul Kelly has stressed the COVID-19 tracing app the government is making will be voluntary, not mandatory as some people feared.
The app is based on a model introduced in Singapore which authorities found helped follow where the COVID-19 virus was showing up although Professor Kelly said the uptake wasn't high in Singapore and he didn't know how popular it would be in Australia.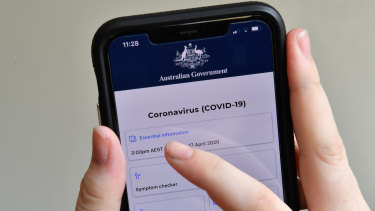 But he said any extra data would be welcome by health authorities as they worked to track cases and follow which areas were showing outbreaks or clusters of the virus.
"This is absolutely voluntary addition to work we already do as routine in public health measures," Professor Kelly said on Saturday.
"This app could assist very strongly in the case finding and contact tracing which are crucial to us in flattening that curve.
"We don't have an app right now, so we don't have that to assist us so a one per cent uptake of the app would be an improvement and the more we have, the better that would be."
Professor Kelly said there was a lot of benefits to having the app in Australia and he hoped people would use it.
He also stressed the data would only be used by health authorities.
"The data will only be given to the health officials in the particular state or that particular public health unit involved," he said.
"There is no geo-location or anything like that on this app. It's only based on contact tracing and case finding in a very rapid and, hopefully, wider fashion to protect all of us.
"If I was in contact with a person who was infectious and I had that app on my phone and the infectious person had it on their phone then I could be alerted to that fact, even if I didn't know that person was infectious when we had close contact.
Professor Kelly admitted he wasn't sure how extensive the uptake of the app would be.
"They haven't had a huge uptake in Singapore, whether we match that remains to be seen," he said.
"It will be explained in more detail over the coming week as it's developed and we are committed to make that available as part of the protection of the Australian public."