Captain Tom Moore, a 99-year-old British war veteran, has now raised more than 25 million pounds ($49 million) for the health service by walking 100 laps of his garden.
The World War II veteran, who has used a walking frame with wheels since breaking his hip, set himself the target of walking the 25 metres around his garden 100 times before his 100th birthday on April 30.
He completed his task on Thursday.
His original target was to raise 1000 pounds, but that modest aim was blown away as media attention from around the globe zoomed in on his garden in Bedfordshire, central England.
Moore will be the guest of honour when a new "Nightingale" field hospital opens in Harrogate in northern England next week, which is being set up to help deal with the coronavirus outbreak.
"I am still amazed by the amount of kindness and generosity from the UK public who continue to give despite it being an uncertain time for many," Moore said in a statement on Saturday.
Reuters
More than 1000 crew members on the Ruby Princess are anxiously waiting for COVID-19 test results that will help determine if they can leave the ship and be repatriated to their home countries.
NSW Chief Health Officer Kerry Chant on Sunday said extensive testing of the ship's crew had been conducted aboard and she hoped the COVID-19 test results would be "finalised in the next few days".
The crew had been tested for the presence of the virus and for antibodies to help determine their immunity to COVID-19. "That is to give us a very comprehensive picture of the ship to inform the decisions around departure," she said.
Tony Award-nominated actor Nick Cordero, who specialised in playing tough guys on Broadway, has had right leg amputated after suffering complications from the coronavirus.
His wife Amanda Kloots said on Instagram that Mr Cordero had been treated with blood thinners to help with clotting in his leg, but his doctors had to stop the treatment because it was causing internal bleeding.
Cordero entered the intensive care unit at Cedars-Sinai Medical Center in Los Angeles on March 31 and has been on a ventilator and unconscious after contracting COVID-19.
His wife has been sending him daily videos of her and their 10-month-old son, Elvis, so he could see them when we woke up, and urging friends and fans to join a daily sing-a-long.
Cordero played a mob soldier with a flair for the dramatic in 2014 in Broadway' adaptation of Bullets Over Broadway, for which he received a Tony nomination for best-featured actor in a musical.
The lanky Cordero originated the menacing role of husband Earl opposite his estranged wife, played by Jessie Mueller, in Waitress, as well as the role of Sonny in Chazz Palminteri's A Bronx Tale.
On the small screen, Cordero appeared in several episodes of Blue Bloods and Law & Order: Special Victims Unit.
The virus has sickened other Broadway veterans, including the actors Danny Burstein, Brian Stokes Mitchell, Gavin Creel, Aaron Tveit and Laura Bell Bundy as well as composer David Bryan. It has also claimed the life of Tony-winning playwright Terrence McNally.
AP
Queensland is predicting school attendance rates could be as low as 10 per cent this week, with most students set to learn from home under a system that's likely to see "teething problems".
Premier Annastacia Palaszczuk acknowledged that day one of the new school term could be "quite confusing" for some parents, but she sought to remind them of the scale of the problem being dealt with by governments around the globe as a result of the COVID-19 pandemic.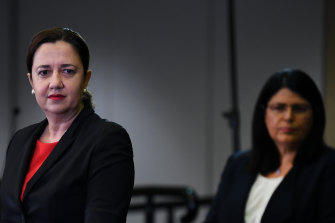 The comments came as the state reported five more cases on Sunday, bringing the total to 1019.
A sixth Queenslander died from the disease on Saturday. The 83-year-old man had been a passenger on the Celebrity Eclipse cruise ship and died on Friday while in quarantine in Sydney.
Of the state's total cases, 738 have now officially recovered. Just 275 are considered active, with 22 people in hospital and eight in intensive care.
Ms Palaszczuk said two hotlines had been established for confused parents of children enrolled in the state school and early learning sectors ahead of classes on Monday.
Avid cyclist Patrick Nalepka has always pestered his partner Melissa Ridgley to ride with him.
After many years of convincing, the St Leonards couple is now cycling all over Sydney together – and it's all thanks to COVID-19.
Residents across Sydney are taking advantage of the lack of cars on roads and turning to cycling as an alternative form of exercise, with many bike shops seeing an increase in sales.
Germany's confirmed coronavirus cases have risen by 2,458 to 139,897, data from the Robert Koch Institute (RKI) for infectious diseases showed on Sunday.
That was lower than a 3,609 increase reported on Saturday, by when cases of infections had been increasing for four days in a row.
The reported death toll has risen by 184 to 4,294, the Sunday tally showed.
That was down from a day-on-day increase shown on Saturday of 242, and 299 on Friday.
Reuters
Anglicare, the organisation that overseas Newmarch House nursing home, have issued a statement after a 94-year-old resident passed away this morning, the second at the home.
"The resident's immediate family have been informed. Our thoughts and prayers are with them as they grieve," the statement read.
"All Newmarch House residents and their families have been notified, as well as all staff. All relevant authorities have also been notified.
"Although the cause of death has not been determined, this is tragically our second resident who has died in recent days, who had received a positive diagnosis of COVID-19.
"The death of any of our residents is always difficult for their family, neighbours and friends, as well as for our staff and volunteers, many of whom know the resident closely having cared for the resident over a number of years.
"We want to thank everyone involved for their understanding, sympathy and support with this situation.
"We want to reassure the wider community that with our partners from the State and Federal Health authorities we are doing all we can to curb the spread of the virus and to care for our residents in the midst of this tragedy.
"The safety, health, and wellbeing of our residents, staff, and volunteers is our highest priority."
NSW Police have charged seven people with breaches of the public health act as well as having issued 45 $1000 fines over the past day.
Two 16-year-old boys in Wahroonga in Sydney's north were charged with affray after an alleged assault on a 15-year-old boy in a nearby park, while two others in Sylvania were charged with property damage after allegedly throwing a rock and a glass bottle at a window.
Among the 45 people issued with fines was a 43-year-old Fairfield man who was pulled over in a McLaren in Potts Point – allegedly telling police "do what you want mate, I don't care. This $1000 fine won't hurt with my $15 million" – as well as a 19-year-old woman who told police she was going to Cabramatta to buy a pork roll.
The federal Chief Nursing and Midwifery Officer Alison McMillan said that progress was being made in the fight against the COVID-19 pandemic, but that Australians, particularly frontline healthcare workers, needed to remain vigilant.
The flattening of the curve is "satisfying and very encouraging," but concern around outbreaks – notably in north-western Tasmania and in NSW nursing homes – remain.
"If you are unwell, please don't go to work," she said, as she reminded healthcare workers to remember to practice social distancing themselves.
"That is how we are going to protect those most vulnerable in our community from this pandemic as we go forward."
Ms McMillan also announced an influx of personal protective equipment coming into the country
"That goes to protect and support our frontline healthcare workers as they go about their daily business," she said.