Council officers are patrolling some of the city's busiest parks and are being encouraged to dob in flagrant breaches of coronavirus restrictions as cycling and jogging tracks become increasingly clogged.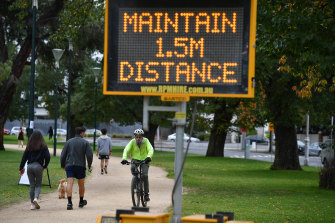 Melbourne City Council officers are patrolling Princes Park and The Tan running track, while Kingston Council, which takes in beaches such as Mordialloc, has local officers patrolling the foreshore.
Local laws officers are not authorised to issue fines, but have been tasked with reporting blatant breaches to police for investigation and helping educate the public about the rules requiring them to stay 1.5 metres apart.
Read more: Council officers told to dob in rule breakers as trails clog with joggers, cyclists
South Koreans are returning to work and crowding shopping malls, golf courses, parks and some restaurants as the country relaxes social distancing rules as the number of coronavirus cases trends downward.
Several companies, including energy corporation SK Innovation and tech multinational Naver, have ended or eased their work-from-home policy in recent weeks, though many still offer flexible working hours and limit travel and face-to-face meetings.
Golf courses and parks brimmed with visitors over the weekend, while shopping malls and restaurants were slowly returning to normal.
South Korea's ongoing recovery from the first major coronavirus outbreak outside China paints a stark contrast to many other countries where cities remain sealed off and sweeping stay-at-home orders are in place.
Health authorities urged vigilance, warning new clusters could still emerge at any time, especially after South Korea held the first national election last week since the epidemic began, and ahead of long holidays starting next week.
Schools are still holding online classes.
Reuters
Read more: South Koreans return to work, malls and golf courses
Singapore's health ministry has confirmed an additional 1426 cases of the COVID-19 infection, a record daily jump, mainly among foreign workers living in dormitories.
The city state now has the highest number of cases of the disease in Southeast Asia, based on official data.
Authorities have managed to mitigate the spread of the virus among Singapore's citizens by rigorous contact tracing and surveillance, earning praise from the World Health Organisation.
But the disease is spreading rapidly within the large migrant worker community, highlighting what rights groups say is a weak link in containment efforts.
Authorities have ramped up testing for the disease in the dormitories.
Among the new cases, 16 cases are of Singaporeans or permanent residents. The total number of cases stands at 8014, with 11 fatalities.
Reuters
Regarding new bail laws Premier Daniel Andrews says every part of society is being impacted by the pandemic.
"For the safety of police staff, for the safety of the community we can't have people just going about their normal business presenting at police stations," he told ABC radio this evening.
"But it won't change who gets bail. Those very strict requirements remain in place."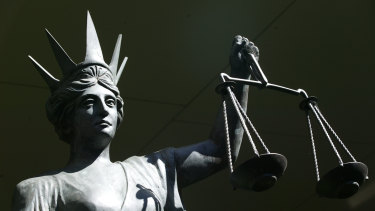 Earlier, we reported that accused criminals in Victoria won't have to physically report to police stations while on bail due to the health crisis.
The change will take effect from Friday.
With news of Virgin Australia's imminent collapse into voluntary administration, Premier Daniel Andrews says Victoria is happy to discuss a possible bailout.
"If we can play a part we're more than happy to have discussions," Mr Andrews told ABC radio this evening.
He said contributing government money would depend on whether there was value for Victorian taxpayers.
"We've been having discussions with Virgin for months – months and months, before the global pandemic – because there were some prospects, possibly, of larger numbers of jobs moving to Victoria," he said.
"If we can play a constructive part of course we would look to do that. But I think the national government has got a part to play in this as well."
Mr Andrews said the market could not fix the problem because it had been distorted by government restrictions on travel.
Virgin has already tried to broker a deal with the Queensland and NSW state governments, with a minor bidding war breaking out between the two states today over where the Brisbane-based group should be headquartered.
On Saturday, the Queensland government offered a $200 million rescue package for the country's second national carrier – as long as its headquarters remained in Bowen Hills in Brisbane.
The NSW government put forward a rescue package – with the condition of relocating the airline's headquarters to Sydney.
Today, Queensland vowed to "stop at nothing" to keep Virgin's headquarters in Brisbane and warned the NSW government to "back right off".
"If the world knows one thing, it knows this: there is nothing more dangerous than Queenslanders with their backs to the wall," State Development Minister Cameron Dick said.
"New South Wales might want to bring a pea-shooter to the fight, we will bring a bazooka and we're not afraid to use it."
Virgins' board is set to meet tonight.
The nightly update from the Prime Minister's Office highlights some of the key figures and developments from the day:
2,404,325 cases of COVID-19 and 165,238 deaths have been reported across approximately 216 countries and regions.
Over 431,700 tests have been conducted for COVID-19 in Australia.
6619 confirmed cases in Australia (71 deaths).
New Zealand PM Ardern announced today that the country will move down to Alert Level 3 (from Level 4) from 11.59pm Monday, April 27. There are a total 1440 confirmed and probable cases in NZ, and 12 deaths. New Zealand will then hold in Alert Level 3 for two weeks, and make further decisions at Cabinet on May 11.
Health authorities have confirmed six new coronavirus cases in NSW in the past 24 hours, marking a five-week low of infections in the state.
For the first time in more than 40 days, Queensland recorded no new cases of coronavirus overnight.
The federal government has given the Royal Flying Doctor Service, CareFlight and other similar services $53 million in funding to support evacuations of people with suspected coronavirus and the delivery of protective equipment for frontline staff.
100 million surgical masks needed to help stop the spread of COVID-19 will be distributed to frontline workers over the next few weeks.
3.5 million extra doses of the flu vaccine will be made available.
New data from the ABS shows around two-thirds of Australians (68 per cent) are concerned or very concerned about their personal health because of COVID-19. As a result, 87 per cent of Australians reported washing their hands/using sanitiser more than usual and 52 per cent of Australians aged 18 and over changed or cancelled their travel plans.
The Prime Minister's Office has released its nightly coronavirus update, which includes this graph showing the number of confirmed cases in Australia alongside social distancing measures.
The graph marks when social distancing measures we introduced – particularly the March 29 decision to limit gatherings to two people.
The orange bars chart the number of cases recorded each day.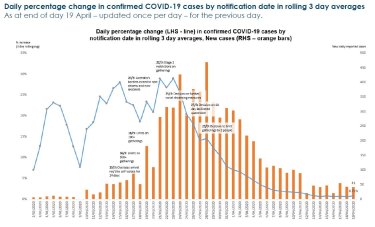 Restrictions on the number of people Victorians can socialise with and bans on some community sports may be the first to be lifted if coronavirus infections remain low.
Premier Daniel Andrews said he could not give an exact date or criteria for when the government would begin winding back restrictions, but he told ABC radio this afternoon that the latest figures, which showed just one new COVID-19 case overnight, were encouraging.
The government will consider its options on May 11 when the current state of emergency expires.
Mr Andrews confirmed meetings with more than one other person and allowing some sports were likely to be allowed in lifting restrictions.
"I think they're probably the lowest risk and that's what you've got to be guided by," he said.
But he said reopening pubs, bars and restaurants would likely come later.
The residents of Ramsay Street are returning home after an extended break. Aussie TV soap Neighbours is going back into production next week, with social distancing measures in place.
It is one of, if not the first television drama, to resume filming after shutting down due to coronavirus.
Social distancing measures mean kissing and holding hands will be forbidden, and camera trickery will be used to make the actors look closer.
Let's pause to take a look at some of the figures from around the country:
A total of 6619 Australians have caught the virus and more than 4200 have recovered.
No new cases were recorded in Western Australia, South Australia and Queensland in the past 24 hours.
Sydney's Newmarch House aged care facility, home to about 100, now has 27 residents and 14 staff infected.
55 coronavirus patients are in intensive care in hospitals across Australia.
More than 420,000 tests have been conducted across the nation, with a positive rate about 1.6 per cent.