A Melbourne City Council spokeswoman said the officers were patrolling areas such as Princes Park, in the city's inner-north, and The Tan running track, south-east of the CBD, as part of the council's "education-first" approach to deter overcrowding.
"City of Melbourne local laws officers and park rangers are patrolling local parks and walking tracks to remind people to follow the advice of the Chief Health Officer and observe social distancing restrictions," she said.
Prominent signs have also been placed at popular jogging and walking spots to remind people of the restrictions.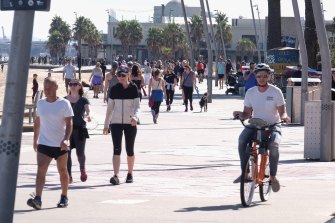 While gyms are closed, Victorians are able to leave home for basic exercise, provided it's possible to maintain physical distancing of at least 1.5 metres from others at all times.
Kingston Council, which takes in beaches such as Mordialloc, has local laws officers on the foreshore areas doing patrols on foot, pushbike and buggies, as does Bayside City Council.
Loading
Bayside mayor Clarke Martin said the officers had "stepped up to support police during fine weather weekends to educate the community that congregating on Bayside's beaches is not allowed and social distancing must be followed".
A Frankston council spokeswoman said access to beaches was restricted. Council officers were monitoring and patrolling foreshores to provide "education" and they would reinstate full beach closures if they noticed a rise in non-compliance.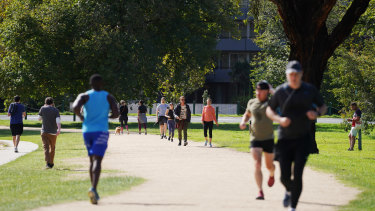 Moreland mayor Lambros Tapinos said the Merri Creek Trail had seen a rise in patronage over the past few weeks.
Signs will soon go up instructing people at narrow sections of the trail to wait for oncoming users to pass before they cross.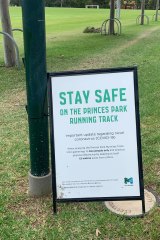 "While there is likely a dip in the number of commuters using Moreland's shared paths to get to work, we have noticed a spike in recreational walking and cycling on our shared paths," he said.
"We have received concerns from the community about the difficulty of practising social distancing on our shared path bridges, such as the narrow Harding Street bridge in Coburg East which crosses the Merri Creek."
Police are also doing regular patrols of parks in Melbourne as part of Operation Sentinel. They have fined dozens of people over the past month.
Loading
These include 10 youths gathering at a skate park in Greater Dandenong, nine people playing rugby at a reserve in Wyndham Vale and seven people playing soccer at a Mill Park oval.
Last week, Port Phillip mayor Bernadene Voss warned St Kilda beach could be closed if they continued to see people flouting coronavirus restrictions and not social distancing.
Simone is a crime reporter for The Age. Most recently she covered breaking news for The Age, and before that for The Australian in Melbourne.