"We don't want to negotiate anything," Bolsonaro said in an improvised speech delivered from a flatback truck, according to videos posted on social media. "We want action for Brazil."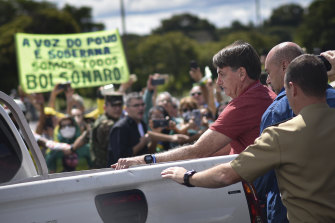 Since coming to power in January 2019, Bolsonaro has asked the Defence Ministry to organise commemorations of the two-decade-long military dictatorship, paid tribute to General Alfredo Stroessner, the military strongman in neighbouring Paraguay, and backed changes in schools' history curriculum that would revise the way children are taught about the 1964 military coup.
He earlier shared on Twitter a newspaper report about the growing number of Brazilians unable to pay their bills, saying it was not difficult to guess what comes next if lockdown measures remain in place.
The far-right President, worried about the impact of a looming recession in Latin America's largest economy, has urged Brazilians to resume work even as deaths from COVID-19, which he has called "just a little flu", near 2500 and states order the digging of mass graves. Last week, he fired his health minister after repeatedly clashing with him over the handling of the pandemic. On Sunday, the country had confirmed 38,654 cases in total.
At the weekend, he also greeted supporters outside the presidential palace stating that people should not "cower in fear" of the virus.
As supporters chanted "Jesus is our king", Bolsonaro told them 70 per cent of the country was going to contract the illness anyway, if not today, then next week, so people should be careful but go back to work.
Some of his actions resemble US President Donald Trump's early trajectory of dealing with the coronavirus pandemic, from minimising the problem to delivering Health Ministry advice, to dismissing it all together and promoting anti-lockdown rallies.
Loading
But for some, Bolsonaro crossed a line with his appearance at a demonstration where participants called for the shutdown of democratic institutions.
"The President of the republic crossed the Rubicon," wrote Felipe Santa Cruz, president of the Brazilian Bar Association, on his official Twitter account. "Time for Democrats to unite, to overcome difficulties and disagreements, in the name of a greater good called FREEDOM!"
Supreme Court judge Justice Luis Roberto Barroso focused his criticism on protesters.
"It is frightening to see demonstrations for the return of the military regime, after 30 years of democracy," he wrote on Twitter.
Many Brazilians were also angered at Bolsonaro's defiance of the stay-at-home measures introduced by several state governors. The President has multiplied public appearances in recent weeks, meeting with supporters, protesters, passersby or business owners.
"The whole world is united against the coronavirus," Lower House Speaker Rodrigo Maia, one of the main targets of Bolsonaro and his supporters, said in a Twitter post. "In Brazil, we have to fight against the coronavirus and the virus of authoritarianism. It's a lot of work, but we'll win."
On Saturday, hundreds of people denouncing pandemic restriction measures opposed by Bolsonaro snarled traffic in major Brazilian cities.
AP, Bloomberg