"We have seen the emergence of the 'new dinner time' as the evening spike in orders has moved forward 43 mins from 7.06pm to 6.23pm – we guess due to the lack of a commute," the spokesperson said.
Deliveroo added around 160 riders over the last four weeks, an increase of just 2.5 per cent.
Uber Eats declined to provide details about order volumes but a spokesperson said the food delivery platform had experienced increased demand from restaurants which wanted to sign up.
"As more restaurants turn to on-demand food delivery as a way to connect with customers, the Uber Eats team continues to work around the clock to get new restaurant partners online as quickly as possible and to support existing partners," the spokesperson said. "Uber Eats has deployed staff from other parts of our business, including New Zealand, to accelerate the process for restaurants in Australia."
Rather than relying on the food delivery platform giants, restaurants have been encouraging customers to come and pick up orders themselves and offering cook-at-home items.
Restaurateur and founder of pizza chain 400 Gradi, Johnny Di Francesco, has closed 13 of his restaurants as a result of coronavirus and kept one outlet, in the Melbourne suburb of Brunswick, open for delivery and takeaway.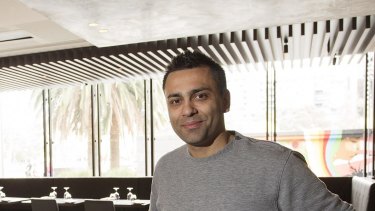 He is using both Uber Eats and Deliveroo for delivery but has tried to decrease his business' reliance on the apps by offering discounts to customers who pick up their own food.
Mr Di Francesco has also tapped into customers desire to cook for themselves by establishing a "supermarket" selling pasta, sauces and pizza bases.
Loading
"With Deliveroo and Uber Eats, as much as its turning over a little cash flow for us, the percentages given back to the companies is a pretty big dent in turnover," he said. "It looks OK on paper at the end of the night but once you take out the commission, you think 'urgh'."
Mr Di Francesco said the high commissions charged by the food delivery apps made it very hard for restaurants to make a profit.
"Taking 35 per cent when restaurant margins are between 3 and 10 per cent is very difficult," he said. "You are handcuffed and you are doing that just to keep people on."
Cara is the small business editor for The Age and The Sydney Morning Herald based in Melbourne