University of NSW infection control expert Professor Marylouise McLaws said Australia had done "amazingly well" in containing the virus, but that might have led to some community complacency.
"I think when you don't hear bad news all the time, you think the battle is over, but it's not over yet," she said.
Loading
Dr Holly Seale, an infectious diseases behavioural expert, said there could be a mix of factors pushing larger numbers of people outdoors.
"It may be a bit of complacency, it may be a bit of frustration. We haven't been under these conditions in Australia before, and the vast majority of the population have never known what it's like," she said.
Dr Seale said the public messaging about social distancing was still about reminding people not to shake hands and to remain 1.5 metres apart. But she said that that messaging was due for a rethink.
"We're at a point of saturation with those messages and it's time to move to a different gear," she said.
"We need to refresh our messages, collect up-to-date information on [the community's] perception of risk and concerns, and use that data to inform updated messages."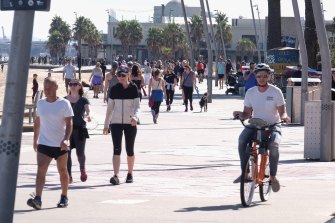 Dr Seale said it was crucial to know what the community thought about the ongoing restrictions, but without knowing that, governments simply needed to explain why it was still important to maintain social distancing.
"It's about providing some rationale to why some beaches are open, why the Prime Minister is encouraging people to go back to school, about making people understand [the danger of] transmission in the community and who is potentially still at risk," she said.
Loading
Professor McLaws said health authorities around the country would be using this time to get "a really good handle on community-acquired infection" so they could prevent a widespread outbreak and reduce the change of more people getting infected and dying from the disease.
"It's an enormous battle to put the genie back in the bottle once we have widespread outbreak," she said.
Professor McLaws said if health authorities got even greater control of the disease in Australia, they would then be able to tell us it was safe to sit on a beach or to go to a coffee shop, but still with a degree of social distancing for at least the near future.
"We just need to be a little more patient so the authorities can safely tell us it's safe to go out there," she said.
Rachel Clun is a journalist at The Sydney Morning Herald.