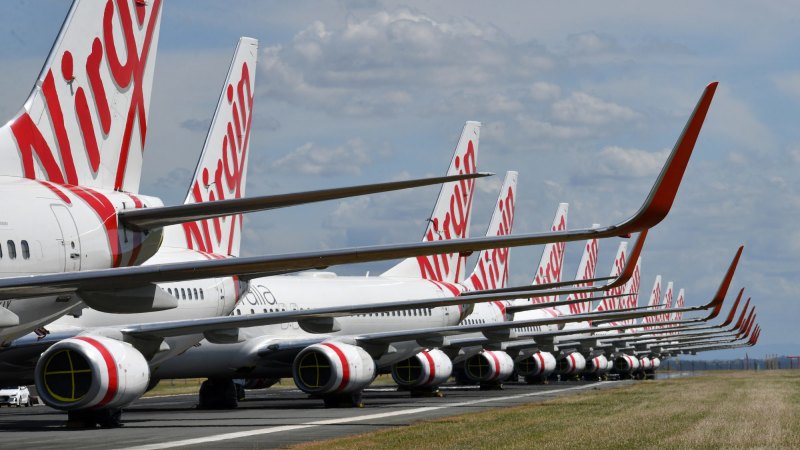 Loading
The airline was saddled with around $5 billion in debt and was running out of money as the coronavirus pandemic forced it to almost completely shut down its business.
Virgin's future had hung in the balance ever since the pandemic took hold. It had asked the federal government for a $1.4 billion loan to see it through the crisis but was rebuffed.
The collapse came after the company had been trying to broker a deal with the NSW and Queensland state governments to keep the airline afloat.
The company being reborn through a deed of company arrangement struck in administration is "the airline's only chance", said a source familiar with Virgin's struggles.
One such private equity buyer could be BGH, which has been named as a party that could be interested in salvaging Virgin either from administration or prior to it going under.
The administration process would see some of its debts wiped and aircraft leases renegotiated.
The Morrison government is planning to allow the voluntary administrators to restructure the company and come to arrangements with shareholders and lenders before any decision on whether to put taxpayer funds at risk.
Prime Minister Scott Morrison met cabinet colleagues in Canberra on Monday afternoon as Virgin prepared to enter voluntary administration, but government sources played down any chance of an imminent rescue package.
Labor infrastructure spokeswoman Catherine King called on the government to put money into the company with a line of credit.
Loading
"What we do know is if the government doesn't act, if this company goes into voluntary administration, there are 16,000 workers who will be seeking JobSeeker assistance," she said.
"Frankly, we know the government has the capacity today to save this airline."
But the government does not have an imminent rescue proposal and does not want to inject cash or offer a debt guarantee when the company is yet to restructure its existing equity and debt.
Loading
Prime Minister Scott Morrison has made it clear the government wants a two-airline industry in Australia but that any assistance is for the industry as a whole, rather than favouring one company over another.
"I understand and know that there are all sorts of commercial discussions going on right now," Mr Morrison said last Friday.
"And the worst thing I could do as a Prime Minister or as a government is get in the way of that."
More to come
Business reporter at The Age and Sydney Morning Herald.
Sarah Danckert is a business reporter.