A doctor at St George Hospital has tested positive for COVID-19.
Several people who had close contact with the healthcare worker, including a number of staff members and patients, were identified and isolated.
"There is no ongoing risk to patients or staff and there has been no impact on hospital services," a statement from SESLHD said. "Health screening is carried out on all healthcare workers at the start of each shift and the healthcare worker did not work whilst unwell."
The doctor presented to a COVID-19 clinic as soon as symptoms arose, the statement said.
Almost two-thirds of people with COVID-19 in NSW have recovered, with the vast majority reporting they were well within three weeks.
With 1755 of the state's 2969 cases reporting they are now free of symptoms, the NSW figure (59 per cent) is slightly lower than the national recovery tally of 65 per cent.
NSW Deputy Chief Health Officer Jeremy McAnulty said this data was an important piece of the jigsaw of the disease.
"It's reassuring to be able to say most people recover, and recover in this time period," he said.
Read more here. 
A third person has died as a result of a COVID-19 cluster at an aged care home near Penrith, bringing the national toll to 72.
Cadden's Newmarch House became a hotspot after a worker who had COVID-19 worked six days at the facility.
Anglicare confirmed the death on Tuesday night. It marks the 29th death in NSW.
"We are saddened to advise a third resident of Newmarch House, who had tested positive for COVID-19, passed away late this morning," the statement read. "She was 92-years-old and had multiple health issues."
Anglicare Sydney's chief executive Grant Millard said: "I have spoken personally to the immediate family of the resident to convey our deepest sympathies".
NSW Chief Health Officer Kerry Chant said on Tuesday that a total 42 people, 14 staff and 28 residents, were now positive with COVID-19 as a result of the outbreak.
An eastern suburbs council that opened its beaches for exercise has been forced to tighten restrictions again ahead of forecast hot weather after sunbathers flouted social distancing measures on Tuesday.
Police moved on crowds ignoring the strict conditions of entry to Coogee Beach just before midday as the temperature hit 22ºC, with lifeguards repeatedly urging those idling on the sand or in the water to move or risk the area's closure again.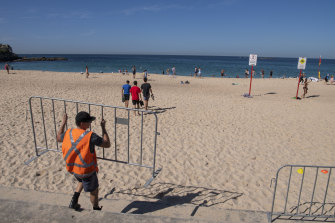 "Take some ownership for your actions," one lifeguard said over a loudspeaker.
"Do the right thing and everybody can enjoy the beach."
Council workers began gating off the central stairs on the promenade after people congregated, forcing visitors to funnel through one section to enter the beach and leave via another.
Read more here. 
Beijing has imposed new restrictions on 3.5 million people in its upscale diplomats' district, as it guards against the threat of a second wave of coronavirus cases.
The move to increase restrictions in Chinese capital just weeks after it relaxed strict social distancing measures is likely to be repeated around the world, as Australia and other countries grapple with the threat of resurgent infections.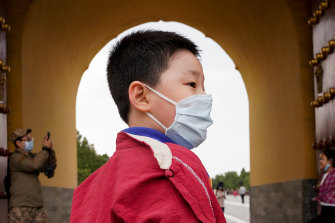 Beijing's Chaoyang district, home to dozens of foreign embassies, has been designated a high-risk area after a family of three became infected, the first new cases in the city for 27 days according to the Beijing Centre for Disease Prevention and Control.
Prime Minister Scott Morrison on Tuesday said there were no plans to change travel restrictions on China as Australia's largest trading partner looks re-open parts of its economy despite the threat of a second wave.
The Wall Street Journal reported on Tuesday that Chinese diplomats had begun negotiating with up to a dozen countries including South Korea, Singapore and others in Europe on two-way travel for essential workers and business.
Read more here. 
Woolworths has doubled its capacity for online grocery deliveries in response to the coronavirus crisis as it prepares for a sustained spike in online demand, which could see e-commerce sales soar to nearly $3 billion by next year.
An additional 5000 third-party couriers will join Woolworths' 800 dedicated delivery drivers to ship online orders to homes, enabling the supermarket giant to offer tens of thousands more home delivery windows from the end of this week.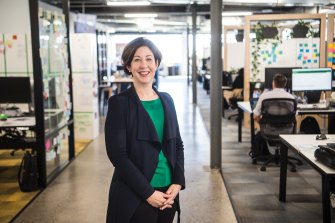 A new temporary 7000 square metre delivery hub has also been established in the Melbourne suburb of Notting Hill. The company expects the hub to facilitate 5000 additional orders each week, adding to the orders which are already picked from the shelves of hundreds of stores across the country.
These changes, coupled with a predicted permanent increase in the number of online shoppers at Woolworths, will likely see the retailer's online sales double to nearly $3 billion by the end of the 2021 financial year.
Read more here. 
Let's pause to take a look at the latest figures in Victoria.
The total number of cases in the state stands at 1336 – an increase of seven from yesterday.
The new cases include one returned traveller diagnosed while in mandatory quarantine in a city hotel.
To date, 1202 Victorians have recovered from the virus.
This time last week there were 1291 confirmed cases, and 1118 people had recovered.
12 people are fighting for their lives in intensive care.
28 people are in hospital (including the 12 in intensive care).
138 cases may have been acquired through community transmission.
More than 88,000 tests have been completed.
241 cases in regional Victoria.
15 Victorians have died from the virus.
Beaches in Sydney's north, including Dee Why and Manly, will remain closed for another week as the council tries to stop the community transmission of coronavirus.
The five beaches, including Queenscliff, North Steyne and Shelly Beaches, were closed earlier this month after the areas were identified as hotspots.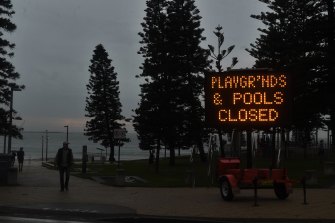 After reviews by NSW Health and the Northern Beaches Council, the beach closures have been extended on a week by week basis.
"Whilst all other beaches and reserves remain open at this time, they will also be closed if people do not observe social distancing rules, including no gatherings or loitering," Council chief executive officer Ray Brownlee said. "Council supports the community taking part in exercise in line with the Federal Health Order and encourages everyone to do the right thing to help stop the spread of the virus."
The virus behind the world's COVID-19 pandemic can stay infectious in the air for more than 12 hours, early research out of four major US laboratories has found, as more scientists warn it may have been underestimated by authorities such as the World Health Organisation.
It is still unclear how much of the SARS-CoV-2 virus you would need to inhale to get sick. But researchers from America's National Institute of Allergy and Infectious Diseases and elsewhere found it was "remarkably resilient" in the air when aerosolised into smaller particles compared with the two other deadly coronaviruses to emerge in humans, SARS and MERS.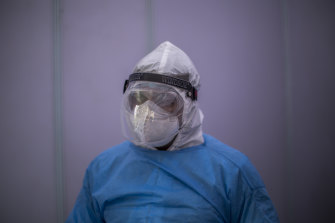 After 16 hours, particles of the new virus could still infect cells in a dish and looked intact under the microscope.
"That's very unusual, we'd expect them to be ripped apart in the air by then," said infectious disease aerobiologist Professor Chad Roy, one of the co-authors of the research. "We scientists don't use this kind of bold language lightly so health authorities need to take note."
Read more here. 
Hundreds of crew from the besieged Ruby Princess are set to leave the ship over the coming days, after an initial 57 were taken off the cruise liner on Tuesday to begin the repatriation process.
Crew who remain aboard say they were told owners Carnival plans to sail from Australian waters for the Philippines, with possible stops in Indonesia and India to repatriate more crew.
Hundreds of crew from the besieged Ruby Princess are set to leave the ship over the coming days, after an initial 57 were taken off the cruise liner on Tuesday to begin the repatriation process.
Crew who remain aboard say they were told owners Carnival plans to sail from Australian waters for the Philippines, with possible stops in Indonesia and India to repatriate more crew.
Read more here.