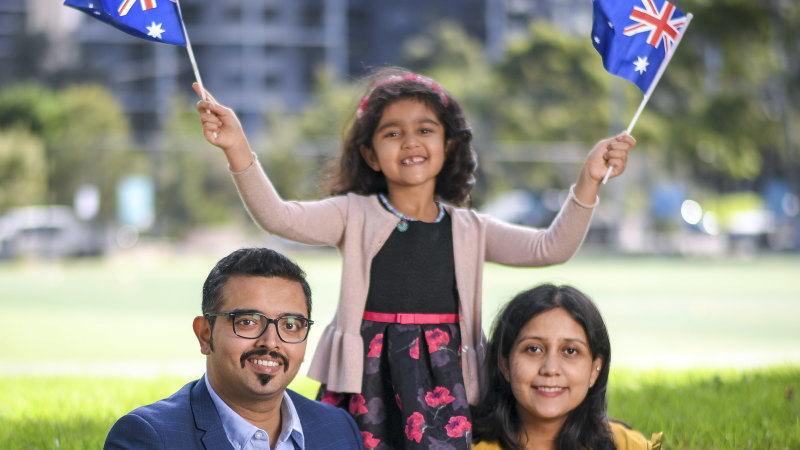 Wednesday's intimate ceremony will be a far cry from the usual grandiose affairs attended by hundreds beneath the art deco lighting dome in Melbourne Town Hall's elegant Swanston Hall. But Mr Chakraborty, his wife Rupsa and seven-year-old daughter Tulip are delighted to be among the first seven Melburnians to get their citizenship through a virtual ceremony with the lord mayor.
"I am really happy with the way Australia is dealing with this pandemic situation – I don't think we would have been safer in any country," Mr Chakraborty said.
The federal government has already conducted 170 online ceremonies with officials from the Department of Home Affairs.
Acting Citizenship Minister Alan Tudge, who himself on Tuesday conducted an online ceremony, said it was more important than ever to welcome new citizens.
"We expect 90,000 people will receive their citizenship in this way over the next six months," he said. "I commend the City of Melbourne helping with this trial so we can get councils back involved in these great events."
Loading
Mr and Ms Chakraborty, who are from Kolkata in India, never thought they would end up settling permanently in Australia.
Mr Chakraborty moved to Melbourne in 2010 when he was offered a job providing software support for utilities company AGL. His wife followed a year later.
Ms Chakraborty says she was initially homesick, but the family found themselves beguiled by the beauty of Australia.
"There is so much mutual respect for every culture in this country – I never imagined I would be able to celebrate Diwali in Federation Square," Mr Chakraborty said.
Ms Chakraborty likes the fact you can be lost in nature a short drive from the CBD, and said she felt very safe living in Australia.
"People have never made me feel I belong overseas to a different country."
The lord mayor said Melbourne's diversity was a great strength and the COVID-19 pandemic showed how all aspects of the community had come together to help slow the virus' spread.
"Melburnians share 200 different cultures, speak 230 languages and dialects, and practise more than 120 faiths," Cr Capp said.
"I am pleased and relieved that we can now continue to deliver our ceremonies by using technology innovatively."
Jewel Topsfield is Melbourne Editor of The Age.