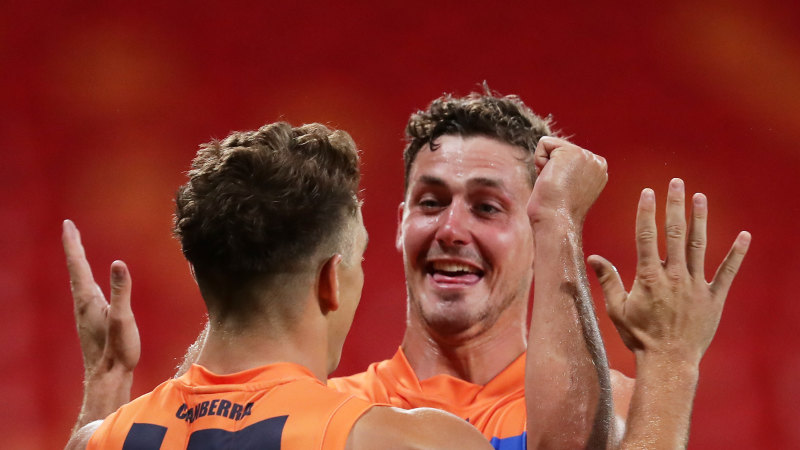 "I'm actually not complaining at all, to be honest. Drag it on a bit longer so I can talk it up around here," Perryman said.
"Hopefully it is a shorter season. You never know."
Perryman couldn't resist a dig at his more celebrated teammates either, when outlining how he might keep the lead.
"Get in to that forward line and don't handball … that is what the rest of them do," Perryman said.
Don't worry, some of those experienced teammates are plotting revenge, with last year's Coleman Medal winner Jeremy Cameron aware of the popular Perryman's shenanigans
"I am pretty flat about it," Cameron said.
"He's had an incredible pre-season and rolled out and done that and has told everyone about it ever since. He's let all the boys know he is leading the Coleman."
PUNTERS' PAL
In these troubled times punters will take a winner wherever they can find them.
But Fox Footy Live is not normally the Saturday morning choice for those looking for a tip at the races.
Unless, of course, AFL CEO Gill McLachlan is being interviewed, with the racing fan – his great grandfather owned the 1931 Melbourne Cup winner White Nose – giving track watchers something to cheer about last weekend.
Asked by North Melbourne premiership player David King for a few tips at the end of an interview about more serious matters – such as when AFL might resume – McLachlan put himself on the line.
And in doing so he might have shown up the Deane Lester, David Gately and, dare we say it, Damien Ractliffes of the world.
McLachlan's first tip, Raysim at Ararat, finished second – a so-so result – while the fancied Vegas Jewel ran a shocker in Adelaide.
But McLachlan saved the day by tipping "William Thomas in the seventh in Melbourne, each-way".
No need to worry about the each-way as William Thomas saluted and paid $10.60 the win (and probably would have paid $10.70 had McLachlan followers not jumped on board).
Given what's been happening in the past month, the chief deserves a bit of luck and if his words are anything to go by it seems the coronavirus trend in Victoria is following his punting.
"The worm has turned in the last week," McLachlan said. "I was going very badly but the ball has come back to me."
EYEBROW-RAISERS
North Melbourne's Jasmine Garner was a well-deserved winner of the AFLW's MVP but there were a few notable omissions from the first AFLW's 22 under 22 that had AFLW observers wondering who was picking the team.
Adelaide's Anne Hatchard and Geelong's Olivia Purcell – both nominated for the AFLW All-Australian team – did not make the team.
Hatchard – who turned 22 last month – and Purcell – who is still 19 – were victims, it seems, of the team being selected via a public voting process, a similar method to the one that famously cost Collingwood's Jeremy Howe the mark of the year in 2017 when Essendon's Joe Daniher won the public vote.
The process for mark of the year was subsequently changed and the AFLPA might have to give a think to how such anomalies could be avoided in the future to retain the credibility of the young team – which was very good by the way – that has grown in status in the men's competition over recent years.
Peter Ryan is a sports reporter with The Age covering AFL, horse racing and other sports.