Restrictions on dental check-ups, filings and orthodontic treatments will be lifted from Monday.
Since late March, dentists have been limited to treating only patients with emergency cases such as severe pain or serious damage due to trauma in a bid to preserve medical supplies and stop the spread of COVID-19.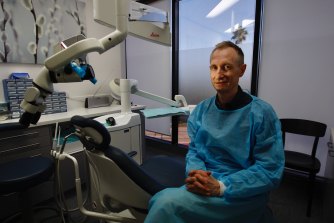 However, the federal government has now announced the level three restrictions will be eased from April 27 as the national stockpile of personal protective equipment has been boosted and the transmission rate of COVID-19 remains low.
President of the Australian Dental Association Dr Carmelo Bonanno said the restrictions had been a sensible move to limit the spread of COVID-19 but welcomed them now being wound back.
Read more here. 
NSW Police have fined 13 people and charged four more in the last 24 hours over COVID-19 related breaches.
On one occasion, a man was charged after allegedly spitting on a police officer in the Sutherland Shire on Tuesday night.
Officers attended a home in Caringbah after reports of a loud argument taking place, when the 37-year-old man attempted to grab the gun of one of the officers while being arrested, police allege.
The man then intentionally hit his head against the custody door at Sutherland Police Station several times before he was taken to hospital as a precaution. He then became allegedly abusive towards police and hospital staff and spat on a police officer as he was being escorted back to the police vehicle.
In Wollongong, a 17-year-old was handed his third $1000 fine after he told police he was visiting a friend because he was "bored" and had "nothing else to do".
A Potts Points man, who had been previously warned by police, was also fined $1000 after he was unable to provide a valid reason for being at Kogarah Station.
An infectious disease expert says nature lovers should not be banned from stretching their legs in national parks while people with nowhere else to exercise continue to cluster in Sydney's outdoor hotspots.
While most national parks remain open, the NSW government has warned people run the risk of being fined by police if they travel to a park outside their area and instead should choose a place to exercise locally.
But with Centennial Park banning cars and councils encouraging people to seek alternatives to popular jogging routes, Professor Peter Collignon from the Australian National University's medical school said more areas should be opened up for exercise.
"What we need people to do is to keep a 1½ to 2-metre distance and also obviously handwashing etcetera, and, from my point of view, wherever we do that doesn't matter, so if parks are too crowded in Sydney going out to the countryside where there's less crowds strikes me as a good idea," Professor Collignon said.
Read more here. 
NSW Police removed a further 115 crew members from the Ruby Princess on Wednesday, with 21 testing positive for COVID-19.
Those who tested positive were taken to NSW Health-managed hotels where they will undertake a strict 14-day quarantine period.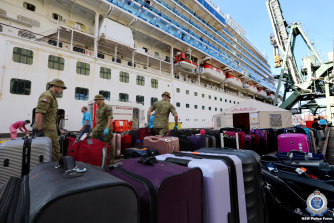 After the isolation period, they will be cleared by NSW Health before returning on flights home.
The 94 who tested negative were taken directly to airports and hotels via charter bus where they await flights to their countries of origin, which include Brazil, France, Germany, Republic of North Macedonia, Mexico, Poland, Romania, Serbia and Ukraine.
NSW Police are set to remove more crew members from the Ruby Princess tomorrow before the ship leaves Australian waters at 4pm.
A Hunter Valley private school expects 900 students back on campus from the first day of term two, after more than 80 per cent of its parents voted to stop remote learning and send their children back to class instead.
As public schools begin to gradually re-open, with pupils to attend one day a week from May 11, many private schools are still deciding their strategy.
Some are leaning towards bringing kindergarten and year 12 back first, and are likely to take a more cautious approach than government schools. But Hunter Valley Grammar School will throw open its doors to all students from kindergarten to year 12 on Tuesday.
"Over the holiday, parents suggested they'd like kids back [at school]," principal Paul Teys said. "We sent out a survey and had 800 responses; 85 per cent wanted their kids back if we were running timetabled lessons."
Read more here. 
Energy minister Angus Taylor has begun planning an Australian strategic petroleum supply to take advantage of cheap fuel.
Fuel prices are low partly because of the coronavirus pandemic.
The fuel would initially be stored internationally but once the plan was developed fully and storage was available, Mr Taylor said, the fuel would be stored in Australia.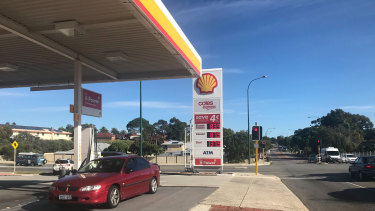 The United States hold their strategic petrol supply underground, for example.
"This is a historic opportunity, we are seeing oil prices even going negative yesterday," Mr Taylor told 3AW. "We have allocated an initial $94 million [in funding to explore setting up the storage] … you can be confident despite disruptions that happen from time to time there will be enough fuel available [as a result].
"Holding them in America for the short term is a very viable option.
"This is the time to build a strategic petroleum reserve."
Mr Taylor said Australia currently holds between 50 and 80 days of petrol in the supply chain, but wants that level to be lifted to always above 90.
Residents with COVID-19 at a western Sydney aged care facility are complaining of extensive delays in waiting for help in their rooms, as the facility's operator admits staff shortages have resulted in inadequate care.
The federal government has offered "unlimited workforce support" to Anglicare after 55 of Newmarch House's staff were taken off rosters due to either contracting or being exposed to the coronavirus, federal Deputy Chief Medical Officer Paul Kelly said on Wednesday.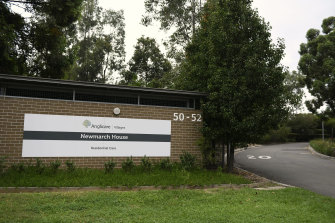 Additional personal protective equipment has also been provided, in addition to testing services for staff conducted by private provider Sonic.
Newmarch House, part of Anglicare's Caddens Village near Penrith, is NSW's largest coronavirus cluster after the Ruby Princess ship. The outbreak began when a staff member who later tested positive worked at the facility for six days while infectious earlier this month.
Read more here. 
The NRL will "definitely" resume its competition on its proposed May 28 date and each club will keep their competition points from the opening two rounds.
The NRL's Project Apollo innovations committee scrapped calls for the standings to be reset after the season was suspended following the first two rounds and emerged supremely confident football will be back at the end of next month amid the COVID-19 pandemic.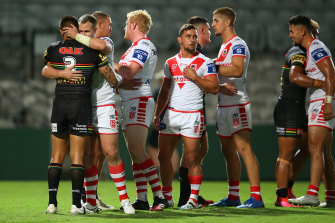 "What we achieved today was a lot more clarity around the medical process and what those protocols are," Australian Rugby League Commissioner and Project Apollo head Wayne Pearce said.
"We clarified that May 28 is a definite and also confirmed that May 4 is the resumption date for training.
"What was also confirmed was that the competition points that had been earned in the first two rounds will carry over to the extended competition.
"Everyone is supportive of what we're doing. Everyone is unified into getting back on the field."
Read more here. 
The Ruby Princess is now set to leave Australia waters on Thursday after an initial 57 were taken off the cruise liner on Tuesday to begin the repatriation process.
The Port Kembla harbour shipping movements schedule states the ship is set to leave at 4pm.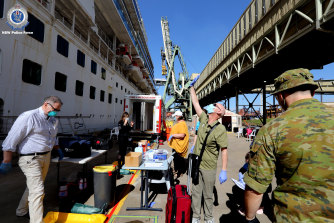 On Wednesday, crew who remain aboard said they were told owners Carnival plans to sail from Australian waters for the Philippines, with possible stops in Indonesia and India to repatriate more crew.
The Ruby Princess was originally set to leave on Sunday, but passengers were deemed too sick to make the trip home and the trip was delayed.
Department store Myer will not reopen its stores by next Monday as originally planned, deciding instead to heed government advice and postpone the move by two-and-a-half weeks to May 11.
The retailer told investors on Wednesday afternoon that while it wanted to open its 60 stores as soon as possible, it believed it was unfeasible to do so until social distancing and stay-at-home measures were eased.
State and federal governments have indicated these measures will continue until at least May 11, prompting Myer to defer its reopenings until then. Stores were originally set to open on April 27, having been shut since March 29, when10,000 staff members were stood down.
Myer was largely expected to postpone its store reopenings following fellow retailer Premier Investment's decision on Tuesday to do the same. Premier had initially intended to reopen its 900 stores today.
Read more here.