Loading
"This slight easing means you can do a lot more to help people in trouble, and that's the important thing," he said.
Dr Bonanno said the restrictions had also forced many dental practices to close their doors.
Sydney endodontist Dr Geoff Young said he had experienced a 90 per cent drop in business during the COVID-19 crisis at his inner west practice.
He said he and two other dentists at their practice had to cut back to working just one day a week, while the majority of staff were stood down and placed on JobKeeper.
"It was down to almost nothing," he said. "It really has been a very difficult time for patients seeking care … hopefully, now things will start to become easier to access dental care."
The lifting of restrictions followed a national cabinet meeting on Tuesday where restrictions on some elective surgeries and IVF were also eased.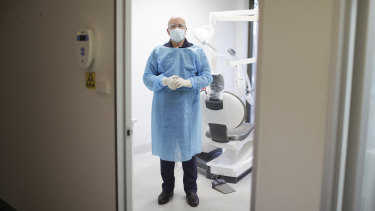 Australian Dental Association NSW president Dr Kathleen Matthews said the relaxing of restrictions would ease pressure on hospitals.
"The last thing we want is people needing dental treatment to be going to hospital emergency rooms," she said.
Dentists will be on level two restrictions from Monday, with procedures that are likely to generate aerosols still restricted.
Loading
Dr Matthews said dentists were taking extra precautions, including verbally screening patients before appointments and adhering to social distancing restrictions.
But Dr Bonanno said people should be reassured that dental practices have very high levels of infection control.
"A dental surgery is a very safe space," he said.
But dentists have not escaped the shortages of personal protective equipment and Dr Bonanno said some practices would likely remain closed until enough equipment had been sourced for them.
Some practices are also expected to operate only on reduced hours or remain closed due to the coronavirus outbreak. She said if people's normal dentist was closed, the Australian Dental Association NSW website has an emergency dental directory listing 1200 dental surgeries across NSW and the ACT that remain open.
Rachel Clun is a journalist at The Sydney Morning Herald.