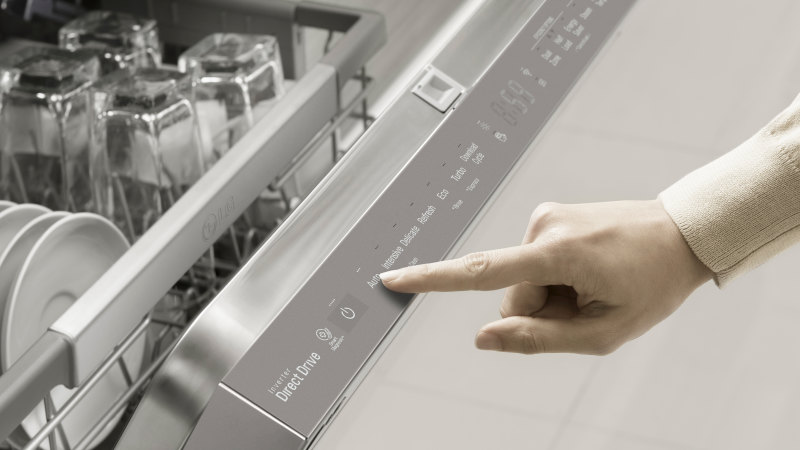 It's also the little things, like getting the notification to my phoneasking whether I would like to add fabric softener (I would not, but appreciate being asked). The notification that the wash is done is particularly useful, because it stays on the lock screen until I address it, which means my clothes haven't been left to go mouldy recently.
The dishwasher is also amazing. Not just because it isn't operated by a dial of mystery like my old Smeg — 100 notches all the way around, but only one will clean the dishes, and there is no way to know which — it's amazing because of its intelligent steaming function and movable top shelf. It's also ridiculously quiet, to the point that I'm never 100 per cent sure it's on, but the dishes come out clean anyway.
Loading
The connected features on this are also fairly basic. I get a notification that the cycle is done, can remote start it, download new cycles, change the settings, be reminded when it needs to be cleaned or have more rinse aid, and diagnose any potential problems with it by holding my phone close.
For most people, and most brands, it's still the internet fridge that is the pinnacle of smart whitegoods. But those fridges only come in two sizes — stupidly large, and massive — and thus don't suit anyone with a family smaller than five. And, be honest, how often would you actually remember to check the camera inside your fridge? Would you rather watch that YouTube video on your fridge, which is usually in the corner of the kitchen, or on an iPad near where you're actually cooking?
For me, when it comes to smart home, it's better to focus on the features that will actually be useful, rather than those that are needlessly flashy and jack the price up considerably. My time with these whitegoods has shown me that it's the quiet, useful intelligence that really matters.