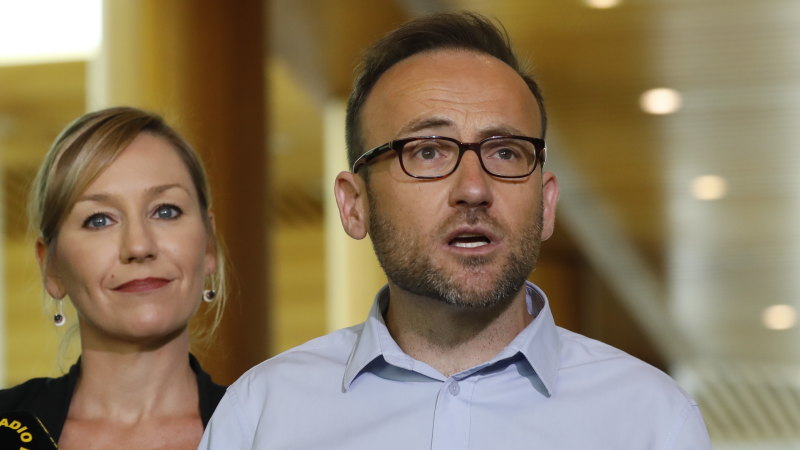 Dr Brown, Ms Milne and Senator Di Natale, the three past leaders of the party, have argued removing the say of MPs could have "disastrous consequences", saying the loudest advocates for the model came from states where there was no parliamentary leader.
Loading
"Those advocates should get their own houses in order and determine the process for electing leaders in their home states before changing the federal party's rules which have worked so well," the trio wrote in a joint statement.
Greens officials are expecting between 2500 and 3000 ballots to be returned, with a two-thirds majority result needed for the party's national conference to change the federal constitution when it meets late next month.
Federal leader Adam Bandt will not take a public position on the plebiscite options during the vote, party sources say.
Former firebrand senator Lee Rhiannon, who remains influential within the NSW party, has hit back at the trio of former leaders in their "attempt to influence members not to support the more democratic option".
About 40 per cent of the Greens membership is based in NSW, which means the state could be vital in determining the result of the vote.
"Superficially, it looks like a compromise, but it isn't. The MPs can still outvote and defeat the members' decision unless a candidate has a massive win in the vote by the membership," she wrote on her personal website.
"Having spent seven years in the Greens federal party room, I know that our party room does not always get it right. It also disturbs me that there can be a conflict of interest for some MPs when they are electing the leader."
Ms Rhiannon's Senate replacement, Mehreen Faruqi, has also been a vocal supporter of the membership directly choosing the federal party leader and is the only current member in favour of the party room losing power.
She has joined with former West Australian senator Scott Ludlam and Queensland state MP Michael Berkman and South Australian state upper house member Tammy Franks to encourage members to support the one member, one vote model.
Loading
A survey of 3000 Greens members last year found just 30 per cent supported the current model in which the leadership was decided by the Greens party room.
Undertaken by the party's Participatory Democracy Working Group, the survey found while 27 per cent of members were not sure whether the current method should be retained, 40 per cent wanted a different model. About 70 per cent of those under 24 wanted a change to how the leader was chosen, with support for a new model highest in NSW and Queensland.
Voting will finish on Monday, May 11 with counting to begin the following day.
Rob Harris is the National Affairs Editor for The Sydney Morning Herald and The Age, based at Parliament House in Canberra