"It reveals again that without much provoking you turn to firearms and shoot them in public in order to frighten. It was not a spontaneous crime."
The court heard that Smiljanic had begun feuding with another man, 32-year-old Travis Kelly, on March 6, 2019, before his threats escalated the following day.
At 10am Smiljanic and another man drove to Kelly's Bell Park home where he lived with his partner and her young child. There, he fired 1.22 millimetre bullets into a car and into a bedroom, where one bullet remained lodged in a walk-in wardrobe.
In retaliation, Mr Kelly – a lawn bowls champion – ran from inside the home and fired shots back at Smiljanic as he drove away.
"The whole episode had the added aspect of utter dangerousness because having heard the shots fired at his house, Kelly grabbed his loaded semi-automatic handgun and ran into the street, firing it at you as you escaped in your Commodore," Mr Mullaly said.
The court heard Smiljanic had a number of prior convictions for violent offending and had battled substance abuse which had seen him stop attending church and football in the months before his latest crimes.
In 2014 he was placed on a 12-month corrections order for crimes including possessing a handgun. In 2015 he was jailed for firing a sawn-off shot gun at a truck driver multiple times during a chase near a service station on the Princes Highway at North Geelong.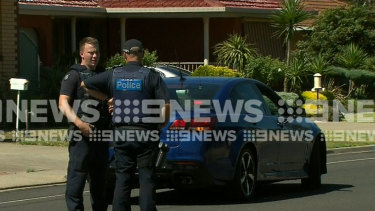 While some bullets hit cars, another crossed six lanes of traffic and lodged in the former Ford Factory nearby.
Police later said the shooting stemmed from rumours that Smiljanic's co-offender dobbed in a man for the suspected kidnapping of Paul Kingsbury, 27, who vanished from a Moolap property on July 6, 2014.
Kingsbury, who had just split from his longtime girlfriend and daughter of Bandidos national secretary Kim Sloan, has never been found. Police fear he met with foul play shortly after he vanished.
On Wednesday, it was revealed that Smiljanic is one of the first people in Victoria to be charged under new legislation introduced to help combat drive-by shootings.
"The sad truth is that say for about nine months you've been in custody since you were 19-years-old with more time to come," Mr Mullaly said.
"Brazen and dangerous conduct must be denounced, not just in these words but in practical terms by the punishment for the grave crimes you committed."
Smiljanic pleaded guilty to discharging a shot into a premises and being a prohibited person found in possession of a firearm.
He must serve at least four years of his six-year jail term before being eligible for parole.
Kelly is already serving a five-year jail stint for his role in the violence.
Erin covers crime for The Age. Most recently she was a police reporter at the Geelong Advertiser.