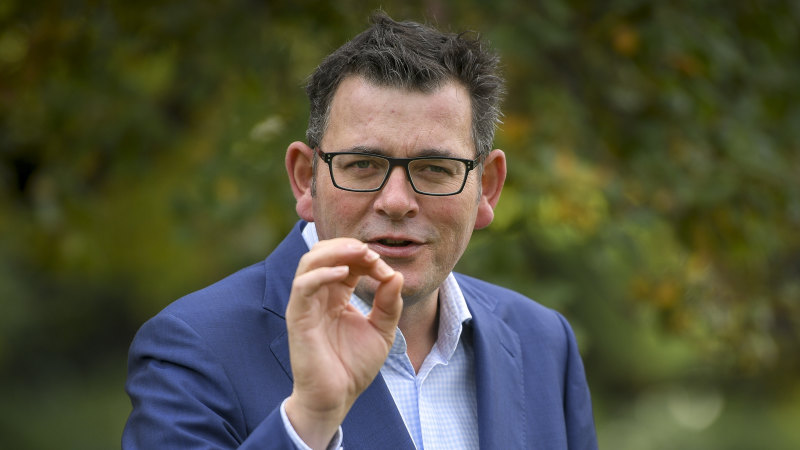 Loading
Premier Daniel Andrews said he had confidence in the statistics because of the increase in testing for COVID-19.
The number of tests in Victoria rose from more than 72,000 to more than 90,000 in the past week, resulting in the discovery of 37 infections.
"If we continue to see these sorts of results then we are going to have options that would be denied to us if we didn't have this virus fundamentally under control," Mr Andrews said.
He thanked Victorians for making "really significant sacrifices", which had helped stabilise the rise in infections.
"The alternative, as we know only too well, is many thousands of people dying and some of the horrific scenes we've seen in other parts of the world," he said.
"The strategy is working and that is something that every Victorian should be proud of. It is certainly something I'm grateful for."
Health Minister Jenny Mikakos said public patients would get priority when some elective surgeries resume on Monday, after a slowdown in preparation for a spike in coronavirus cases.
Some stage two and three procedures — including IVF, post-cancer reconstruction, cataracts, endoscopies and colonoscopies, some dental work, and joint replacements — will take place after being put on hold to protect the health system.
"Public patients have gotten priority in terms of access to private hospital beds," Ms Mikakos said.
"I think that's a pretty good outcome for Victorian taxpayers, where Victorian taxpayers' money is being used to keep the private hospital system viable into the future."
Ms Mikakos said all private hospital beds for elective surgery would be prioritised for patients on the public waiting list, and private patients would "need to negotiate with their own doctor, we play no role in that".
Australia's coronavirus death toll has reached 74, but the rate of new infections continues to drop.
No state or territory recorded a double-digit increase in cases on Wednesday as the national infection rate grew at just 0.4 per cent.
"We certainly appear to be flattening that curve very successfully at the moment," said Deputy Chief Medical Officer Paul Kelly on Tuesday.
The latest victims include women aged 92 and 80, along with a 75-year-old man. All three died in NSW.
There have been more than 6600 cases detected nationally, and 4291 people have recovered from the disease.
With Sumeyya Ilanbey, AAP
Tom Cowie is a journalist at The Age covering general news.