Mr Tsagros said he and his Uber passenger were both in shock, noting that if he had tried to change lanes he would have been wiped out by the Porsche.
He took the dashcam footage to police the next day, but said the footage "almost doesn't do it justice".
"This guy wasn't just doing five or 10 kilometres over the limit."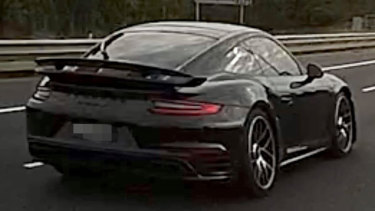 Chief Commissioner Graham Ashton could not confirm if the Porsche in the footage was the car involved in Wednesday's crash, but said "it looks pretty similar" and the footage would form part of their investigation.
The car has the same number plates and is the same model as the vehicle at the scene of the horrific crash on Wednesday afternoon. There is no suggestion the 41-year-old man allegedly driving the Porsche on Wednesday was also driving the car captured in the dashcam footage on March 21.
On Wednesday, two police officers pulled over a black Porsche 911 for speeding up to 140km/h near the Burke Road exit of the Eastern Freeway at Kew about 5.40pm.
Mr Ashton said the Porsche driver returned a positive result for drugs, and the officers called for back-up. Two other officers arrived and the group was preparing to impound the luxury car when a semi-trailer ploughed into the group.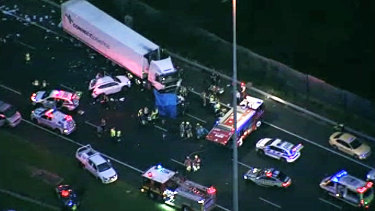 Police say the 41-year-old driver stayed at the scene for a short time, took some photos of the horrific crash and then ran off.
Loading
Mr Ashton said the driver had made contact with police overnight. He was taken into custody on Thursday.
The truck driver had a medical episode after the crash, Mr Ashton said. He was still in hospital under police guard on Thursday and police were expected to interview him later in the day. Police searched his Cranbourne home overnight.
The site of the crash remains an active crime scene, but was expected to reopen around lunchtime.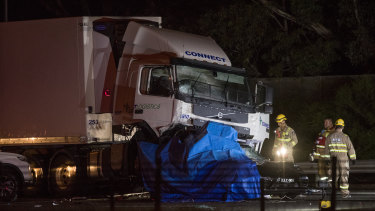 Footage from the crash site also shows the Porsche, covered in a blue tarp, crushed under the front end of the semi-trailer, with debris scattered across the freeway for more than 100 metres.
One female and one male senior constable and two male constables were killed. One of the officers was new to the force.
"I believe this is largest single loss of police life in one incident in the history of Victoria Police," he said on Wednesday night.
"There's an eerie quiet down there [at the scene], everyone down there is feeling it at the moment."
Officers from the homicide squad and major collision units will investigate the deaths.
With Erin Pearson, Anthony Colangelo
Rachel is a breaking news reporter for The Age.
Simone is a crime reporter for The Age. Most recently she covered breaking news for The Age, and before that for The Australian in Melbourne.