Health Minister Jenny Mikakos said the man who died after contracting COVID-19 had an underlying health condition and had been in hospital for several days.
Ms Mikakos confirmed there was no increase in community transmission, describing the latest figures as a "very promising result".
"We have seen a stabilisation of the numbers in recent days," she said.
She also urged more Victorians to get tested for COVID-19 as testing ramps up across the state.
"I really want to stress to Victorians, even if they are experiencing mild symptoms they should go and get tested," she said.
She said the government wanted to scale up testing and now had capacity to test up to 12,000 people a day at 40 clinics across the state.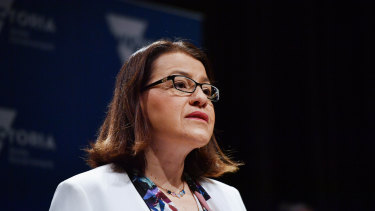 "I'm stressing that because I have heard anecdotally that some young people might've had symptoms and have not thought much of it."
Greater testing will allow more contact tracing to slow the virus' spread. Victoria has been averaging between 3000 and 4000 tests in recent days.
Twenty-seven people in Victorian hospitals are being treated for the virus, including 10 in intensive care.
About 1250 people have recovered and more than 93,000 Victorians have been tested.
Premier Daniel Andrews said the low infection rate would "give us options in future". But he would not give any indication of when social restrictions may be lifted.
"If we continue to see stable numbers, if we continue to see the vast majority of Victorians doing the right thing, following the rules and suppressing this virus, then that will give us options," he said.
The state of emergency is due to be reviewed on May 11, when the government will decide whether it can ease restrictions.
Loading
"We've just got to stay the course on this, otherwise we'll give back all the big gains we've made," Mr Andrews said.
He said Victoria's low infection rate was the envy of other countries.
Nationally, the death toll is 75 from 6654 total cases. Some 5012 people have recovered from the disease.
Deputy Chief Medical Officer Nick Coatsworth said the suppression strategy was working, and it would be a "magnificent outcome" if there was complete eradication of COVID-19 in parts of the country.
"We as the Australian community are doing an amazing job in that suppression strategy – as you know there are some states that have reported zero new cases for several days now," he said.
Tom Cowie is a journalist at The Age covering general news.
Benjamin is a state political reporter