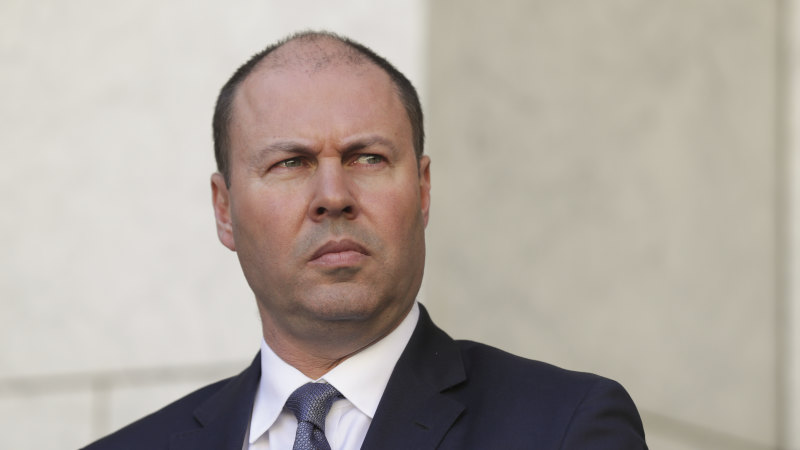 Of more concern, company tax collections were almost $4 billion behind their expected level at less than $65 billion. At the end of February, company tax collections were $2 billion short of forecasts.
Loading
The hit to equity markets that started in late February is now evident. Superannuation taxes were 11 per cent down on forecast.
There was some upside for the government with GST revenues in front of projections by $900 million but this was down on the $1.1 billion recorded to the end of February.
All the extra spending the government is introducing to stabilise the economy has yet to flow through to the official budget figures. But social security and welfare spending, at the three-quarter mark of the financial year, is ahead of where it should be for March.
Mr Frydenberg has pushed back the budget until October.
Private sector economists are expecting the expected surplus to become a deficit of at least $60 billion. The 2020-21 forecast surplus of $6.1 billion is tipped to be a record deficit of up to $100 billion.
Apart from the headline deterioration in the budget through March, other key fiscal measures have gone backward.
Net debt is now at $429 billion, having gone backward by $5 billion in March while total liabilities increased by $15 billion to more than $1.2 trillion.
Even the value of government assets fell through March.
One of the nation's most respected market economists, Westpac's chief economist Bill Evans, said the government should be in no rush to repair the budget even if it puts the nation's triple A credit rating at risk.
Loading
He said the Reserve Bank was likely to hold official interest rates at their current record low of 0.25 per cent until at least 2023.
Tightening the budget, even if it only meant smaller deficits rather than a rush back into surplus, would keep unemployment elevated and hurt the overall economy.
Mr Evans said the jobs market's pre-coronavirus issues of high under-employment, slow wages growth and pressure on household incomes would remain after the virus had passed.
"The aftermath of a global recession; damaged business balance sheets; and a sustained fall in permanent immigration are all formidable headwinds for the economy," he said.
"These will superimpose on the difficulties which were faced by the economy before the current crisis."
Shane is a senior economics correspondent for The Age and The Sydney Morning Herald.