Melbourne CBD's Emporium shopping centre is reopening and the AFL has won cautious optimism from health authorities to restart in June, offering hope to those with itchy feet that Victoria is emerging from pandemic lockdown.
There are signs that the coronavirus freeze may be already starting to thaw, with more people in Melbourne than in recent weeks after strict social distancing rules forced the closure of many businesses.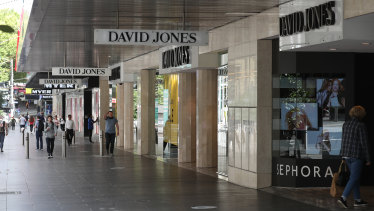 On a fine Autumn Friday afternoon, when the city would have been abuzz with people before the virus, pedestrian numbers on Bourke Street were up slightly on recent weeks.
The City of Melbourne's foot traffic sensors counted 536 people passing Bourke Street Mall between midday and 1pm on Friday, up 43 per cent from the four-week average of 374.
The Therapeutic Goods Administration has hit Pete Evans' company with fines worth over $25,000 for allegedly falsely advertising a device that he said could be used to protect against coronavirus.
The TGA received a number of complaints about the promotion of a "BioCharger" device during a Facebook livestream on 9 April 2020.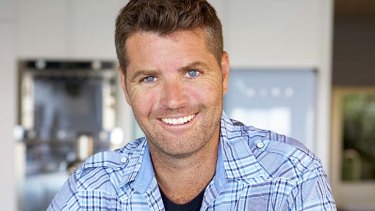 The celebrity chef livestreamed on his Facebook page, which has more than 1.4 million followers, claims that the device could be used in relation to "Wuhan coronavirus" – a claim which has no apparent foundation.
"Any claim that references COVID-19 is a restricted representation under therapeutic goods legislation, and is of significant concern to the TGA given the heightened public concern about the pandemic," a statement on the TGA website read.
The organisation recently published a warning to advertisers and consumers about illegal advertising relating to COVID-19.
The TGA has issued the company with an infringement notice in respect of the representation made in the livestream and video.
A second infringement notice was issued for alleged advertising breaches on Mr Evans' website. The fines total $25,200.
Mr Evans is the sole director and secretary of Peter Evans Chef Pty Ltd.
An exclusive update on the psychiatric clinic that has the COVID-19 cluster from Melissa Cunningham and Aimee Amiga.
Questions have been raised about delays in notifying staff and patients at a private Melbourne psychiatric clinic that a psychiatrist had tested positive to COVID-19, as 14 people with ties to the insititution are now infected, with three patients in hospital, including one in intensive care.
An investigation into the outbreak at the Albert Road Clinic near Melbourne's CBD, was sparked after a psychiatrist tested positive to COVID-19 on March 24, however, many healthcare workers at the 80-bed psychiatric facility were not informed until April 7, while others said they only found out about the outbreak on Thursday.
The psychiatrist is believed to have contracted the virus outside of the clinic.
Reporter Michael Fowler explores why tradition will look different on Saturday.
For the first time since 72-year-old Warrick McDonald spent two weeks at sea escorting the first Australian troops to Vietnam in 1965, he won't meet his great mates for a beer on Anzac Day. He'll see them through a webcam.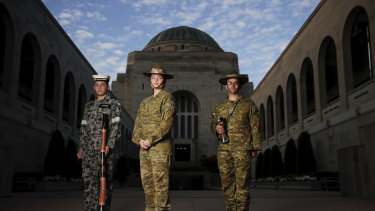 Anzac Day gatherings, including dawn services and veterans' marches, have been cancelled countrywide due to coronavirus-induced social restrictions. At the Australian War Memorial in Canberra, the national commemorative service will be streamed live at 5.30am.
Normally lined with over 35,000 guests, the War Memorial will, aside from the Australian Army band, stand empty on Saturday. However, Private Rachael MacCallum knows she will be singing the national anthem to millions of Australians.
A fifth resident of Anglicare's Newmarch House aged care facility in Sydney's west has died after being diagnosed with COVID-19, bringing the national death toll to 79.
The 96-year-old woman passed away on Friday morning, Anglicare Sydney confirmed in a statement.
"I am thankful that a close relative was able to visit her last night before she died," Grant Millard, CEO of Anglicare Sydney, said.
"We grieve with the family, our staff who have cared for her, other residents who have come to know her, and everyone who has been thinking and praying for us during this difficult time.
"There have been 44 cases of coronavirus linked to Newmarch House aged care facility, including 29 residents.
Aircraft owned by Virgin Australia have been prevented from leaving Perth Airport over claims by the airport it is owed millions in outstanding invoices.
On Friday, heavy vehicles were used to block movement of four aircraft over which it had taken liens.
The airline called in administrators on Monday night after its revenues collapsed amid pandemic travel restrictions.
Perth Airport said it had been working co-operatively with administrators to help the airline come through the coronavirus crisis.
"Virgin has significant outstanding invoices from Perth Airport for airfield and terminal use charges – money the airline has already collected from its passengers and the FIFO sector," an airport spokesman said in a statement."
"While Perth Airport is working with the Virgin administrators, it also needs to protect its own interests.
"Perth Airport has taken liens over a number of Virgin aircraft – a standard practice in these situations. The aircraft affected are not being used for current FIFO or interstate operations and have been parked at Perth Airport for some time now."
Prime Minister Scott Morrison has given assurances data collected from the coronavirus contact tracing app will be kept in Australia, batting away concerns it could be collected by United States' law enforcement agencies.
Mr Morrison said information collected by the app, which will use American company Amazon to host sensitive data, will be stored in Australia.
"The server is in Australia and it's using Amazon Web Services, who work with Australia on many, many sensitive issues in terms of Australia's data management," the Prime Minister said. "It's a nationally encrypted data store."
The app will collect users' names, mobile phone, postcode and rough date of birth in order to automate the contact tracing regime that helps quickly lock down the close contacts of positive coronavirus cases.
Labor health spokesman Chris Bowen and Shadow Attorney-General Mark Dreyfus said their concerns about foreign access were yet to be fully addressed, and called on the government to share more information about how United States and Australian security laws interact.
Victoria's Chief Health Officer has warned against complacency, writes health reporter Melissa Cunningham.
---
Victoria's tally of COVID-19 infections has continued to dwindle but the state's Chief Health Officer has warned that a second wave of cases could happen at any time if social distancing measures are not followed.
Six new cases have been recorded, authorities confirmed on Friday, three of them linked to an outbreak at a Melbourne psychiatric clinic.
There are now just 89 active cases in Victoria. Of the 1343 people diagnosed in Victoria there have been 1254 recoveries. More than 96,000 tests for coronavirus have been conducted across the state.
While the curve of coronavirus cases has flattened further in Victoria, the state's death toll rose to 16 this week after a man in his 60s died in hospital. He is one of the youngest people in Victoria to die from coronavirus.
The Virgin Australia saga continues.
---
Virgin Australia owes thousands of creditors nearly $7 billion as fresh details of the failed airline's finances shed light on how difficult it would have been for the carrier to strike any rescue deal.
The airline's directors put the company into administration this week after it failed to pull off a restructure. Virgin, like airlines around the world, has shut down the vast majority of air travel as a result of COVID-19 travel restrictions.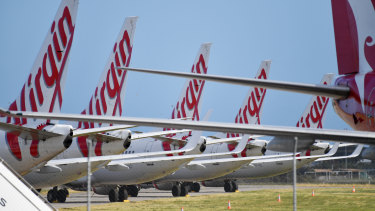 The administrators are now working hard on finding new owners for Virgin and have said at least 10 groups are interested in being a part of the rebirth of the airline. Private equity group BGH Capital is in the race, while transport billionaire Lindsay Fox has also been mentioned as a possible bidder, along with various international interests.
Toilet paper sales at Woolworths have surged again over the past week despite supermarkets showing signs of panic buying easing off.
In an email to customers sent on Friday night, Woolworths chief executive Brad Banducci revealed 14.1 million rolls were sold over the past week, a 2.6 million increase from the week before.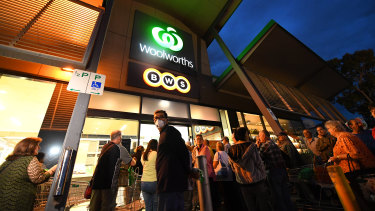 The spike was likely due to more supply being available, Mr Banducci said, with loo rolls being the "exception to the rule" as sales slowed down across other categories.
"The demand surge of a few weeks ago is undoubtedly calming, with many people returning to buying what they need and signs also suggesting that the average Australian household has almost 2 weeks worth of typical pantry items at home," the chief executive said.
Woolworths was able to lift two-per-person restrictions on paracetamol and ibuprofen, though warned hand sanitiser supply was still patchy.
While baking supplies were in hot demand moving into Easter, Australians have now switched to cooking winter warmers, with purchases of dried herbs and spices up by more than 70 per cent and dried soup mixes more than doubling.
Salon-deprived shoppers have also caused sales of hair colourants to jump 50 per cent and nail polish and removers up 40 per cent. Mr Banducci said cases of verbal abuse against staff members have decreased significantly, and praised shoppers for acting kindly towards employees.
"It's wonderful to see respect and kindness being shown to our team members and fellow Australians and a genuine thank you to all for your support in keeping us and each other safe," he said.