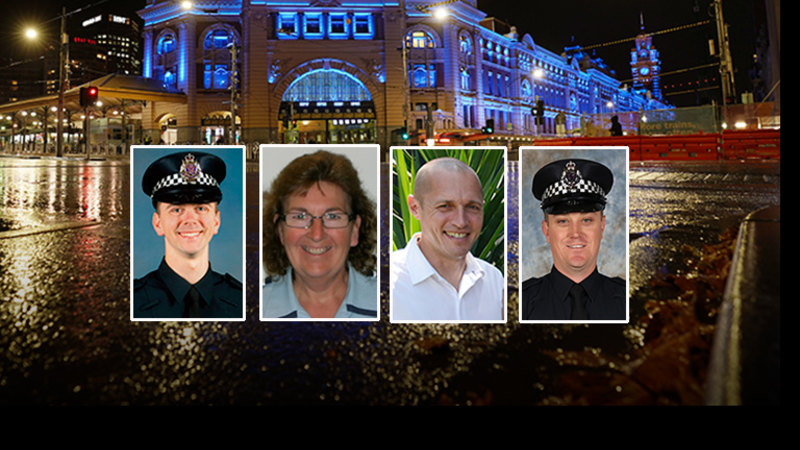 He said the funerals for the four members were currently being arranged and will be held in the next week to 10 days. Some will be held at the police academy, while a large memorial for police and the public would be held in the future.
"It's hard to know [when the state memorial will be]. Everyone has been fantastic in the community in making sure they're adhering to the distancing rules and various rules the Chief Health Officer has put in place," he said.
"So the data is looking promising but we have got to stick at it [social distancing].
"I don't want to put a date on when it would be, or even a month, but one thing I am determined is it is as soon as we can, so I don't want any big delays.
"As soon as it's possible to do something significant, meaningful, that people can attend I intend that we do that."
Loading
Police Minister Lisa Neville said it was a comfort for her and the policing community to see so many Melbourne buildings bathed in blue on Thursday night.
"The last 24 hours, as terrible as it has been, as devastating as it has been, I must say I love the Victorian community," she said.
"In the toughest of times what we have seen is the Victorian community come together, put their arms around Vic Pol, support members sworn and unworn and thank them for service unconditionally."
She said she had spoken to several of the first responders who arrived at the scene on Thursday night.
Loading
"Just hearing what they did and the support, the love they showed to the four police officers on that scene again gave me comfort that those four officers were well cared for on Wednesday night."
Police Association secretary Wayne Gatt was visibly emotional when he said had spent the past few days speaking to members in police station across Melbourne.
One woman was reduced to tears when she told him a member of the public had bought her a coffee and thanked her.
"Last night we saw Melbourne light up in blue and we also saw a little flicker in the hearts of our members light up as well," he said.
"That's made us feel that little bit better for that period of time."
Simone is a crime reporter for The Age. Most recently she covered breaking news for The Age, and before that for The Australian in Melbourne.