A fifth resident of Anglicare's Newmarch House aged care facility in Sydney's west has died after being diagnosed with COVID-19, bringing the national death toll to 79.
The 96-year-old woman passed away on Friday morning, Anglicare Sydney confirmed in a statement.
"I am thankful that a close relative was able to visit her last night before she died," Grant Millard, CEO of Anglicare Sydney, said.
"We grieve with the family, our staff who have cared for her, other residents who have come to know her, and everyone who has been thinking and praying for us during this difficult time.
"There have been 44 cases of coronavirus linked to Newmarch House aged care facility, including 29 residents.
The Therapeutic Goods Administration has hit Pete Evans' company with two fines worth over $25,000 for allegedly falsely advertising a device that he said could be used to protect against coronavirus.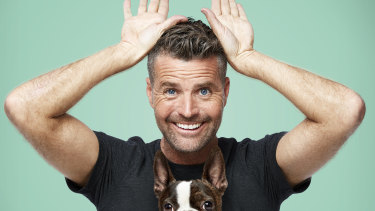 The TGA received a number of complaints about the promotion of a "BioCharger" device during a Facebook livestream on 9 April 2020.
The celebrity chef livestreamed on his Facebook page, which has more than 1.4 million followers, claims that the device could be used in relation to "Wuhan coronavirus" – a claim which has no apparent foundation.
"Any claim that references COVID-19 is a restricted representation under therapeutic goods legislation, and is of significant concern to the TGA given the heightened public concern about the pandemic," a statement on the TGA website read.
The organisation recently published a warning to advertisers and consumers about illegal advertising relating to COVID-19.
The TGA has issued the company with an infringement notice in respect of the representation made in the livestream and video.
A second infringement notice was issued for alleged advertising breaches on Mr Evans' website. The fines total $25,200.
Mr Evans is the sole director and secretary of Peter Evans Chef Pty Ltd.
The WA Education Department has told worried teachers classrooms were capable of being managed without the 1.5m social distancing rule in place.
The email was sent after teachers raised concerns about distancing in classrooms ahead of school resuming next Tuesday.
Differing interpretations of the latest health advice puts the teachers' union and government officials at odds.
The internal email, obtained by local news website WAMN, was sent to all Department of Education employees.
The department's director general Lisa Rodgers told teachers to also trust the health advice provided by authorities.
"I know you'll have been missing your students as I'm sure they have missed you," she wrote.
"I ask that you place your trust in the health advice that has been provided and continue to do the wonderful job you have of educating our children."
Virgin Australia owes thousands of creditors nearly $7 billion as fresh details of the failed airline's finances shed light on how difficult it would have been for the carrier to strike any rescue deal.
The airline's directors put the company into administration this week after it failed to pull off a restructure. Virgin, like airlines around the world, has shut down the vast majority of air travel as a result of COVID-19 travel restrictions.
The administrators are now working hard on finding new owners for Virgin and have said at least 10 groups are interested in being a part of the rebirth of the airline. Private equity group BGH Capital is in the race, while transport billionaire Lindsay Fox has also been mentioned as a possible bidder, along with various international interests.
Aircraft owned by Virgin Australia have been prevented from leaving Perth Airport over claims by the airport it is owed millions in outstanding invoices.
On Friday, heavy vehicles were used to block movement of four aircraft over which had taken liens.
The airline called in administrators on Monday night after its revenues collapsed amid pandemic travel restrictions.
Perth Airport said it had been working co-operatively with administrators to help the airline come through the coronavirus crisis.
"Virgin has significant outstanding invoices from Perth Airport for airfield and terminal use charges – money the airline has already collected from its passengers and the FIFO sector," an airport spokesman said in a statement to Nine News Perth.
"While Perth Airport is working with the Virgin administrators, it also needs to protect its own interests.
"Perth Airport has taken liens over a number of Virgin aircraft – a standard practice in these situations. The aircraft affected are not being used for current FIFO or interstate operations and have been parked at Perth Airport for some time now.
"There will be zero impact on the state's resources sector.
"At this point in time, we continue to facilitate Virgin's FIFO flights through T2 while we try to secure an agreement with the administrators."
AFL club members could claim tax refunds on their 2020 subscriptions in an Australian arts industry model being explored by the clubs.
Clubs are waiting on a ruling from the Australian Taxation Office, which would benefit members who continue to financially support their clubs despite the likelihood of being prevented from attending the remainder of the season's games due to coronavirus restrictions.
Geelong chairman Colin Carter is understood to have raised the prospect of clubs exploring the Opera Australia subscribers model at a presidents meeting. Now the recently formed working group of club chiefs working on membership has put forward a proposal to the ATO on behalf of all club members.
Clubs are also looking at a second, less preferred option under which memberships and reserved seating costs could be transformed into tax deductible donations under the Australian Sports Foundation program. Clubs such as Hawthorn, raising money for a new facility at Dingley, would lose six per cent of each donation under the second model.
A Queensland man who allegedly left his mandatory hotel quarantine after just one night to go on an "alcohol and meth binge" around Perth's CBD has been denied bail as police push for a jail term.
Douglas Nothdurft, 33, flew into the state on April 3, 2020 – less than a week after WA announced any interstate travellers would be required to isolate in a government-appointed hotel for 14 days.
Mr Nothdurft allegedly gave a false name on his declaration slip before disembarking his flight and was transferred to the Criterion Hotel to begin his quarantine period.
Police prosecutor Mike O'Leary said Mr Nothdurft left the hotel after one night, allegedly telling staff he would quarantine at a different hotel.
He then spent the following two nights at the Pensione Hotel, and then the Akara Hotel – and on one of the nights shared a room with three other people. The hotels are not government-approved quarantine facilities.
For the following five days Mr Nothdurft's whereabouts were unknown, with the accused man allegedly telling police who found him at the Perth Train Station he couldn't remember what he had been doing.
"He was questioned by police and by his own admissions he stated he'd been on an alcohol and methamphetamine binge for a few days and been walking around the city and couldn't recall where he'd been or what he'd been doing and police hadn't been able to establish his movements between the 6th and 10th of April," Sergeant O'Leary said.
Australia Post has announced it is suspending next-day delivery guarantees for express post, citing limited flights, social distancing requirements and a substantial increase in parcel volumes as reasons for delays.
"Express Post is still available but parcels may not be delivered next business day every time," the postal service said in a statement to customers on Friday.
"We ask for your patience with our contact centre colleagues based here in Australia who are doing their best to keep up with the additional demand."
Post offices remain open around the country, but have implemented social distancing measures including limiting the number of people in store at any time.
"Cleaning standards and personal hygiene guidelines have also been provided," the company said.
"Counter safety screens to improve hygiene and reduce risks are also currently being rolled out across the country. The response to this has been positive so far."
Although the World Health Organisation and the Australian Department of Health have stated that the risk of contracting COVID-19 through the handling of mail or parcels is extremely low, Australia Post has introduced health and safety protocols "that ensure that mail and parcels are handled safely and that human contact is minimised."
Police have charged three women after they claimed they had COVID-19 to staff at two separate incidents in Perth shopping centres last week.
Police allege the first arrest happened last Friday when a 41-year-old woman coughed on a staff member and security guard at a shopping centre in Warwick.
She is believed to have told staff she had COVID-19.
On the same day, two women were stopped by a security guard at a supermarket in Midland.
A security guard claimed the women had been shop-lifting and when they attempted to take the items back off the pair, one of the women spat at him and said she had COVID-19.
All three women – a 41-year-old woman from Girrawheen, a 30-year-old from Ellenbrook and a 31-year-old from Swan View – have been charged over the incidents.
Police will allege the women "created false belief" under new laws passed by WA Parliament earlier this month.
"The laws carry a penalty of up to 10 years imprisonment for assaults where a person knows they have COVID-19 or creates a belief, suspicion or fear they have COVID-19," WA Police spokeswoman Susan Usher said.
"Threats to injure, endanger or harm a frontline worker by exposing them to COVID-19 carries a maximum penalty of seven years' imprisonment."
The news comes after a 23-year-old man was admitted to Bunbury Regional Hospital earlier this month suffering from a respiratory condition, before he allegedly deliberately breaching his isolation at the hospital and coughed and sneezed on nurses.
"Our nurses are doing a tremendous job under great pressure. What they don't need is what's being alleged here," WA Police Commissioner Chris Dawson said.
Police Minister Michelle Roberts has also previously condemned attacks on frontline workers.
"Unfortunately, there are minority in our community who see fit to threaten our police or assault them, and when doing so inform officers they are infected with the virus," she said.
"Neither the government nor the community will tolerate such behaviour."
The women will appear in court later this month.