For those paying attention, there are clues in the 2017 single Big Night Out, where Jacobson talks about falling off the roof of a Fortitude Valley club.
"I'm lying there looking like a smashed-up mannequin, I realise I'm paralysed and I'm panicking," he raps.
'"I need to move but I need someone to carry me, but I'm all alone and my phone's out of batteries."
Bad News is Butterfingers' first album of new material since the Deeper You Dig in 2006.
"Each song is kind of like a scene from a film," the singer, rapper and guitarist says as he explains why Dancing is the first single.
"The real story sort of starts on track two, but Dancing is like that breakthrough moment which they throw into the start of a movie like Bohemian Rhapsody and where they go back in time.
"We kicked off with that track, which happened to be the point, but then we backtrack.
The story of the album is that Jacobson is a washed-up rock star who doesn't really want to play music, hates himself, hates his life and is really unmotivated, he adds.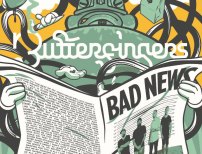 "We're forced back into doing it for financial reasons then rediscovering the passion for music," he says
"Dancing (To the Beat of My Own Drum) is basically the point where it all comes together and we get back together, we're playing really well and have written some great stuff."
Butterfingers were born in the Brisbane's The Zoo nightclub and became Triple J favourites in the early 2000s. Their 2004 album, Breakfast at Fatboys, won an ARIA nomination and profanity-laden 2005 single FIGJAM landed at 11 in the station's Hottest 100 countdown.
If you wanted to know how good they were, you just had to ask them. But then everything stopped in 2009.
The decision was linked to internal conflict, Jacobson says.
"We decided to go into hiatus. We never announced it. We just stopped playing and stopped releasing new material," he says.
"It was always considered to be a break. It just happened to be a really long break."
Bad News is a strong, quick-witted album, mostly written by Jacobson and recorded and mixed largely in his Brisbane home.
You can stream it, or buy it on vinyl through the band's Facebook page.
Butterfingers play The Triffid at Newstead on November 20 and the Racehorse Hotel in Booval at Ipswich on December 4.
Tony Moore is a senior reporter at the Brisbane Times