Dawn Passage continued Tulloch Lodge's sensational autumn and trainer Gai Waterhouse said he will progress to the Scone Guineas and could have a shot at the Stradbroke during the Brisbane winter carnival.
"He was absolutely dynamic today," she said. "He is an unusual horse and I think it was a mixture today of the dry track, his third run and he was in touch with the speed.
"The moons aligned for him, everything came right on the day. He could be a Stradbroke horse but I have a feeling he might be looking for further."
Boss's begging delivers Sweet victory
Glen Boss "begged" to ride Sweet Scandal in the Hawkesbury Crown after riding her in a barrier trial during the week and delivered a result she deserved, coming with a final charge to down the retiring In Her Time on Saturday.
"That's well deserved, it's as simple as that. If you go through her career and particularly this preparation she has just had bad barriers one after another. Even today wasn't much better but good jockey, good horse and a good result," Sweet Scandal's trainer Chris Waller said.
"It is so important to her owners to get that black-type win and that's why it is important we keep black-type racing going at the moment, because there is a flow-on effect when this situation is over."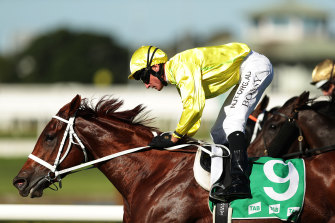 Boss thinks Sweet Scandal, who made it a winning treble for Waller at Rosehill, can continue to step up after her Crown win.
"This type of horse I think you can follow now that she has got into that winning groove again," Boss said. When they look that well in the enclosure you know that they are going to go on with it."
Sweet Scandal denied In Her Time a fairytale ending to her career with the late charge.
"She has run super,'' the two-time group 1 winner's trainer Kris Lees said. "But today's race proves it is the right time to retire her.
"I think 12 months ago she would have found the length she needed to win.
"She has been a wonderful mare."
Saffiano could be Waller's JJ horse
Chris Waller loves to find a late-season two-year-old and Saffiano might just be his JJ Atkins horse after the colt speared through late to take the Clarendon Stakes.
Loading
James McDonald had to wait for the gap to come but had enough horse to lunge through and beat Formentera in a photo in the Rosehill opener.
"He gives you a really good feel. He is still a big raw baby. He doesn't really know what he is there for but loved his last 100m," McDonald said. "He could be a real JJ Atkins sort of horse. Obviously Chris unearths his nicer two-year-olds now and he's probably a nice one to unearth.
"In terms of greenness and progression and in executing his race he has got plenty there."
Waller said Saffiano is still learning his race craft, but he would benefit from a trip north.
"We've been a little bit patient with him. He's a horse that has appreciated that time. He's going to go and have a bright future," he said.
Racing writer for The Sydney Morning Herald