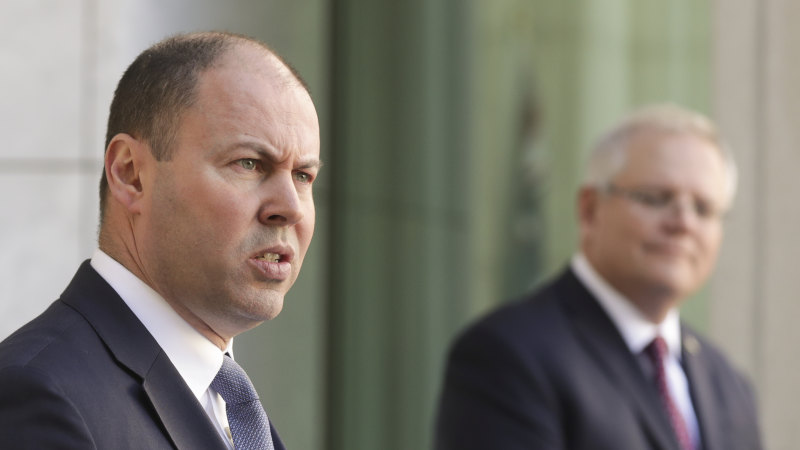 A series of loopholes and problems with the Morrison government's JobKeeper program were resolved late on Friday amid growing concerns about its structure and operation – including pressure on small businesses to find a month's wage payments upfront, much higher payments for almost 1.7 million part-time workers, rules governing charities and even the structure of firms.
Political parties are granted a not-for-profit status which gives them access to the JobKeeper payment if they have an turnover of less than $1 billion and turnover has fallen by more than 30 per cent.
The Liberal Party's federal secretariat in Canberra employs about 12 full-time staff, with a similar amount at the the ALP headquarters.
State branches are likely to follow suit after The Age revealed on Saturday the Victorian Liberal Party division had agreed to explore whether it could gain access to federal government program to keep its 12 staff in jobs.
The move was supported by federal Treasurer Josh Frydenberg, one of the architects of the scheme, who sits on the Victorian administrative committee, as well as Assistant Treasurer Michael Sukkar, who was Mr Frydenberg's representative during this week's phone-hook up which agreed to explore to access the payments.
But the revelation blind-sided a handful of federal Liberal MPs, who said on Saturday they were "shocked" and "dumbfounded" at the move. They said it had the potential to be "Prince Philip on steroids", a reference to former prime minister Tony Abbott's infamous decision to award a knighthood to the Duke of Edinburgh.
"People will view it as snouts in the trough again when we have days of stories about small businesses or employs that can't gain access but the political parties can," one senior Victorian MP said. "It just stinks."
Loading
But one party official said: "The money goes straight to our employees, not into the coffers. This is about keeping people in jobs".
A federal Liberal Party spokesman said on Saturday: "Like other employers, the Liberal Party is examining ways to preserve the jobs of our staff."
A senior ALP source confirmed the party's federal division would also register to access the payments.
Around 900,000 businesses have expressed interest in the scheme. Mr Frydenberg said more than 400,000 firms employing about 2.4 million workers had enrolled since the start of the week.