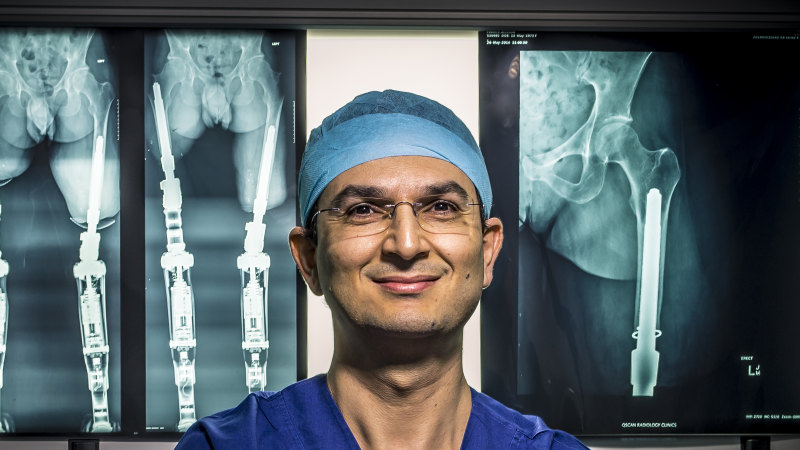 Joint replacements are ordinarily classed as category three elective surgery, meaning they can be delayed for up to a year.
However, Dr Muderis told The Sun-Herald and The Sunday Age that he and the three surgeons he supervised performed operations that had been categorised as either emergency or category 1 – such as revision surgery performed after a fracture or infection – or urgent category 2.
"I do a lot of revision hip replacements for periprosthetic fractures [a broken bone that occurs around the implants of a total hip replacement]. It's a joint replacement, but it's for fracture fixation."
These "need to be done" as they were emergency surgery, Dr Muderis said. "We haven't done any primary joint replacements during the ban," he said.
The rock-star surgeon renowned for his surgical innovations helping amputees to walk with prosthetic limbs, who arrived in Australia in a leaky boat after fleeing Saddam Hussein's Iraq, holds a senior position at the hospital.
"The hospital has strong processes in place for the assessment of all surgeries and all decisions are made with patient welfare as the primary consideration and in line with guidance in relation to elective surgery at the time."
Dr Muderis said Macquarie University Hospital was linked with the nearby walk-in specialist emergency clinic and had experienced a surge in patients with fractures who did not want to go to a public emergency room because they were concerned about being exposed COVID-19.
Surgeons are due to partially resume elective procedures on Tuesday, after the national cabinet approved a "gradual restart", allowing hospitals to activate 25 per cent of their usual theatre time.