Although born in New South Wales in 1862, she spent her adult life on the streets of Brisbane as a prostitute.
Crime and policing historian Anastasia Dukova said women were policed more harshly than men and had little chance to reform or rehabilitate.
"Female criminals were viewed as against the law and against nature," Dr Dukova said.
"Following the culture of sensibility in Victorian times, (being) seen as an angel of the house and nurture and home-making was the domain.
"If they were seen drunk, they're seen as offending against her gender."
The State Library of Queensland Fellowship recipient said she had written a chapter devoted to McGowan in her upcoming book, To Preserve and Protect: Policing Colonial Brisbane, to be released in June.
McGowan never secured a domestic service or factory job and never married.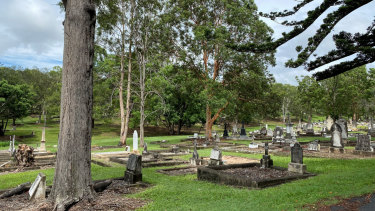 Instead, she turned to prostitution and was repeatedly assaulted by her pimp or boyfriend Joshua Stead between 1883 and 1885.
Stead pleaded guilty to assaulting her but then accused her of getting him two months' imprisonment for an earlier assault before he knocked her down and kicked her two or three times.
Two months later, the cycle of abuse continued when McGowan was assaulted by another man, named Brittan.
In July 1885, James Feeney beat her in front of two constables, who witnessed Feeney knocking the girl down two or three times, cutting her mouth, on Albert Street.
Stead and Feeney were sentenced to two months' imprisonment with hard labour.
McGowan became ill in 1890 while living at the Lower Albert Street's "Chinese den", in Old Frog's Hollow – a low-lying area with a stream running through it that frequently flooded.
Judging by the infrequency of her police court appearances after the 1890 flood, McGowan's health was affected by the poor living conditions.
She later died – from phthisis and exhaustion – in a cab on the way to a hospital with her friend Mary Burns.
She lies in Toowong Cemetery, where she was buried on April 9, 1891.
Dr Dukova said there had been a change in history but gender injustice still existed.
"The only way to disrupt the cycle is being aware of how thick the routes go and to learn from history," she said.
Jocelyn Garcia is a journalist at the Brisbane Times, covering breaking news.