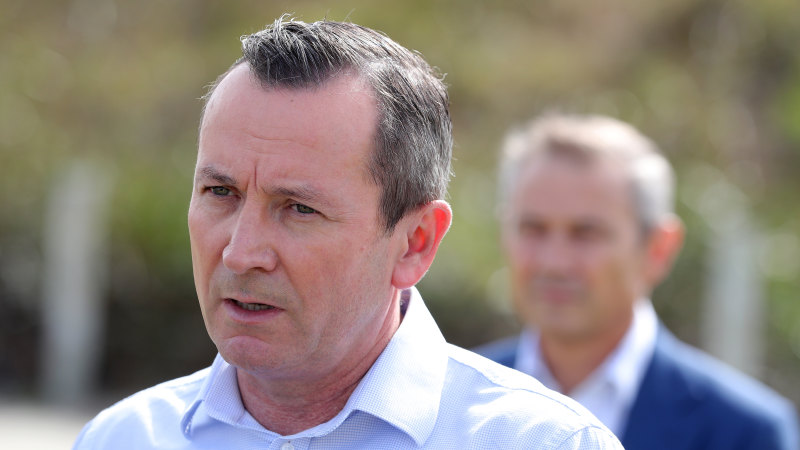 "The Liberal Party member up there who blocked him should declare why he did that, considering that Mr McKechnie was investigating Upper House Liberal MPs, I don't think it looks good for the Liberal Party.
"We'll bring legislation before the parliament to try and get Mr McKechnie reappointed and the Liberal Party can vote how they vote, if they block it in the Upper House well then that will be on their heads."
Mr McGowan praised Mr McKenchie and said Ms Harvey had failed in her leadership by not standing up to party members blocking his reappointment.
"She [Ms Harvey] wrote me a letter saying she supported the reappointment of Mr McKenchie and then she says publicly that I should find somebody else, it's a terrible failure of leadership," he said.
"She has to stand up to these people in her party.
"This is a big issue, I can't imagine anywhere else in the world where you'd have a corruption commissioner who has been widely successful blocked by the people he's been investigating from his reappointment."
In recent months, Mr McKechnie and the CCC have lifted the lid on corruption scandals at the highest levels of the WA Health Department and the Department of Communities.
Loading
The corruption watchdog also exposed misconduct by a former Liberal MP in the Upper House, Phil Edman, who allegedly used taxpayer-funded allowances on strip club visits, interstate travel and paying for expenses linked to his private yacht.
That investigation exploded into a stand-off between the CCC and the Upper House over parliamentary privilege and the corruption fighter's right to access material on Mr Edman's laptop computer.
Mr McGowan said Mr McKenchie had "rooted out all sorts of corruption".
Loading
"There is a pretty clear cut case here the wrong thing is occurring," he said. "Corruption is insidious, we have a relatively corruption-free society in Western Australia but when it does occur it needs to be rooted out."
Former Premier Colin Barnett, who appointed Mr McKenchie, has entered the debate and has demanded the committee, which oversees the CCC, to explain itself and suggested a government motion may put pressure on the two MPs holding out the reappointment.
Mr McGowan welcomed Mr Barnett's support but said a motion in addition to legislation would be considered but the problem was that a motion was not binding.
"It requires people to take actions of resignation, which I haven't seen any evidence of that occurring before," he said.
"In terms of the committee and it's report, that's a decision for the committee, I think a report would be good to understand the reasoning.
"The parliament will have the opportunity when it returns to debate this matter to reappoint Mr McKechnie, I know the way the government will be voting and that is in favour."
In response to Mr McGowan's allocations, Ms Harvey said: "this is a matter for the Premier to work out with the Parliament."
With Nine News Perth state political editor Gary Adshead
Lauren is WAtoday's education reporter.