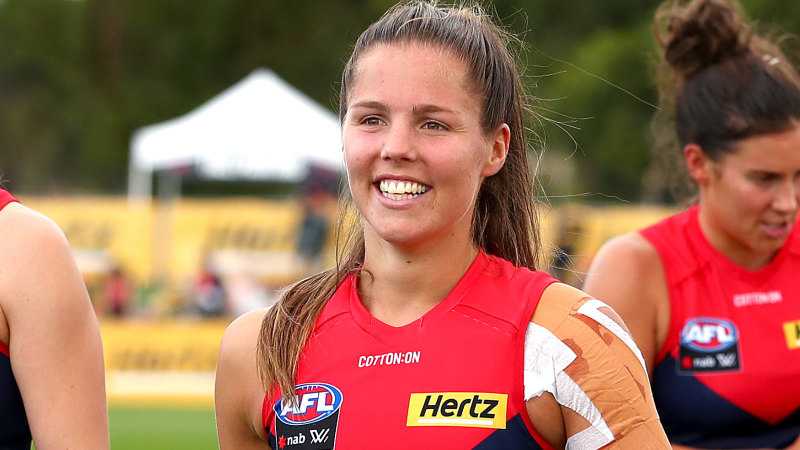 She would have voted for the match-winning goal Lily Mithen kicked against Greater Western Sydney in the dying seconds of the thrilling final the Demons won before the season was called off.
And she won't even stop playing that goal on the television either.
Hore's flatmate's name is none other than, you guessed it, Lily Mithen.
"I am not sure which goal has been replayed more times in our household because we live together," Hore laughs.
"She will claim the moment was bigger for hers I reckon."
Mithen might have a point there but her set shot wasn't a patch on Hore's effort, which was definitely a highlight of the AFLW season.
The moment began when Hore received a handball on the wing from teammate Jackie Parry and burnt off her Carlton opponent Gabriella Pound while having a bounce.
"I am instructed to run and carry so I just went for a bit of a run," Hore said.
Hore then brushed past the Blues' Charlotte Wilson before having two more bounces and scrubbed a kick to her Irish teammate Niamh McEvoy.
Loading
"I was gassing and didn't think I had a leg from there," Hore said.
McEvoy did well to gather a loose ball and handball it back to Hore who had kept running. Her right foot snap dribbled through the vacant goal square. The AFLW goal of the year was in the bag.
"All moments in footy seem like a bit of a blur. I think when you look back on them you think 'how did I actually do that?'" Hore said.
Meanwhile the AFLW mark of the year went to Greater Western Sydney's Rebecca Privitelli who took a courageous chest mark in a big pack in wet conditions in the opening round of the AFLW season.
Peter Ryan is a sports reporter with The Age covering AFL, horse racing and other sports.