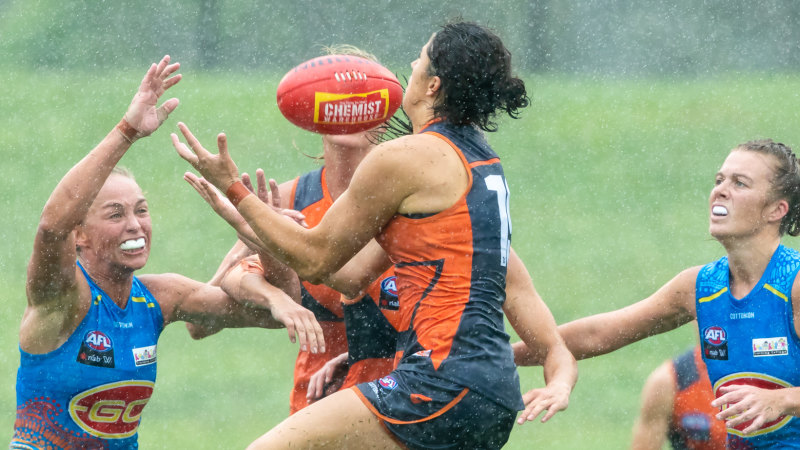 "In the moment, I didn't really think twice about it," Privitelli said.
"I thought it was just another contest. I was probably a little bit distracted because I missed the goal after I took it.
"It was cool because the home crowd was just so great, they got right behind it, the atmosphere at the time. The conditions made it a bit harder, because it was so wet … [but] I've definitely seen other marks that were pretty impressive compared to that – in a different way, I guess."
More than anything, it settled Privitelli's nerves. She had been delisted by GWS at the end of 2018 and chose to step away from the game for a year – but instead of moving back to her native Melbourne, she stayed in Sydney and took up a job selling club merchandise for the Giants.
Loading
Once she decided on an on-field comeback, she knew it was her contested marking that was going to cement her a spot in the GWS team.
"It was a bit of a lift for me, actually – a relief, firstly, a nice first possession of the footy," she said. "To some extent I was proud of my ability to get there. One of the hardest things once you come out of the system is getting back in there, it's really difficult."
Privitelli would play every game for the rest of the season for the Giants, including a heartbreaking defeat to Melbourne in their maiden finals appearance. Two days earlier, they were preparing for a home-and-away fixture against Geelong, and the next day, the rest of the finals series was cancelled due to the COVID-19 outbreak.
Twelve months ago, Privitelli had no idea when her next game of footy would be. Now she's mired in uncertainty once again, albeit of a different kind. Like all AFLW players, she's unsure what the 2021 season will look like, or whether any reduction in list sizes could impact her future at the Giants.
Her local commitments are also on hold – Privitelli had joined the Inner West Magpies this year, where she was to be a playing assistant coach in the AFL Sydney.
What she is certain about is that there will be an AFLW next year, and there will be a GWS team in it. "I'm pretty confident," Privitelli said. "Both the Giants and the AFL have made it pretty clear, the importance that we play across the competition. I think all 14 teams would be the same. I can't see any reason why we wouldn't be playing."
Vince is a sports reporter for The Sydney Morning Herald.