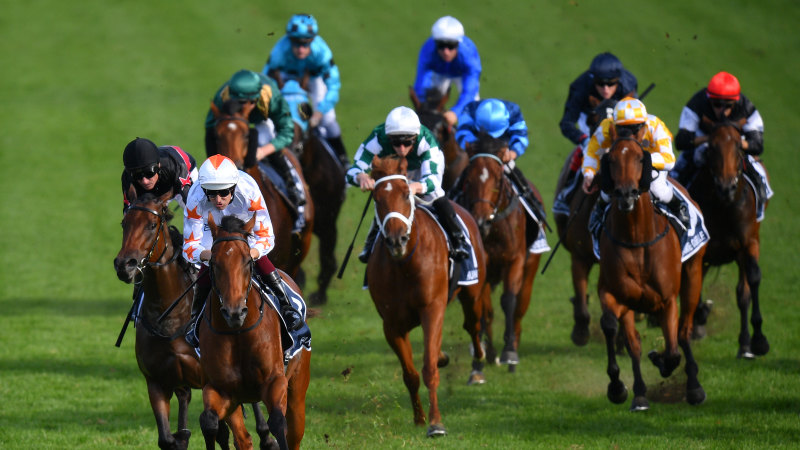 "We want to allow as many people to watch races on Saturday as possible and realise that not everyone has access to pay-TV.
"We want to allow people who would usually access the races on Saturdays at other venues the ability to watch them at home."
In hard times, racing has often been a fallback for the public and the ratings of Sky Racing and TAB digital platforms in the past month indicate a strong demand during the autumn carnival.
Racing.com, which holds the rights to Victorian and South Australian racing, has also seen its numbers soar and already has a free-to-air platform on channel 78.
The TAB is in a strong position to on-sell Sydney and Brisbane racing, and maybe Perth, in a deal that could run until September, when feature meetings return to channel seven.
The natural partner for Sky coverage would be Channel Seven, which has existing deals with Racing NSW, Racing Queensland and the Australian Turf Club for feature meetings through the year. However, other networks are keen to take the Saturday racing product.
Sky Racing holds the rights to Sydney and Brisbane racing outside of 22 feature Sydney meetings, which are on Channel Seven through a deal brokered by Racing NSW, and a handful of Brisbane winter meetings, which are subject to a similar deal between Racing Queensland and Seven.
"We would like to have as many eyeballs on racing as possible and this is an opportunity for racing to be seen by a bigger audience," Racing Queensland chief executive Brendan Parnell said.
Racing NSW is also supportive of getting racing on free-to-air TV. It's likely any deal would see racing on the main channel of the network and could be signed by Tuesday.
"These are unprecedented times and we are proud of Sky Racing's role in continuing to keep racing fans informed with the best racing vision, talent and tips, as well as reaching new audiences to help racing grow," Tabcorp executive general manager Darren Pearce said when announcing the the increase in the audience for Sky Racing last week.
Binskin honours Lang's memory
Darren Binskin paid a winning tribute to his great friend and harness racing legend Gavin Lang by driving a $101 outsider Scenic Sky to victory at Menangle on Saturday.
"I went to the races on Saturday thinking it would be nice to get a winner for him," Binskin said after Lang died on Friday aged 61 of a rare type of lymphoma. "When I started as a 16-year-old, I actually copied the colours as his dad Graeme and didn't realise it.
"I hadn't thought of that for a long time until Gav died. So to win in them on Saturday was pretty special. I had shivers coming back.
"I was humbled and there was a fair bit of pride that I could get a winner in those colours on that night. It funny how things happen"
Binskin remembered the remarkable ability of Lang, who drove more than 6000 winners.
"He could do things others couldn't. He was always a step ahead of everyone else," Binskin said.
Bensley signs off at Sky
Andrew Bensley, the voice of racing, signed off for the final time on Sky Sports Radio after 21 years on Saturday.
Bensley told his audience he was not retiring just taking a step back from the racing media. He leaves big boots to fill. He was given the honour of being inducted into the Sky Racing Hall Of Fame, with pioneers of the channel, Graham McNeice and John Tapp, during his final shift on Saturday.
Racing writer for The Sydney Morning Herald