But Milsons Point resident Joan Street said the area was added to Luna Park in the mid-1990s with the intention it remain open space with no permanent structures.
Ms Street said residents supported the "iconic" venue but plans for more intensive use of the area were "a major concern".
"They've used it as a prestigious events space but now they want it to be a rides and amusements area. This is an expansion of Luna Park further up the bay."
Last year, the state government amended planning laws to allow the operators to adjust rides and amusements using streamlined processes that do not require development applications.
It followed a warning from the operators that the business might not survive, after a Land and Environment Court decision determined they must lodge a development application each time they moved or replaced a ride.
The changes making it easier to install rides and amusements had initially extended to Lavender Green but were later dropped, requiring Luna Park to lodge a development application.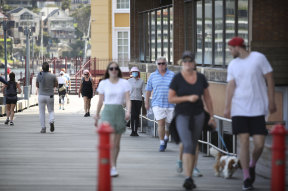 The proposal says Lavender Green has often been used for temporary rides in busy periods and those rides have been installed and dismantled on more than 200 occasions in the past 12 years.
Mr Hearne said the operators had responded to some residents' concerns in the most recent plans, which included a reduced height limit for temporary structures to minimise disruption to views.
Loading
"What we're seeking for Lavender Green is a [height limit] no more than 10 metres above ground level," he said.
The proposal, which is on exhibition until May 7, allows the rides on site for a maximum of 16 weeks in a 26-week period.
North Sydney councillor Ian Mutton said green space needed to be preserved. "If approved, this development application would have a significant impact on the amenity of thousands of residents," he said.
The proposal "does not seek to permanently remove or undermine the available green space" and the activities and events held there would be "relatively quiet", the application says.
Megan Gorrey is the Urban Affairs reporter at The Sydney Morning Herald.