Accent Group operates a number of high-profile footwear retailers, including Platypus, Athlete's Foot and Hype DC. Shares in the $570 million ASX-listed merchant soared as much as 35 per cent to $1.22 on Monday following the announcement.
Loading
Retailers have been dealing with an unprecedented surge in online shopping as stay-at-home orders and shop-front closures force housebound Australians to take their retail therapy digital.
Accent Group's digital sales have jumped from an average of $250,000 a day in early March to as much as $1.1 million a day during the last two weeks of April. Online penetration has reached as high as 45 per cent of sales, and Mr Agostinelli expected it to stay about 30 per cent by the end of the year.
This is in line with predictions from Citi analyst Craig Woolford, who has forecast online sales to reach an average of 20 per cent of total retail sales for listed Australian retailers by 2022. Currently, the online penetration of most listed retailers sits between 5 and 10 per cent.
"Retail may undergo significant change with the COVID-19 disruptions accelerating structural changes that are already in place," Mr Woolford said.
"Online share of spending will be even higher and Amazon could become more influential in this market. [Online penetration] will accelerate meaningfully over the next 18 months, but should also persist."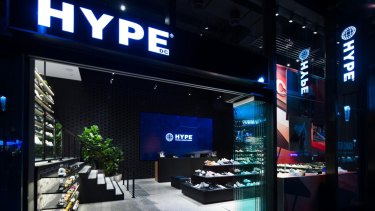 Accent Group will retain its extensive physical store network, but Mr Agostinelli said the company would "lead with digital moving forward". As a result, the shopkeeper said he would not hesitate to shut unprofitable stores or those with "unsustainable or uneconomic rental deals".
The retailer is pushing landlords to calculate rent as a percentage of sales, rather than a flat amount, an approach Mr Agostinelli labelled the "new norm" and expects to be replicated across the sector.
Preliminary negotiations have been successful for over 100 stores and Accent Group said it will continue to pay rent in these cases. However, other stores have been unable to achieve resolutions, leading to Accent shutting 28 of its locations, with more closures likely.
Accent will progressively reopen stores with additional safety measures in place after shutting stores on March 27 for four weeks. The company said all stores would be opened by May 11, the date flagged by department store Myer and Premier Investments.
Accent is not be the only major retailer to flag a major review of its business, with listed fashion retailer PAS Group telling investors today it had appointed advisers to pursue a restructure of the business.
The company's shares entered a trading halt on Thursday, and today it said it would accelerate its strategic review, which will likely result in a closure of a number of retail stores and a significant reduction in costs.
Details of the restructure have yet to be finalised, though PAS said it would explore "a range of options to simplify the business and establish an appropriate cost structure".
Dominic Powell writes about the retail industry for the Sydney Morning Herald and The Age.