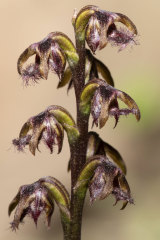 The family had been taking a lunch break in Newnes in the Wollemi National Park during a day of COVID-19 enforced home schooling when Arabella came upon the species last month.
"For us, Arabella understanding nature and conservation is extremely important, and we try to explore outdoors most weekends … when she discovered the plant population that day it was so unexpected and we were absolutely thrilled."
Scientists estimate that about 75 per cent of Australia's biodiversity remains undocumented. To rectify this, the federal government has partnered with Earthwatch Australia and BHP to provide everyday Australians with opportunities to identify plants and animals across Australia in a program known as "Bush Blitz".
The multibillion-dollar project began in 2010 and has uncovered thousands of new species. Before the COVID-19 pandemic, Bush Blitz would join taxonomists, Indigenous communities, park rangers and local councils across the country to explore remote parts of Australia and classify new species.
Since the COVID-19 social distancing regulations came into play the project has had to think creatively to motivate discoveries virtually.
Using the app iNaturalist Bush Blitz is providing every day Australians with the opportunity to have their discoveries analysed and verified by the country's best taxonomists. After an individual's discovery is verified by one of the experts on the app the data is categorised in the Atlas of Living Australia as a new species.
Bush Blitz manager Jo Harding said this process will help "solidify the place of citizen science data in research".
Their aim during COVID-19 is to nurture curiosity through technology "we want to help teachers and parents to motivate children to behave like scientists in the field and discover things in their backyards" she said.
Although aimed at involving all Australians, Ms Harding said children especially will help reveal Australia's unknown biodiversity.
"Adults have often lost the ability to wonder in awe. The way that children look at the world as if everything is new and worth examining is exactly how discoveries are made," she said. "We finally have the technology to tap into that lack of expectation and nurture that quality."
Amelia McGuire is a junior producer at The Sydney Morning Herald.
Most Viewed in Environment
Loading