An 86-year-old woman in Tasmania, becoming the state's 13th and Australia's 92nd COVID-19-related death, Premier Peter Gutwein has confirmed this evening.
"On behalf of the Tasmanian government, I extend my heartfelt sympathies to the woman's family, friends, and loved ones," Mr Gutwein said in a statement.
"This is the 13th life tragically lost to coronavirus in Tasmania, and the 12th life lost in the north-west of the state."
The woman passed away at Mersey Community Hospital in Latrobe.
An emotional Brad Hazzard was on the verge of tears as he addressed the COVID-19 pandemic, and specifically the Ruby Princess and Newmarch House outbreaks.
Mr Hazzard said he rang the worker who is thought to have carried the virus into the Newmarch House nursing home, and said that focus of that call was to have her not "carry the guilt".
The Ruby Princess cruise ship has been linked to hundreds of cases of COVID-19, and multiple deaths.
When asked how much blame he took for the decision to allow the ship to disembark without adequate precautions, he was blunt.
"In the end, I think everything," he said.
"I'm sad and angry about the outcome, but I also understand that that shouldn't translate into blaming the public health staff."
Day after day Anthony Bowe appears at the front fence of Newmarch House, waiting to see or hear from his 76-year-old mother Patricia Shea, who is among 59 residents and staff with coronavirus linked to the aged care facility.
As Mr Bowe arrives in the rain on Thursday afternoon, an ambulance leaves the facility. The driver is decked out in a full protective body suit. It's the daily drumbeat of deadly inevitability playing out at Caddens in Sydney's west.
"That doesn't look good at all… it makes you feel sick because you know someone's in for a shock," Mr Bowe said.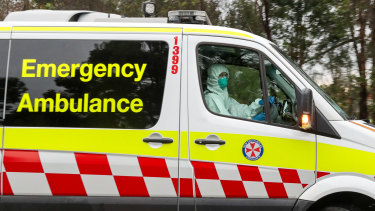 On Thursday, Anglicare announced another three residents at the western Sydney aged care home had tested positive to coronavirus, bringing the total number of cases linked to the facility to 59, including 12 deaths.
"The reasons for this are still being investigated and we are working closely with NSW Public Health Unit and an Infectious Diseases Specialist," Anglicare said in a statement late on Thursday.
Russia on Thursday reported 7099 new cases of the novel coronavirus, a record daily rise, bringing its nationwide tally to 106,498.
The official nationwide death toll rose to 1,073 after 101 people with the virus died in the last 24 hours, Russia's coronavirus crisis response centre said.
For more world or Australian data and maps, please visit our new COVID-19 data centre:
After an announcement on Tuesday that the Victorian state government would provide tens of millions of dollars in relief funding for international students left in dire financial straits by the coronavirus lockdown, Sydney's Lord Mayor Clover Moore has urged New South Wales to follow suit.
"I call on the NSW Government to release its own financial package to support international students during this crisis," she wrote on Facebook.
"International students are an important part of our community. They contribute so much to the economic and cultural life of our city, and the State has a responsibility to support them during this time of need."
The Andrews government didn't provide firm figures on the size of the support package for students, but Minister for Trade Martin Pakula said: "International students are valued members of the Victorian community and we will have more to say on dedicated support for this important sector shortly."
Victoria is the largest market in Australia for international students, with over $3 billion flowing to the state's universities in 2018, which accounted for 35 per cent of total foreign student revenue nationwide.
"Many international students have lost their jobs, are struggling to eat, and are unable to get home," Ms Moore said.
"They don't have the same support networks as our domestic students, and many are facing homelessness if they are not provided with financial assistance.
"This is an important issue and I implore the Premier to ensure these students do not fall into destitution. COVID-19 does not discriminate based on visa, residency or citizenship status and nor should our policies responding to it."
The Tourette Syndrome Association of Australia is urging the public to be more understanding of those with involuntary coughing, sniffing or throat clearing tics, with a reported rise in cases of abuse for people living with Tourettes amid COVID-19.
Child and adolescent psychiatrist Dr Shannon Morton said the rise in reported abuse from people with Tourettes demonstrates a need for a greater understanding around the complexities of the disorder.
"During the pandemic, this includes public health messaging like not coughing into hands or on people, not touching people or objects in public, or not touching their faces.
Unfortunately, this means public health messaging can paradoxically increase the behaviours that the person with TS is trying to inhibit, by triggering compulsive, involuntary urges to do the very thing they are trying hard not to do," Dr Morton said.
18-year-old Croydon Park resident Monica Nguyen works at the register at a Kmart and says she has experienced some of the worst abuse to date during the pandemic.
"It basically started a month ago when the outbreak started getting more spoken about on the news," she said.
"I started getting stares or people jumping back in shock."
Ms Nguyen has a high pitched tic which sounds similar to someone sneezing, with many customers becoming angry with her as a result.
"I'm very sensitive towards it, it just adds to the anxiety of our whole community," she said.
"I know it's a bit of an iffy time, but don't assume that it is a sneeze. Many people with Tourettes have throat-clearing tics, so don't be so quick to assume and try and have some more understanding."
South Africa: Johannesburg South Africa has had its highest daily increase in confirmed COVID-19 cases, health authorities say.
The significant rise in infections came despite stringent lockdown measures that were implemented on March 26.
Health Minister Zweli Mkhize on Wednesday confirmed the total number of patients with coronavirus had reached 5,350 – a rise of 354 cases or 73 per cent from Tuesday.
"While this is well noted, the interpretation of the rate of spread is more reasonably assessed by studying trends over time," Mkhize said.
The same 24-hour period also saw a record 11,630 COVID-19 tests being conducted, he said.
South Africa's lockdown measures instructed people to stay at home unless they needed essential services, such as going to the supermarkets or accessing medical services.
Jogging and dog walking had been prohibited while the sale of alcohol and cigarettes was also banned to improve social distancing.
Despite the strict measures, South Africa has recorded 103 deaths due to COIVD-19 and has the highest number of confirmed cases in Africa.
Africa's second-largest economic power is due to gradually ease its lockdown restrictions on Friday.
President Cyril Ramaphosa said earlier in April that while the nationwide lockdown was effective in containing the virus, "it cannot be sustained indefinitely".
AAP
LOS ANGELES: The city of Los Angeles will offer free coronavirus testing to all residents, whether or not they have symptoms.
Until now tests were reserved for those with symptoms and frontline employees like healthcare and grocery store workers.
Mayor Eric Garcetti says LA will be the first major U.S. city to offer widescale testing to all its residents.
People can sign up online for appointments starting immediately.
Priority will still be given to people with symptoms, such as a fever, cough and shortness of breath.
People will be able to go back for tests several times: there is no limit.
AP
The partners of up to 40 AFL players are due to give birth during the time the AFL has proposed to put clubs inside quarantine hubs to play games, with AFL Players' Association president Patrick Dangerfield admitting the chances of players agreeing to spend 20 weeks locked away to complete the season was "remote".
The AFLPA will start meeting players from all 18 clubs on Friday to get a more detailed understanding of the players' issues, but family concerns have clearly emerged as the biggest of several stumbling blocks facing the AFL in gaining agreement to the concept.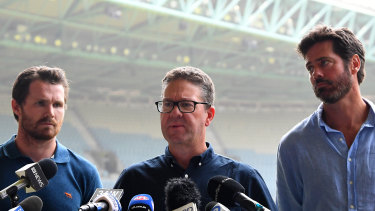 Dangerfield said the reactions to the proposal during Tuesday's phone hook-up with about 500 players depended on each player's personal circumstances.
"If you have got a family then there is trepidation. If you don't have a family then most players are willing to play," Dangerfield said.
He said players wanted to find a way to play but many were also concerned about the potential mental health impact if they were locked away in an isolated quarantine hub for eight weeks at a time (and potentially for a period of 20 weeks under the worst-case scenario) among their peers – both teammates and opponents, as well as staff – without respite.
Most teachers fear students are falling behind under enforced remote-learning arrangements during the coronavirus lockdown and say they will need more support to catch up once classrooms reopen.
A survey of 3500 teachers across Australia and New Zealand in April revealed widespread concern that students' academic and emotional needs were not being met.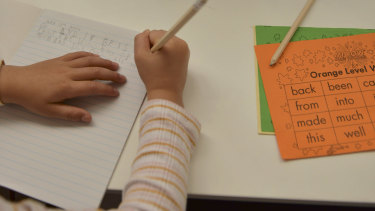 Eighty per cent of teachers surveyed by education consultants Pivot Professional Learning said they felt students would need extra instructional help when school returns.
Forty-one per cent said they were not confident online learning was as effective as classroom teaching, and 70 per cent said their workload had increased.
Seventy-seven per cent of the Australian teachers reported being concerned about losing their social connection with students.