The outbreak has prompted renewed calls for increased testing in aged care homes, with elderly people at significantly higher risk of death if they become infected.
The first COVID-19 case at the aged care home was identified in late March. That person has since fully recovered.
More than three weeks later, a second COVID-19 case was detected, prompting expanded testing of all staff and residents, which identified three more cases.
Authorities are now probing whether the first and second cases are linked as they work to determine possible transmission sources.
Extensive cleaning has been undertaken at the aged care home and a ban has been enforced on new admissions and visitors.
Victoria's Chief Health Officer Brett Sutton said testing was being carried out among residents and staff at Hawthorn Grange.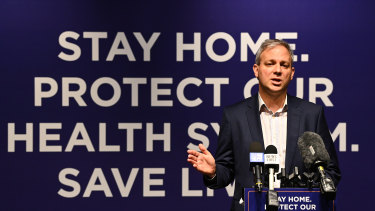 "I think we'll get on top of that," he said. "We've identified those additional cases and tested across the board for residents and staff.
"[Aged care facilities] are places where you absolutely need to act down on it immediately and that really means extensive testing, including individuals with no symptoms."
Hawthorn Grange declined to comment when contacted by The Age.
There have been two other reports of coronavirus infections in aged care homes in Victoria, both in late March. They involved a staff member at the Assisi Centre in Rosanna, and a doctor who visited Carlton's Rathdowne Place.
In NSW coronavirus-related deaths in aged care homes have accounted for more than one-third of the state's overall tally.
"We don't want to see that repeated in Victoria," the Australian Medical Association's Victorian president Julian Rait said.
"What this emphasises yet again is that hospitals and aged care facilities need to be subject to much more testing so you pick up cases and there is early warning."
Professor Rait said a state government move to expand testing should be rolled out to nursing homes so residents and staff, as well as family members who visit, are regularly screened.
Leading Age Services Australia chief executive Sean Rooney said the outbreak at Hawthorn Grange was "deeply concerning".
"Our hearts go out to the residents, staff and family members, as the home and health authorities fight to contain the spread," Mr Rooney said.
"This outbreak is deeply concerning and emphasises the importance of maintaining strong coronavirus protections. Protecting vulnerable older people from COVID-19 is critical to keeping Australia's death toll down."
Victorian Minister for Ageing Luke Donnellan said government aged care specialists were providing support to the privately owned home's operators.
Loading
"It's very early on," Mr Donnellan said. "To date, we haven't had outbreaks like with NSW. I very much hope that remains like that."
Last Friday, health authorities confirmed an outbreak at the Albert Road Clinic, a privately run psychiatric clinic, was linked to 16 COVID-19 cases.
Doctors and family members of patients from the private psychiatric clinic are outraged by what they call "appalling" communication and a lack of transparency, raising concerns over Victoria's management of outbreaks.
Three people remain in hospital as a result of of that outbreak, including one in intensive care.
One of the seven new cases announced on Thursday was related to Sunshine Hospital, where two-dozen staff were sent home to isolate after a patient who underwent emergency surgery later tested positive to COVID-19.
There have so far been no confirmed cases of staff at the hospital being infected with the virus as a result of the incident.
For several days over the past week, Victoria recorded just one or two new COVID-19 cases.
The number of cases that may have been acquired through community transmission stands at 140.
Ten mobile coronavirus testing sites are now operating across Melbourne as part of the state government's ambitious target of testing up to 100,000 people in two weeks.
Victoria's death toll remained at 18 on Thursday afternoon. There are 18 people in hospital, including nine patients in intensive care. Nearly 1300 Victorians have now recovered from the virus.
The earliest that stage-three social distancing restrictions will be lifted in Victoria is May 11, when a state of emergency ends.
Victoria Police conducted 656 spot checks in the 24 hours to Thursday morning and issued 43 fines. Four males "loitering in industrial areas for no reason" and six males who had been repeatedly warned for gathering in public were among those hit with fines.
Where to get tested
Your GP can test you for COVID-19, though you must call ahead. Your GP will either test you on site or refer you to other local testing services, such as a local pathology collection centre.
You can also go directly to one of the Acute Respiratory Assessment Clinics listed below:
Alfred Hospital
Austin Hospital 
Box Hill Hospital
Casey Hospital 
Dandenong Hospital
Frankston Hospital
Monash Medical Centre, Clayton
Northern Hospital 
Royal Children's Hospital
Royal Melbourne Hospital 
St Vincent's Hospital, Melbourne
Sunshine Hospital
There are also 10 mobile testing sites in Melbourne at:
Bayside shopping centre, Frankston
Bunnings, West Footscray
Chadstone shopping centre
Doncaster shopping centre
Highpoint shopping centre
Northland chopping centre
Pacific Werribee
Pacific Epping
Watergardens town centre
Westfield Fountain Gate
And across regional Victoria there are the following testing centres. You do not need a referral or a booking to attend, unless stated otherwise:
Barwon Health North, Geelong  (please call 03 4215 4445 before attending)
Barwon Health – University Hospital Geelong (please call 03 4215 4445 before attending)
Bacchus Marsh – Djerriwarrh Health Services
Ballarat Health Services
Benalla Health
Bendigo Hospital
Kyneton – Central Highlands Rural Health
Echuca Hospital – Echuca Regional Health
Hamilton – Western District Health Services
Horsham – Wimmera Health Care Group
Maryborough District Health Service
Melton – Djerriwarrh Health Services
Phillip Island Health Hub – Bass Coast Health
Portland District Health
Shepparton Hospital – Goulburn Valley Health
Stawell Regional Health
Swan Hill District Health
Wangaratta Hospital – Northeast Health
Warrnambool – South West Healthcare (please call 03 5563 1666 before attending)
Wodonga Campus – Albury Wodonga Health
Wonthaggi Hospital – Bass Coast Health
For more details call the 24-hour coronavirus hotline on 1800 675 398 or visit the Health Department website. 
Melissa Cunningham is The Age's health reporter.