The Sydney Morning Herald photographers continue to capture Sydney's mood as eastern suburb beaches reopen, lockdown rules in NSW ease and people adjust to self-isolation a month away from winter.
Spain's coronavirus death toll rose to 24,824 on Friday as 281 more people died from causes related to the disease overnight, the health ministry said.
The number of new coronavirus cases diagnosed in the country rose to a total 215,216 on Friday from 213,435 the day before, the ministry said on its website.
The previous day's death toll was 268.
The founder of the Russian Communist Party, Vladimir Ilich Lenin, is credited with the saying that "the capitalists will sell us the rope with which to hang them". Or, updating for contemporary Australia, the Chinese Communist Party might say that "the capitalists will sell us the iron ore with which we shackle them".
Australia has arrived at its moment of truth. It is now presented with the explicit choice between sovereignty and money. It arrived this week when the Chinese Communist Party publicly threatened Australia with trade boycotts for proposing an international inquiry into the global pandemic.
It's business as usual for Beijing to preach mutual respect and non-interference while intimidating countries to get its way.
"The economic coercion looks pretty standard, comparable to what China has done in South East Asia and Europe," observes an expert on the subject, Zack Cooper of the American Enterprise Institute in Washington.
A property developer accused of using "standover tactics" has been bailed because of delays caused by the coronavirus pandemic.
Nicholas Bochrinis is accused of going to a suburban Melbourne business with co-offenders in September 2019 to get money from their victim over an unpaid debt.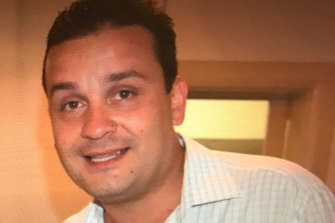 Two of the co-accused allegedly punched, kicked and threw the victim down a set of stairs before they bashed him again.
Mr Bochrinis, 46, is accused of standing by and warning others at the Rowville business not to intervene.
He is charged with extortion, aggravated burglary, intentionally causing serious injury and committing an indictable offence while on bail.
Despite the serious allegations, the delays caused by coronavirus to the criminal justice system were significant, the judge said.
Premier Gladys Berejiklian wants residents to exercise caution as they take advantage of easing restrictions on social contact, with nine new COVID-19 cases across NSW and another death at Newmarch House.
The NSW Premier said about half of the nine cases were from community transmission, and urged people to continue turning up to testing clinics over the weekend, even for mild symptoms.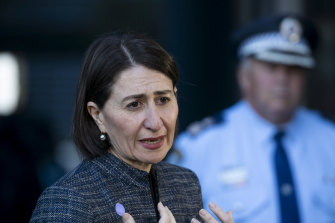 Ms Berejiklian said those planning to take advantage of easing restrictions allowing groups of two adults to visit other people's homes "to do that with caution, especially if you're with vulnerable people."
New York: South Korea has presented "a very ambitious green deal" plan for its recovery from the coronavirus pandemic, prompting the United Nations to recommend other countries follow suit.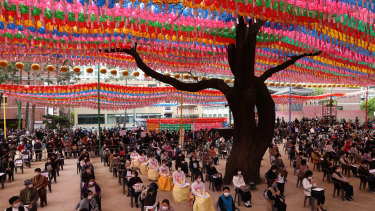 UN Secretary-General Antonio Guterres says he hopes many countries will follow the "remarkable example" of South Korea, which he said has been "extremely successful" in addressing the pandemic and is planning to tackle climate change in its recovery from it.
The green deal includes a ban on new coal-fired plants and a reduction of emissions from existing coal-fired plants.
Read the full story here
Each weekday, The Age and Sydney Morning Herald produce a podcast with our senior journalists that explores the most pressing issues of the day during the coronavirus pandemic.
National editor Tory Maguire is joined by China correspondent Eryk Bagshaw to look back on a tumultuous week in the Sino-Australian relationship. From gate-crashed press conferences to "Wolverine" diplomacy, there is clearly a great deal at stake when it comes to our largest trading partner.
Ryanair plans to cut 3000 jobs and talk to Boeing about delaying plane deliveries as it does not expect European air traffic to recover fully from the coronavirus crisis until 2022, the Irish airline says,
Two weeks ago, Europe's biggest budget airline said it could make bumper profits in 2021 and had no plans to defer jet orders.
But in an unscheduled update on Friday, Ryanair pushed back the start of a return to normal scheduling to July from June and said it would only fly 50 per cent of planned capacity in the three months to the end of September, usually its busiest season.
The airline said it was now reviewing growth plans and plane orders and was in talks with Boeing and aircraft lessors to cut the number of deliveries over the next 24 months.
"Ryanair now expects the recovery of passenger demand and pricing (to 2019 levels) will take at least two years, to until summer 2022 at the earliest," chief executive Michael O'Leary said in the update for investors.
He said the airline would begin consultations on the closure of bases and up to 3000 job cuts, mainly pilots and cabin crew.
Ryanair said it expected a loss of €100 million ($170 million) in the three months to the end of June, which O'Leary said was the first time the airline had suffered a loss in that quarter.
O'Leary also said he planned to challenge in European Courts what he described as more than 30 billion euros in state aid to a dozen rivals.
He said Ryanair would be "forced to compete with flag carrier airlines who have received €30 billion in state aid doping to allow them to sustain below-cost selling for months after this COVID-19 crisis has passed".
Reuters
The number of domestic and family violence victims seeking urgent assistance has increased by 10 per cent after the COVID-19 lockdown began in March.
New figures from the state government's Victims Services program reveal an increase in both male and female victims turning to frontline services after domestic violence, with the greatest spikes in Central Sydney, St George, Orange, Wagga Wagga and Newcastle.
Some decreases were also recorded in Sutherland and Port Macquarie.
Peak body Women's Safety NSW said the figures were concerning but unsurprising, claiming the sector had not received "a single dollar in extra funds" from the state government to assist with increased cases and service delivery.
"We were finding a real reluctance by women to engage in help right now, seeking to separate. Many women have been telling us they are biding their time for COVID-19 restrictions to lift," said Women's Safety NSW chief executive Hayley Foster on Friday.
Prime Minister Scott Morrison has warned the NRL that it must be a role model to the rest of the country by adhering to coronavirus social distancing measures in order to relaunch the season.
Speaking to Ben Fordham on 2GB, Mr Morrison commended the NRL for having the "ambition" to restart the competition but emphasised that the code and its players must abide by the law to receive the green light from authorities.
"It's got to be done in the right way, and it's got to set the right example and the players have to set the right example," the Prime Minister said.
"I commend the NRL for having the ambition to get this up and going – just as I do the AFL and I think netball is doing exactly the same thing," he said.
Mr Morrison also praised businesses for innovating during the coronavirus crisis and predicted that would help kickstart the economy once the virus had been successfully suppressed.
"How businesses have thought, under obviously the restrictions, about how they can re-engineer their businesses – more are going digital and online, that's going to be a good thing for them regardless," he said.