Constable Humphris' young colleagues carried his casket on their shoulders from the chapel to the hearse.
The impact of that moment would be long-lasting, Police Association secretary Wayne Gatt said.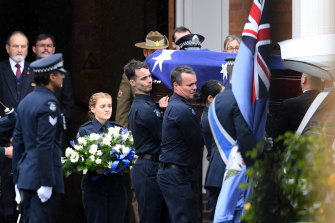 "The bond between squad mates at the academy is a lifelong one," Mr Gatt said.
"They are just on the cusp of their policing careers and they will carry the hurt that comes with his loss for the rest of their careers. They will carry his memory and they will honour his memory every day they serve."
Loading
The heart-wrenching and untimely loss of a new recruit was etched across Chief Commissioner Graham Ashton's pale face as he walked ahead of the hearse down to View Mount Road.
Watching on were Constable Humphris' family and colleagues. His partner Todd Robinson, in his army uniform, stood in salute. Constable Humphris is also survived by his parents Katie Tyson and Mark Humphris, and older brother Wade.
Constable Humphris and Senior Constable King were standing in the emergency lane of the Eastern Freeway preparing to impound a Porsche along with colleagues Leading Senior Constable Lynette Taylor and Constable Josh Prestney when they were struck by a semi-trailer about 5.40pm on April 22. All four officers were killed.
Born and raised in Gosford on the NSW Central Coast, Constable Humphris was an apprentice carpenter before becoming an exercise physiologist.
He met Mr Robinson, his partner of four years, while working in Newcastle. The pair moved to Melbourne, and Constable Humphris applied to join Victoria Police.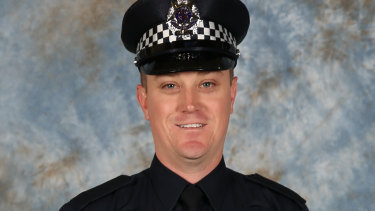 In a police obituary the force said Constable Humphris performed extremely well during his time at the Police Academy. His results in both examinations and assessments were well above average and he narrowly missed out on the Highest Academic Achiever Award for his squad.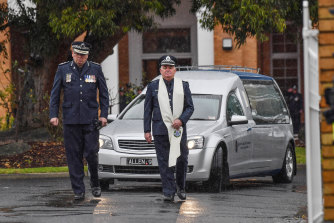 "His squad mates said he genuinely wanted to help people, had a great sense of community and genuine empathy for everyone – victim and offender alike. Glen is remembered as being very level-headed, caring and supportive with a great sense of humour and had the ability to make light of any situation to calm people," they wrote.
Mr Robinson's niece took to social media to express her heartache.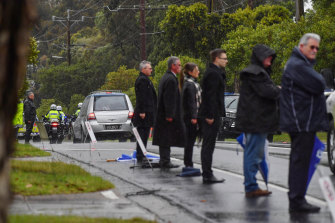 "He made you want to chase things that made you happy. Made you want to feel a sense of achievement. Man could he make you laugh, laugh until tears were rolling," Jessica Willmott wrote.
Online, his mother Katie Tyson thanked the police and Victorian community for their support.
In the second funeral of the day, Senior Constable Kevin King was farewelled by his wife, Sharron, and sons James, William and Henry at the academy on Friday afternoon.
At 2.20pm, a lone piper played Amazing Grace as Senior Constable King's casket was placed in a hearse.
Mr Ashton and the police chaplain again marched towards the gates of the academy, which were festooned with floral bouquets and blue ribbons.
As the hearse turned into Mount View Road, Mr Ashton saluted.
Several members of the public weathered icy winds to watch the funeral from outside the academy, including friends of Senior Constable King's sons.
Tristan Macleod, 16, and Matthew East, 16, said they wanted to support Henry King.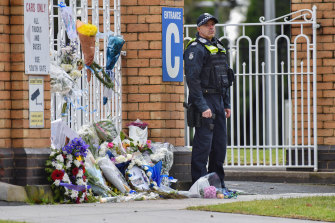 "We're best mates with Henry. We didn't know his dad well, but we knew that he was a great man, a gentleman, who would do anything for his sons," Mr Macleod said.
Constable Humphris' casket will be driven to NSW on Saturday with a full police escort.
Constable Josh Prestney's funeral service will be held on Monday at Xavier College. Leading Senior Constable Taylor was farewelled by her family in a service at the Police Academy on Thursday.
Victoria Police are waiting for changes to health restrictions to hold a public state memorial service.
If you or anyone you know needs support call Lifeline 131 114, or beyondblue 1300 224 636.
Erin covers crime for The Age. Most recently she was a police reporter at the Geelong Advertiser.