Melbourne man and Movember ambassador Kieran Ryan feared he could die while battling COVID-19 after returning from the Los Angeles Marathon but he has recovered and has a strong message for those who find themselves facing their own battle.
The marathon-running 31-year old is worth listening to as he tells his story to Channel Nine News.
NSW Health authorities have identified possible issues with infection control processes at the Newmarch aged care facility, which has been linked to 61 coronavirus cases and 13 deaths.
Two expert infection control nurses were deployed to the facility in Caddens in Sydney's west this week to report on and help improve infection control practices at the nursing home, where two additional staff members were confirmed as having COVID-19 on Saturday.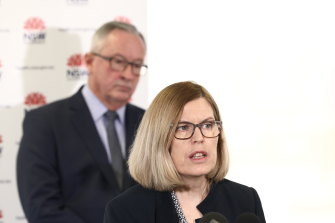 "There have been some elements where consistent application of practice has not occurred," NSW Chief Health Officer Kerry Chant said.
"We're looking at secondary cases, we've seen transmission that looks like breaches of infection control, particularly among staff."
In the middle of the crisis, the future can wait. The only thing that matters is the immediate future.
The NRL is on the brink, Rugby Australia is broke, Football Federation Australia is stone-cold broke. Even Cricket Australia, blessed with rivers of gold out of India, is slicing and dicing all over the place.
Brumbies Head Coach Dan McKellar says they're watching the return of the NRL closely with regards to restarting their own comps. #SuperRugby
And when it's all said and done, and life returns to normal, our sporting codes will take years to recover, balance their books and begin putting away a nest egg ahead of the next pandemic, or whatever catastrophe it is that brings them to their knees.
Priority will be given to the "main game" in all professional sports during the recovery. By main game, we're talking about the NRL and State of Origin in rugby league, the AFL, the Australian men's cricket team and, to a lesser extent, the Socceroos.
What will be left for junior development, for grassroots? What about community programs? All those feel-good things on the side.
More concerning, what will happen to the women's competitions in all of this?
A plane passenger returning to Brisbane from Melbourne has tested positive to COVID-19 overnight, triggering a public health alert.
The single new confirmed case took took Queensland's tally to 1034, Health Minister Steven Miles said on Saturday.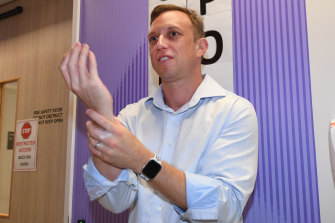 State health authorities are urgently tracing people the infected traveller was in contact with on Qantas flight QF614 from Melbourne to Brisbane on April 22.
Those who travelled in rows 19, 20, 21, 22 and 23 are urged to contact Queensland Health.
Mr Miles said not every passenger would need to quarantine but they would all be given health advice.
"They will be asked questions about their health since the flight on April 22," he said.
Another star player has left the NBL with Australian Boomers squad member Xavier Cooks looking to play overseas next season.
Cooks was contracted to continue with the Sydney Kings next season but league-wide pay cuts will see players lose up to 50 per cent of their pay, depending on how much they earn, so the league offered all players the chance to ask for a release to test the market overseas.
Perth star import Bryce Cotton was first to opt-out earlier this week. He was believed to be among the NBL's highest earners so was going to take a 50-per cent cut.
Cooks played in Europe the previous season and made the roster for the Australian Boomers for the FIBA World Cup in China last year only to injure his knee at training and miss the tournament.
He made his return to the court with the Kings last season and impressed while helping the Kings make the NBL grand final series.
Cooks has NBA aspirations although his immediate future will likely be with a strong European club.
NBL players have until Monday to opt-out of their deals and their NBL rights remain with their current side so they cannot move to another NBL team.
There remain concerns some of the league's other major stars could seek releases while the league remains unsure of about whether it can sign imports for next season given the ongoing travel restrictions.
Those doubts have led to the league putting back free agency to July 1 so players and clubs can have a better idea of how next season could look.
Cooks, the son of former NBL player Eric Cooks, hasn't ruled out returning to the Kings should his options overseas not be to his liking.
"I've loved every moment during my short time with the Kings, and am thankful to everyone involved," Cooks said in a statement.
"I would love to return to the NBL and win a championship for Sydney to finish what we started this year".
"Unfortunately, due to the changes in the league, my family and I feel like it's best for me to opt out of my current contract and explore my options. My agent will continue to communicate with the Kings throughout the off-season in the hope that a new deal can be reached."
Kings chief executive Chris Pongrass said his club would welcome Cooks back in the future.
"This is an uncertain period for us all, and we stand behind Xavier in his decision," Pongrass said.
"Xavier embodies the type of character this organisation looks to build around. He is a unique talent and a fantastic person with an incredibly bright future ahead of him.
"Xavier will forever be a King and the door will always remain open for him to return."
From boyhood in Melbourne to his death from COVID-19 in a Paris hospital last month, Gerald Clancy Taylor, a student and saviour of languages, refused the offices, routines and assorted dull expectations of others.
At its nomadic essence, his extraordinary life was perhaps not so dissimilar to a famous portrayal of his own grandfather Thomas Clancy, who, some believe, was the inspiration for Banjo Paterson's fictional drover named Clancy, from a station called The Overflow.
Mr Taylor never had a proper job until the age of 41. He never married, or stayed put for long. His passions were language and travel, and he indulged them wholly.
News of Mr Taylor's death at the age of 86 rippled through Peru, where he is revered for his 45-year study of indigenous language Quechuan – in particular, his translations of the 17th Century "Huarochirí Manuscript", which has been likened to an Andean equivalent of the Epic of Gilgamesh.
The grief spread through the continents he called home since leaving Melbourne in the 1950s – Asia, Europe and South America, where he eked an existence "off the smell of an oily rag" through revolutions, beatings from police and cultural upheavals.
Competency has once again been stressed by health officials, asking South Australians 'not to undo all the good'.
After recording its tenth consecutive day of zero confirmed coronavirus cases, SA Health deputy chief public health officer Michael Cusack said a second spike was possible if people became more casual with restrictions.
"It's why all our systems are lined up with testing, vigilance, contact tracing and social isolation," he said.
"As we ease back restrictions, at least to some degree, we will have less social distancing.
"We want to be clear and careful as we do that, that we have the vigilance and facilities to do contact tracing if we do get another positive."
He said the Barossa and airport clusters were examples of how quickly outbreaks accelerated.
SA Health launched its 'Let's Not Undo All The Good' campaign on Saturday.
Dr Cusack said data found less people were visiting GPs and appearing in emergency departments with heart attack symptoms.
He stressed with winter approaching, people must remain in contact with their doctors and have chronic diseases or other issues monitored.
The state's total number of coronavirus cases remains at 438 with 98 per cent considered as recovered on Saturday.
There are three people hospitalised although none of them are in intensive care.
Almost 60,000 tests have been conducted by SA Pathology since February with 1189 performed on Friday.
Meanwhile, the number of telehealth sessions increased by nearly 150 per cent with more than 17,000 held from February to April.
Only 7000 sessions were recorded across the same period last year.
To cope with the demand increase, a second service provider was introduced by SA Health.
The Women's and Children's Hospital Network has been expanding its telehealth use to connect patients and doctors during the pandemic.
The Network's Maternal-Fetal Medicine Service clinical lead Peter Muller said telehealth fast-tracked remote screening appointments for women with complicated pregnancies.
He said it helped women at regional sites access the care and expertise of Adelaide-based specialists without travelling.
Health Minister Stephen Wade said telehealth would remain an important tool post-pandemic.
"We have pursued innovative ways to broaden the use of telehealth so more South Australians can receive their care from home," Mr Wade said.
"This includes providing videoconference consultations for people with cystic fibrosis, and developing new regulations to allow patients to receive digital copies of their medical scripts through a telehealth consult."
AAP
Joggers and cyclists across Spain emerged from their homes early on Saturday, with adults allowed out for exercise for the first time in seven weeks as the government began easing coronavirus restrictions.
In Barcelona, runners and cyclists crowded paths near the beach, while surfers and paddle-boarders were out enjoying the waves.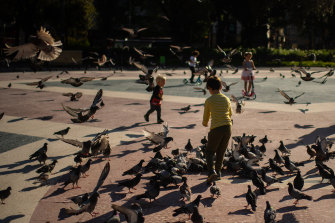 Mar Visser, 45, who lost her job as an events organiser, was jogging along the path in Castelldefels, a town near Barcelona.
"I have been longing for this. It beats running in my house or doing yoga or Pilates inside," she said.
In Madrid, cyclists and skateboarders streamed along the city's wide boulevards, ducking under police tape set up to prevent people congregating in common areas.
Hit by one of the world's worst COVID-19 outbreaks, Spain imposed a strict lockdown in March, confining most of the population to their homes for all but essential trips.
Sports and recreational walks were banned as authorities scrambled to stop the disease from spreading and ease the burden on the stricken healthcare system.
Charlotte Fraser-Prynne, 41, a British government affairs consultant, was among the first to savour the new freedom to exercise – out for a run at 6 am near the city's Retiro Park.
While the park remained closed, hundreds of people were running on the pavement around it.
"I have been looking forward to this for weeks. I was joking with my friends that I would be the first out in Madrid. I am very happy to be out after six weeks of yoga videos," she said.
As the rate of infection has fallen and hospitals have regained their footing, the government has shifted its focus towards reopening the country and reviving the economy.
Last weekend, children under 14 were allowed out for an hour a day of supervised activity.
On Tuesday Prime Minister Pedro Sanchez announced a four-phase plan to return the country to what he termed "the new normality" by the end of June.
To avoid overcrowding as people get outside, the government has implemented a shift system, allocating different time slots to different age groups.
Businesses that operate by appointment, such as hairdressers, will be allowed to open from Monday. Bars and restaurants will remain closed for at least another week.
Spain has recorded a death toll of 24,824 from the illness, and more than 215,000 cases.
The lockdown has hammered the economy and the government expects gross domestic product to contract 9.2 per cent in 2020.
Reuters
Health authorities are investigating a cluster of COVID-19 cases at a Melbourne meat processing business, where three people associated with the facility tested positive on Friday.
Victorian Health Minister Jenny Mikakos said on Saturday morning that eight people linked to the meatworks had now tested positive to COVID-19 and that health officials were working to trace anybody who may have been in contact with those infected.
The state government has also confirmed that a paramedic is among seven Victorians who tested positive on Friday.