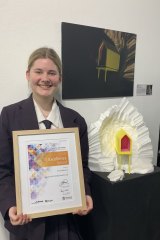 "I drew my first sketch based on where my headspace was at, at the time," she said.
"It's so surreal. I never would've thought I'd be someone to get into GOMA."
Ms Memory took the sketch-turned-installation a step further and photographed the work.
She drew inspiration from artist James Casebere and architect Ricardo Bofill as well as National Geographic photographs.
"At some point in a person's life, they will confront places, people, things or situations that are foreign to them," she said.
"It could be moving to a new house, starting a new job or changing schools."
Ms Memory said uncertainty and fear crept in at the time of creation because she was beginning her first term in her final year of schooling.
"It's crazy that we're talking about the theme of the unknown, where we are now, living during the pandemic," she said.
"What I learnt in my final year was that everything will work itself out."
Ms Memory is now studying a nursing diploma but continues to create art during her spare time.
"I really want to get into fashion someday and somehow," she said.
"I honestly feel blessed and this exhibition is such a great opportunity that I hope it can open new avenues for me as well."
View the exhibition here until July 26.